Research project
William Shakespeare and Tang Xianzu: celebrating a 400 year legacy
Start date: 01 August 2014
End date: 01 December 2016
Funder: Supported by The Footsteps Fund
Primary investigator: Professor Ruru Li
Co-investigators: Dr Adam Strickson, Steve Ansell
Partners and collaborators
University of International Business and Economics (UIBE), Staging China, Confucius Institute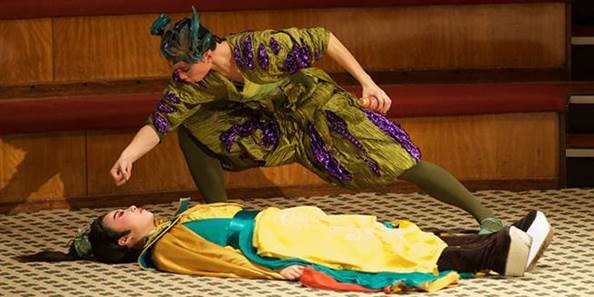 Description
This Leeds practice-led research project, started in August 2014, involved members of staff and students in five schools. The project was mainly in collaboration with the University of International Business and Economics (UIBE) in China to mark the 400th anniversary of the deaths of Shakespeare and Tang Xianzu.
Over a dozen universities and other organizations in Britain and in China were also involved. At the centre of the project was a newly-created back-to-back stage production A Midsummer Night's DREAMING Under the Southern Bough based on famous works of the two playwrights which share an overarching theme of 'dreaming'.
The creative team at UIBE presented a piece inspired by the young lovers and fairies in Shakespeare's A Midsummer Night's Dream while staff at the University of Leeds offered a contemporary response to Tang Xianzu's A Dream under the Southern Bough (Nanke Ji). The stage production was performed in Leeds, at the Edinburgh Festival Fringe, and then toured China in Shanghai, Beijing and Tang's hometown Fuzhou for the International Tang Xianzu Festival. Surrounding the production, a series of lectures, seminars and workshops on Shakespeare and Tang Xianzu were organized in China and in Britain.
---
The project marked the 400th anniversary of the death of William Shakespeare. But in 1616, 5,000 miles from Stratford-upon-Avon, the great Ming Dynasty playwright Tang Xianzu also died.
The University of Leeds is organising a series of events to celebrate both anniversaries. William Shakespeare and Tang Xianzu: Celebrating a 400 Year Legacy, is a unique global collaboration to create a new stage production.
Working around the common theme of dreams, students in China and Yorkshire are simultaneously rehearsing on opposite sides of the globe, before coming together for back-to-back performances of A Midsummer Night's DREAMING Under the Southern Bough in Leeds (where it will premiere in late July), at the Edinburgh Festival Fringe, and several venues in China. Details for these performances will be published soon.
The Shakespeare-Tang research collaboration is among many public talks, academic lectures and an exhibition showcasing the expertise of Leeds academics during 2016, ranging from music in the Bard's work to his influence on Africa and the Middle East.
In addition, Professor Martin Butler from the School of English has just embarked on a two-week lecture tour of university, school and theatre professional audiences across China as part of the British Council's Shakespeare SMART Talks series.
And in Leeds, a major exhibition is currently being prepared at the University. For All Time: Shakespeare in Yorkshire opens at the University's new Treasures of the Brotherton Gallery, on 5 September.
Ruru Li, Professor of Chinese Theatre Studies at Leeds, is one of those leading the Anglo-Chinese theatrical project. She said: "Shakespeare and his Chinese contemporary Tang Xianzu are the greatest playwrights of their respective theatres. Their plays make us weep, laugh and imagine; they also touch our hearts and souls.
"Our project, with Chinese students working on an English play and British students on a Chinese play, allows the two traditions to talk to each other and the two groups to commune with spirit, voice, body, and breath. It is a genuine intercultural practice, both thought-provoking and a great pleasure for everyone involved."
Steve Ansell is Artistic Director of the University's stage@leeds theatre venue. He co-wrote the new production with School of Performance and Cultural Industries colleague Dr Adam Strickson and is also directing it.
He said: "This is a groundbreaking project that will allow two groups, from two cultures, the opportunity to creatively explore, understand and appreciate each other's similarities and distinctions through the work of two great writers and the shared language of theatre."
William Shakespeare and Tang Xianzu: Celebrating a 400 Year Legacy, is a partnership project between the University of Leeds' Staging China International Research Network, colleagues at stage@leeds; the Schools of Languages, Cultures and Societies; Performance and Cultural Industries and English; Business Confucius Institute and Beijing's University of International Business and Economics (UIBE).
Downloads
List of public activities (PDF)