Ferrante Fever
Ferrante Fever in Leeds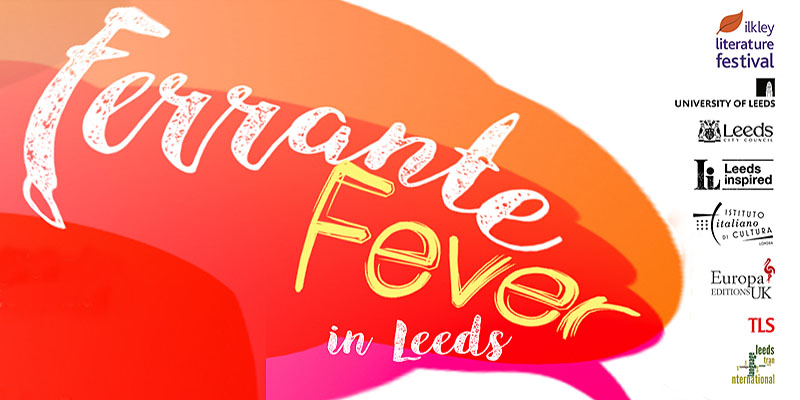 A public literary event on the global success of the Neapolitan writer Elena Ferrante
13 October 2016, 7.00pm-8:30pm
Conference Auditorium 2, University of Leeds (Clarendon Way, Leeds LS2 9JT)
'Ferrante Fever goes something like this: You pick up one of Elena Ferrante's books because a friend told you that you had to read it. You read a few pages, and then before you know it, it's 3:00 o'clock in the morning, you've finished the book, and you're on the hunt for the other three titles in the Neapolitan series'
Elena Ferrante's novels are published in 39 countries, and have sold one million of copies in the US and more than 300,000 in Britain. Her The Story of the Lost Child was in the shortlist for this year's Man Booker International Prize and for the Best Translated Book Award 2016. She has recently been named one of Time's 100 most influential people of the year. The best selling Italian writer has decided to remain anonymous; a choice that has stirred much attention from the public and has put readers and professionals from the cultural industries at centre stage. This event aims to capture this shift and to discuss Ferrante's global success in dialogue with the protagonists of the cultural market (translators, publishers, festival organisers, journalists and scholars of literature) and the many readers and fans.
The event was held at the University of Leeds and took the form of a public debate, following a series of brief talks by an international panel of professionals, coordinated by Olivia Santovetti (University of Leeds). The panelists were:
Ann Goldstein, a New Yorker editor and translator, who, after translating works by Elena Ferrante, has become a rare celebrity among translators ('Ann Goldstein: A Star Italian Translator', The Wall Street Journal: http://www.wsj.com/articles/ann-goldstein-a-star-italian-translator-1453310727 )
Daniela Petracco, director of Europa Editions (UK publisher of Ferrante)
Thea Lenarduzzi, Times Literary Supplement (writer, commissioning editor and author of the article and blog '"Ferrante Fever" and other symptoms', TLS, 15 June 2015);
Tiziana de Rogatis, Associate Professor of Italian and Comparative Literature at Università per Stranieri di Siena, co-director of the Altre Italie Festival, and author of several articles in English and Italian on Ferrante and her global success.
The event was organised by the University of Leeds (jointly by: Italian, LivItaly. Bringing Italian Culture to Yorkshire, International Writers at Leeds, The Centre for World Literatures and The Centre for Translation Studies of The School of Languages, Cultures and Societies) in conjunction with the Ilkley Literature Festival, the Leeds City Council, the Italian Cultural Institute of London, The Times Literary Supplement and The Italianist (official journal of the Department of Italian Studies, University of Reading and of the Departments of Italian, University of Cambridge and University of Leeds, UK).
The project has been awarded grants from the Strategic Research Development Fund of the School of Languages Cultures and Societies and the Leeds City Council's Leeds Inspired Main Grant scheme. It was one of the concluding events of the two-week Ilkley Literature Festival, northern England's oldest and largest literature festival.
Find out more in the Event Report and through a collection of videos and coverage. You can also download the event poster here.