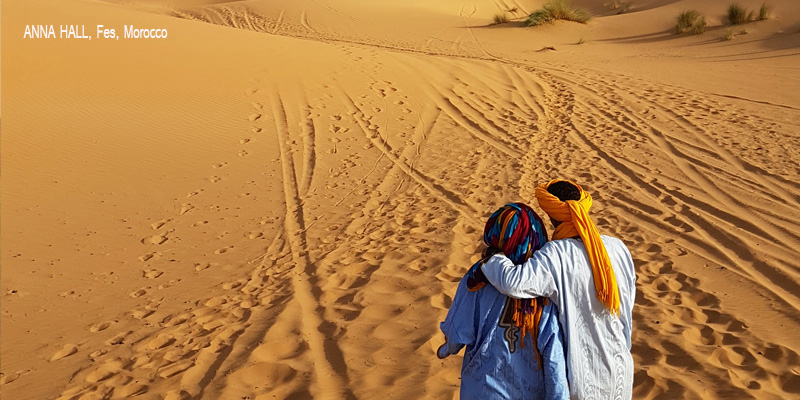 When studying BA Arabic, Islamic and Middle Eastern Studies you'll spend a year in an Arabic-speaking country. Your year abroad will be spent either in Morocco or Jordan and subject to availability of places in both countries.
Studying abroad is a fantastic opportunity to immerse yourself in the Arabic culture, develop new skills and improve your job prospects. When you're not in your intensive language classes there will also be plenty of time to travel and explore the region. For many of our students, this is the highlight of their course.
How we support you
You'll have access to support and advice before, during and after your study abroad year and you'll be able to network with returning students for first-hand advice about living overseas. You'll also have meetings with the residence abroad tutor and access to online information before you relocate.
We'll be in touch with you during your year abroad and you'll have support at your host institution too. On your return, we'll ask you to share your experiences and help you to make the most of your new and improved skills and experience.
Year abroad
Your year abroad will introduce you to Arabic and Islamic culture, while strengthening your language skills — both in terms of greater literacy and in the formal and colloquial Arabic.
You'll study at an institution that has been selected for its high-quality methods of teaching and success in running TAFL (Teaching Arabic as a Foreign Language) courses. Importantly, the curriculum you will study during your year abroad is designed in-house and classes will be taught exclusively for our Arabic Studies students. There will be constant liaison between your institution and the University of Leeds.
Studying Arabic with another language
You'll normally spend a year in one of the countries whose language you are studying, including a term in a country where your other language is spoken. However, a number of courses (such as Arabic with Chinese/Japanese/Russian) are five-year courses which require two years abroad.
Studying non-language courses
If you are studying BA Islamic Studies or BA Middle Eastern Studies you can apply to study abroad at one of our 300 partner universities across the globe.
It may also be possible to undertake a work placement year.
Details of how you will spend your time abroad can be found on Course Finder.
Anna Hall
Arabic and Middle Eastern Studies
The best part about my course is the Year Abroad. I spent the year in Fes, Morocco and had the opportunity to live with a host family who helped me to improve my speaking and listening skills. I met students from all over the world, learnt a fair amount of the Moroccan dialect and was able to gain an insight into the Moroccan way of life and culture. It was an unforgettable adventure, filled with travelling, exotic food, an endless supply of mint tea and a lot of eye-opening experiences.
View Profile