Research project
Photography and Atrocity
Start date: -
End date: -
Primary investigator: Geoffrey Batchen
Co-investigators: Nancy K. Miller; Jay Prosser; Aoibheann Sweeney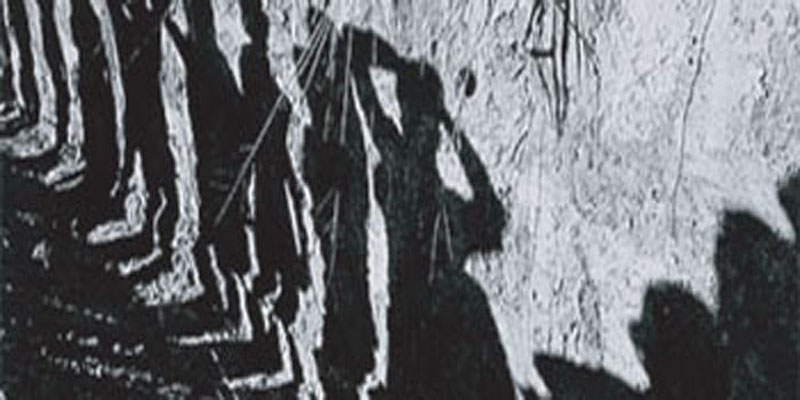 Description
We are shown photographs of atrocity from around the world in our newspapers every day. But what is - or what should be - our response to these images? Are we consuming suffering? Or can we read photographs in a way to transform it? And how have such images been treated - and such questions been asked - in the past?
Photography and Atrocity is an unprecedented collaboration spurred on by these questions. The group brings together leading experts from across professions and across the world, and is made up of award-winning photographers and writers, museum curators and artists, news editors and non-governmental organization representatives, and academics working on photography. The collaboration has extended over five years and has received funding support from major international research councils.
People
Geoffrey Batchen is Professor of the History of Photography at The Graduate Center of the City University of New York. His research on photography includes three books: Burning with Desire: The Conception of Photography; Each Wild Idea: Writing, Photography, History; and Forget Me Not: Photography and Remembrance.
Elisabeth Biondi is Visuals Editor at The New Yorker where she has helped to shape the magazine's acclaimed reputation for photography. Formerly Head of Photography at Stern, she has worked with photographers from around the world. In 2004 she served as Chair of the Judges of the World Press Photo Awards.
David Campbell is Professor of Cultural and Political Geography at Durham University, UK. He has published numerous essays on issues in global geopolitics, US foreign policy and visual culture, including on the representation of atrocity, famine and war. He delivered the Sem Presser Lecture at the 2005 World Press Photo Awards. He also co-curated Imaging Famine, a photographic exhibition at the Guardian Newsroom in London which was the start of an ongoing project on media representations of famine.
D.J. Clark is Lecturer and Program Leader on the MA in Photography at the University of Bolton and a photojournalist represented by Panos Pictures. He is a former Winston Churchill Traveling Fellow for his research in Bangladesh and Ethiopia and has undertaken extensive research on photographing famine in China. He was also a curator of Imaging Famine.
Mick Gidley, Emeritus Professor of American Literature at the University of Leeds, has published many books on American Indians and representation in America, including The Vanishing Race, With One Sky Above Us; American Photography, Representing Others: White Views of Indigenous Peoples; and Edward S. Curtis and The North American Indian, Incorporated.
Philip Gourevitch is editor of The Paris Review and long-time staff writer for The New Yorker. His first book, We Wish To Inform You That Tomorrow We Will Be Killed With Our Families: Stories from Rwanda won major prizes, including the National Book Critics Circle Award and the Guardian First Book Award. He is also author of A Cold Case, an account of a three-decades-long investigation of a double homicide in New York City.
Marianne Hirsch is Professor of English and Comparative Literature at Columbia University. Her books on photography include Family Frames Photography, Narrative, and Postmemory, and The Familial Gaze. She also writes on Holocaust memory, and has published Teaching the Representation of the Holocaust.
Alfredo Jaar is an artist, architect and filmmaker whose work has been shown extensively around the world. Major solo exhibitions include the New Museum of Contemporary Art in New York, the Whitechapel in London, the Museum of Contemporary Art in Chicago, the Pergamon Museum in Berlin, the Moderna Museet in Stockholm and the Museum of Contemporary Art in Rome. He has been a Guggenheim and a MacArthur Fellow.
Susan Meiselas is a documentary photographer and member of Magnum Photos. Her awards include the Robert Capa Gold Medal for 'outstanding courage and reporting' in Nicaragua; the Leica Award for Excellence; the Engelhard Award from the Institute of Contemporary Art; the Maria Moors Cabot Prize for coverage of Latin America; and the Hasselblad Foundation Photography prize. Among her books: Carnival Strippers; Nicaragua; El Salvador: The Work of 30 Photographers; Chile from Within; Kurdistan: In the Shadow of History; and Encounters with the Dani. She was made a MacArthur Fellow in 1992.
Nancy K. Miller is Distinguished Professor of English and Comparative Literature at the Graduate Center of the City University of New York. Her most recent books are But Enough About Me: Why We Read Other People's Lives and the co-edited anthology Extremities: Trauma, Testimony and Community.
David Nasaw is Distinguished Professor of History and Director for the Center for Humanities at the Graduate Center of the City University of New York. His books include The Chief: Life and Times of William Randolph Hearst; Going Out: The Rise and Fall of Public Amusements; Schooled to Order: A Social History of Public Schooling in United States; and a forthcoming biography of Andrew Carnegie.
Lorie Novak is Professor of Photography and Imaging at New York University's Tisch School of the Arts. Her photographs, installations and internet projects have appeared in numerous exhibitions, including International Center of Photography; The Museum of Contemporary Art, Chicago; MOMA; ArtSway, England; Center for Creative Photography, Tucson; The Smithsonian; and The Jewish Museum, NY. Her ongoing Collected Visions Internet project, one of the earliest interactive sites, uses the Web to create a public archive of personal stories and images and examines how photographs shape our memory.
Griselda Pollock is Professor of Social and Critical Histories of Art at the University of Leeds, UK. Among her many books are Work and the Image, with Valerie Mainz; Looking Back to the Future: Essays by Griselda Pollock from the 1990s; Differencing the Canon: Feminism and the Histories of Art; and, forthcoming, The Case Against Van Gogh: Cities and Countries of Modernism.
Samantha Power is Professor of Human Rights Practice at the Kennedy School of Government. Her book "A Problem from Hell": America and the Age of Genocide was awarded a Pulitzer Prize and a National Book Critics Circle Award, among others, and her New Yorker article on the horrors in Darfur the 2005 National Magazine Award for best reporting. From 1993-1996 Power reported on wars in the former Yugoslavia for the U.S. News and World Report, the Boston Globe and the Economist.
Jay Prosser is Senior Lecturer in American Literature and Culture at the University of Leeds, UK. His essays on photographers Nan Goldin, Gillian Wearing, Del LaGrace Volcano, and on Roland Barthes have appeared in various journals. His most recent book is Light in the Dark Room: Photography and Loss.
Fred Ritchin is director of PixelPress and Associate Professor of Photography and Imaging at New York University's Tisch School of the Arts. His 1996 Web project, Bosnia: Uncertain Paths to Peace, in collaboration with photographer Gilles Peress, was nominated by the New York Times for a Pulitzer Prize. He is author of many books, including In Our Own Image: The Coming Revolution in Photography and the forthcoming Reinventing Photography.
Russell Roberts is Head of Photography and Senior Curator of Photographs at the National Museum of Photography, Film & Television, UK. His numerous exhibitions include: Memory & The Archive - Photographs, Images, Documents; In Visible Light: Photography & Classification in Art, Science & The Everyday; News Stories - Media Histories: Specimens & Marvels; Unknown Pleasures; and A Gentle Madness: The Photographs of Tony Ray-Jones.
Karen Robinson is Director of the Human Rights Education Program of Amnesty International USA. She manages the Educators' Network, which liaises with schools, universities and human rights education training programs around the world to promote understanding of human rights at every level of society.
Aoibheann Sweeney is Deputy Director at the Center for the Humanities at The Graduate Center, CUNY. She earned her BA from Harvard University and her MFA from University of Virginia, where she was a Henry Hoyns Writing Fellow.
Ellen Tolmie has directed photography operations at UNICEF - the United Nations Children's Fund - since 1992 where she is responsible for promoting the use of images to advocate for children and creating guidelines in line with child and other human rights. UNICEF's photography collection – plus 25,000 images currently in use - leads the UN system in the number and range of coverage on humanitarian themes.
Brian Wallis is Director of Exhibitions and Chief Curator at the International Center of Photography in New York where he has organized numerous exhibitions including Inconvenient Evidence: Iraqi Prison Photographs from Abu Ghraib. Among his many books are Art Matters: How the Culture Wars Changed America; Constructing Masculinity; and Art After Modernism: Rethinking Representation.
Sylvia Wolf is Adjunct Curator, Whitney Museum of American Art, New York, where she is the first curator to focus solely on photography. Her exhibitions include the work of Susan Meiselas and Vik Muniz among others. Her books include Visions from America: Photographs from the Whitney Museum of American Art, 1940-2001, Michal Rovner: The Space Between, and Ed Ruscha and Photography (also an exhibition).
Barbie Zelizer is Raymond Williams Professor of Communication at the University of Pennsylvania's Annenberg School for Communication. Her books include the award-winning Remembering to Forget: Holocaust Memory Through the Camera's Eye: Covering the Body: The Kennedy Assassination, the Media, and the Shaping of Collective Memory; Journalism After September 11 (with Stuart Allan); and Reporting War: Journalism in Wartime.
Impact
Photography and Atrocity is an ongoing international collaborative research project coordinated from the University of Leeds.
The conference featured on this webcast was held at the City University of New York in December 2005, in support of the work of Amnesty International, USA. We thank the individuals and organizations for participating in this event and for allowing us to reproduce their contribution in Webcast form. We also thank the following organizations who made possible the conference and this recording: The Center for the Humanities, The Graduate Center, City University of New York; the Humanities Research Institute at the University of Leeds, UK; and The British Academy.
Stage One
Stage One of the research, 'Picturing Atrocity: Photography in Crisis,' was disseminated at a conference in December 2005 at the City University of New York and in conjunction with the University of Leeds, the National Museum of Photography, Film and Television, UK, and the International Center for Photography in New York. The conference was staged in memory of Susan Sontag, who had died one year earlier; and in support of Amnesty International, for whom speakers waived honoraria and whose presence inaugurated the event. Leading experts from media, national government organisation, photojournalist, academic and the art worlds engaged in dialogue to identify the key issues surrounding photography and atrocity -- and suggest some solutions. Accompanied by a postgraduate-curated exhibition on the Abu Ghraib photographs, and with a large public and media presence, the conference received attention in major photography journals and newspapers. On this site is a Webcast of that intense day's conversation. (No images, talks or parts thereof to be reproduced in any form, without prior permission of the copyright holders.)
Stage Two
Stage Two, 'Reading Photographs in Crisis,' was mounted at University of Leeds on December 14, 2007. One of the key conclusions from the New York symposium is that in spite of the increasing interest in atrocity photographs, we're still uncertain about the methods and processes of reading such images. The wealth of discussion at every level evidences that atrocity photographs demand a response – and historically have produced one -- but the nature of that response is utterly unpredictable. Crucially, the activity of reading atrocity photographs remains largely unconscious and mostly undescribed. As producers, educators and editors working with photographs, we see a need to advance, describe and exemplify the practice of reading photographs. The brief of 'Reading Photographs in Crisis' was for each speaker to focus on just one photograph of atrocity or crisis, and to spend time with the image. We hoped thereby to expand our understanding of the photograph of atrocity or crisis and to deepen analysis -- to produce deeper, clearer and longer 'ways of seeing.'
Stage Three
Stage Three involves the publication of the best of materials from the research as a book. Picturing Atrocity: Reading Photographs in Crisis will be published by Reaktion Press in 2011.
Collaboration lies at the heart of this project.
For further information about this project, email j.d.prosser@leeds.ac.uk
Publications and outputs
Webcasts
http://www.photographyandatrocity.leeds.ac.uk/pa_00/pa_00.htm
World Press Photo
World Press Photo aims to support professional press photography on a wide international scale. Promotional activities include an annual contest, exhibitions, the stimulation of photojournalism through educational programs, and creating greater visibility for press photography through a variety of publications.
Imaging Famine
Imaging Famine is a website that contains research on the issue of visual representations of hunger and the developing world.
Inconvenient Evidence
Few photographs in recent years have had the explosive impact of the images of detainees being abused by U.S. troops at Abu Ghraib prison in Iraq. A selection of these pictures that shocked the world were on view at the International Center of Photography in 2004. Accompanied by an exhibition brochure with text by Brian Wallis and Seymour Hersh.
International Center for Photography
http://www.icp.org/site/c.dnJGKJNsFqG/b.732135/k.D880/Museum.htm
Photographing War
http://www.nmpft.org.uk/insight/collectiononline_selection.asp?exid=47
Photographs of various conflicts over the years from the collections of the National Museum of Photography, Film and Television, UK.
National Museum of Photography, UK
http://www.nmpft.org.uk/photography/home_collection.asp
Whitney Museum of American Art
PixelPress
PixelPress is an an online magazine that seeks a new paradigm of journalism, one that encourages an active dialogue between the author and reader and, also, the subject. It encourages documentary photographers, writers, filmmakers, artists, human rights workers and students to explore the world in ways that take advantage of the new possibilities provided by digital media.
Panos Pictures
An independent photo agency representing photojournalists who document issues and geographical areas which are under-reported, misrepresented or ignored. In a media climate dominated by celebrity and lifestyle, Panos aims to provide fresh perspectives on the world.
The New Internationalist
A communications co-operative that reports on issues of world poverty and inequality; focuses attention on the unjust relationship between the powerful and the powerless in both rich and poor nations; and debates and campaigns for the radical changes necessary if the basic material and spiritual needs of all are to be met. 'Southern Exposure' pages highlight photographers from the Majority World.
The New Yorker
http://www.newyorker.com/main/magazine/
Amnesty International, USA
UNICEF
The Center for the Humanities at the Graduate Center, CUNY
http://web.gc.cuny.edu/humanities/
The Center for the Humanities sponsors interdisciplinary programs in the humanities, social sciences, and the arts, including faculty seminars, public lectures, conferences, readings, and discussion groups. In addition to CUNY students and faculty, participants include distinguished scholars, journalists, creative artists, civic leaders, and public officials.
Tisch School of the Arts
DJ Clark
Alfredo Jaar
Susan Meiselas
Lorie Novak