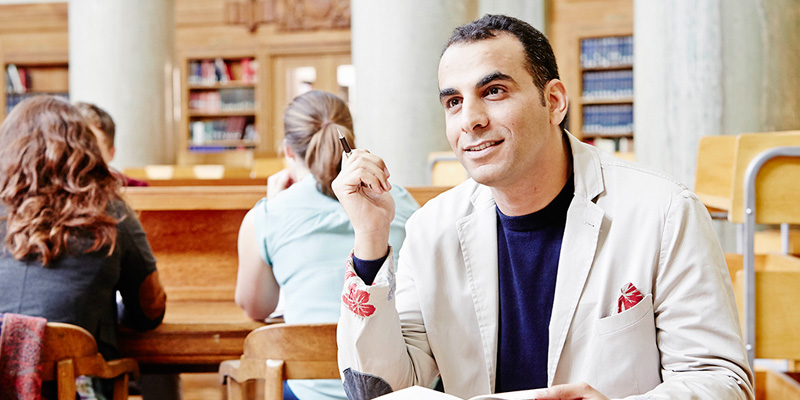 Applying for a research degree involves a different process from undergraduate or Masters level. You'll need to demonstrate that you have not only knowledge, drive, and skill, but also a clear and realistic plan for your project.
This allows us to make sure we can fully support you in pursuing your research, including matching you with the right supervisor(s). It also helps to ensure that your research will be an original and valuable contribution to your field.
You can apply for our research degrees, and begin your studies, at any time during the year. However, if you're applying for funding opportunities or joining an existing research project you may have to apply or start by a specific time.
You can find out more on the University's research degrees application process overview.
Explore your options
To write an effective application, you'll need to explore our research and learn about our researchers. This will allow you to identify potential supervisors, and give you the chance to contact them for advice.
Our School has a very broad range of expertise, with research specialisms spanning disciplines, time periods, and continents. We also offer co-supervision with other subject areas to support interdisciplinary research. This means that whatever your area of interest, you'll find researchers as passionate about it as you are.
Write your research proposal
Your research proposal forms the core of your application. It should be no more than 3,000 words including references and a bibliography. You can find advice on what to include on the University's research proposal overview.
If you're applying for an existing research opportunity, such as a scholarship attached to a particular project, you might not have to include a research proposal in your application. Contact our research degrees team for more information.
Submit your application
The easiest way to apply for a research degree is through our online portal, where you can submit your application, track its progress and accept any offers you receive.
Your application should include:
Your research proposal
Details of staff members you'd like to be your supervisor(s)
A sample of your own recently written work on a relevant topic
Two academic references
Copies of your degree certificates (transcripts if you're still studying)
Copies of an English language qualification certificate if English isn't your first language
Once you've applied, we'll contact you as soon as possible to let you know the result. If we're considering making you an offer, we'll invite you for an interview, or a telephone interview if you're living abroad.
Amy Clare Bonsall
PhD English (Practice-led)
Practice-led research in the arts is still an evolving research methodology, with theatre practice and performance even more so. I was very interested in developing my own research methods for this project to expand the field even further and creating points of contact between the theatre industry and the academy.
View Profile