Doctor of Philosophy (PhD)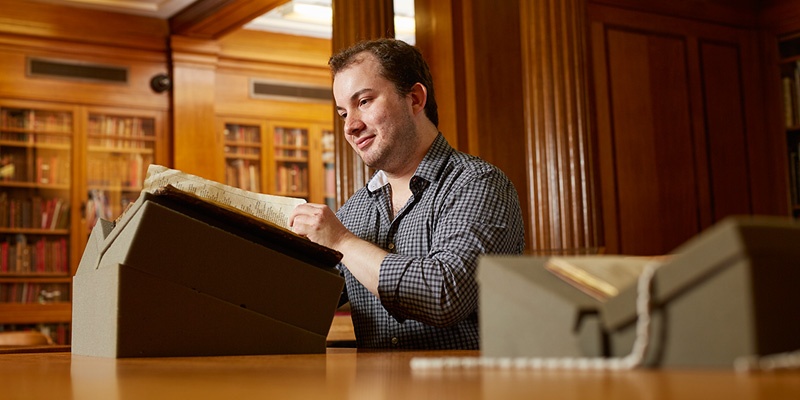 Undertaking a PhD allows you to develop in-depth knowledge and make a meaningful contribution to your chosen field.
With expert guidance from two co-supervisors, you'll carry out an extensive independent research project on a topic of your choice and produce a thesis of up to 100,000 words.
This degree presents the opportunity to gain expertise in your area of interest while also honing a range of transferable skills. On graduating, you'll be very well prepared for specialist career paths both within academia and beyond.
Structure
When you first join us, you'll complete a series of induction activities that will prepare you for your upcoming research. You'll have access to additional training and resources on academic skills during your degree.
Once you begin your studies, you'll work closely with your supervisors to outline the content and structure of your project, as well as the process and schedule you'll follow. This helps to ensure that your research will be a significant, original contribution to your field that you can realistically complete within the timescale.
Your supervisors will continue to provide support and guidance throughout your time with us, giving feedback and helping to shape your project as your research progresses.
For your first 12 months (18 months part time) you'll be a provisional PhD student. At the end of this period you'll submit work for assessment, and receive feedback on your progress. This process is called your transfer; after you complete this you'll be enrolled as a full PhD student.
Your research will be assessed on the strength of your thesis and an oral examination called a viva voce, enabling you to present your findings in both written and spoken form. You'll submit your thesis for assessment before attending your viva.
In your viva, you'll be asked about your thesis and wider research by a panel of expert examiners. This helps to make sure that your work is original, comprehensive, and clearly situated within your field of study.
Usually, your viva examiners will suggest some minor or major changes that you'll need to make before they'll award your degree. They may also ask you to resubmit it after those changes have been made. This is a great opportunity to refine your thesis based on feedback from experts in your field.
Duration
If you study full time, you'll usually complete your PhD in three years. You can fit your studies around other commitments by studying part time, in which case your PhD will take five years to complete.
Whether you study full time or part time, you'll have the option to spend an additional year writing up, depending on how your research is progressing.
Areas of supervision
Our research community is diverse and innovative, with expertise in a wide range of specialisms. Explore our research and view our staff members to find out how we can cater for your interests.
We encourage interdisciplinary research, and work closely with other subject areas across the Faculty of Arts, Humanities and Cultures. We can also arrange joint supervision by researchers in two different subject areas, to ensure you receive all the guidance you need.
Practice-led research
Our School is home to many active creative practitioners, making it the ideal place to study for a practice-led PhD. We offer expert supervision in both creative writing and performance-based theatre studies.
You'll be assessed on a thesis of between 15,000 and 50,000 words, a viva voce, and a body of creative work such as a collection of poems or a programme of immersive performances.
You'll investigate your central research questions through the development of your creative practice, using your thesis to provide critical commentary and context to your findings.
To learn more contact our research degrees team or a staff member in your area of interest.
PhD by online learning
The School of English also offers a PhD by online learning programme which is available to UK, EU and International applicants. PhD by online learning allows you to study at a time and place that suits you and with a part time option available, you'll have the flexibility to gain an advanced degree alongside work and other commitments.
The programme is aimed at suitably qualified Postgraduate Researcher candidates who need to study for most of their registration period at another site. There are a number of reasons why you may wish to base yourself away from the University of Leeds whilst undertaking your PhD which include the following:
Your research project requires substantial access to resources and facilities located at a different site

You have employment commitments relevant to your project that prevents you from being based in Leeds

Your PhD has been arranged as part of a specific partnership/sponsorship arrangement
For further information, please contact Dr Pammi Sinha, Head of the Graduate School.
Entry requirements
To study for a PhD with us you'll need a Masters degree in English literature or a related subject.
If English isn't your first language you'll also need an English language qualification; in the IELTS, for example, we ask for 6.5 overall with no less than 6.0 in each component.
Pre-sessional English
You can improve your academic English level to the standard needed to study a postgraduate research degree by taking one of the following pre-sessional courses:
We accept a range of alternative qualifications for both academic and English language qualifications. Contact us for more information.
You'll also need a very well-defined plan for your research project, as you'll submit a detailed research proposal with your application.
Sara Brio
PhD English
I began pursuing my MA and, subsequently, my PhD at Leeds so that I could further develop my own academic skills and, in so doing, learn how to better educate others. I had never been to Leeds and knew nothing about the city or the University apart from the fact that it had an excellent reputation in English literature and the staff seemed incredible. Thankfully, that has only been proven more and more true the longer I have been here.
View Profile