Sam Message
Course: MA Arts Management and Heritage Studies
Year of graduation: 2019
Nationality: British
Tell us a bit about yourself.
I have a background in both theory and practice. Where my theoretical background sits is very much within the study of post-coloniality, a social history of art, critical theory and aesthetics; my practice in recent years has largely focussed around my work as a drag performer.
Since graduating with a degree in BA History of Art, I first pursued a masters in social science in the Netherlands, before moving to Berlin to focus on my career as a performance artist.
What made you want to apply to your course and to Leeds?
Having already completed my History of Art bachelors in Leeds, I was well aware of both the high standard of teaching at the school and the intense criticality woven throughout its courses. So, when I realised I wanted to return to education, it was the obvious choice.
What is it that makes you passionate about your area of study?
This world is saturated by injustice, soaked in inequality and dripping in violence. Art, with its ability to curate human experience itself, has the potential to help stimulate change and guide us towards a fairer future.
Aesthetic experiences can connect us, develop our empathy and bring to light new plights we had previously not imagined. In short, art can change the world but only if we put its institutions to work to do so — and that's what I want to do.
What aspects of the course did you enjoy the most?
The combination of critical theory, professional theory and hands-on practice gave me the room to explore both the pragmatic reality of working in the sector and the tools and drive to want to continue to improve it.
What would you say about our learning facilities?
Having the opportunity to co-curate an exhibition from the University Library's archive in The Stanley Audrey and Burton Gallery was amazing. Through this project, my group and I were able to get essential hands-on experience working with objects and archives in a professional setting.
The most valuable resource of the University, however, is its academics; who work tirelessly to bring cutting-edge and highly critical perspectives to each and every class.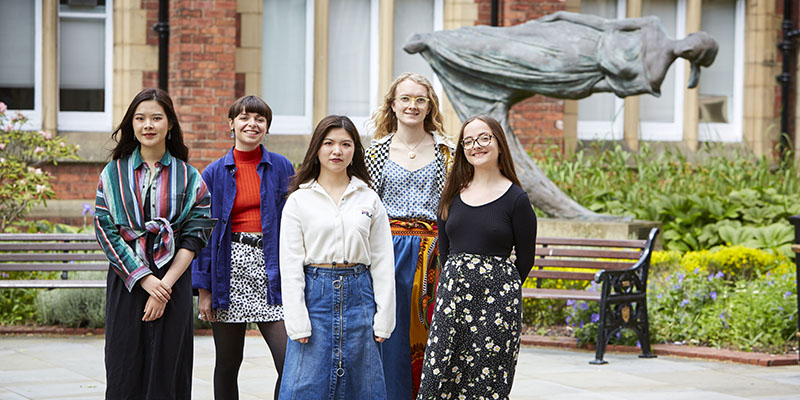 During a placement with Yorkshire Sculpture International, Sam developed and delivered a scheme of evaluation for one of the festival's engagement programmes.
Did you make use of the careers and employability support?
It was through my masters programme that I first heard of both the opening at The Tetley and the volunteering position at The Peace Museum: both where I applied and was accepted.
The Tetley has given me valuable experience in working to install exhibitions and visitor-facing front-of-house tasks, The Peace Museum has allowed me to further develop me research skills.
Peace Out, the project on the history of LGBTQ+ protest and peace-making I helped research at the Peace Museum, has also further informed my dissertation research.
Tell us about your internship with Yorkshire Sculpture International.
When I first started at Yorkshire Sculpture International in January, I took the evaluation placement. I had three major tasks: creating and managing a database to store the festival's evaluation data; doing, collating and presenting research on approaches to ethnicity and disability in evaluation; and reviewing the festival's existing evaluation materials.
During this placement, I was able to draw on the skills and experience I had developed during my time studying quantitative, social science methods. I was also really pushed to improve my knowledge and skills concerning evaluation in an arts and culture setting, off my own bat.
Alongside my evaluation work, I also had the opportunity to shadow the planning, and help with the delivery, of a session with the festival's programme of Continued Professional Development that is being run for teachers from across the region. The session in question aimed to help teachers feel comfortable with bringing queer artists and identities (out) in a classroom setting. Throughout my placement, I was given both the freedom to pursue my own interests and passions with the guidance and support as needed when doing so.
At the end of my placement, I was also granted the opportunity to develop and deliver my own scheme of evaluation for one of the festival's engagements programmes. Accordingly, for the past two months, I have attended a number of sessions which the festival is running with John Jamieson School, a school for pupils with Special Educational Needs and Disabilities. This, again, has been an amazing opportunity to work with YSI's fabulous team and has further emblazoned me with a passion to work in arts and culture.
What other activities are available outside of study?
The University offers a wide range of extra activities and publishes a newsletter of local and national opportunities in the sector. Through this, I have been engaged with a number of projects ranging from working with the local art group Pavilion to walking in the RAG fashion show.
During my time at the University of Leeds, I have also been the Student Union representative for the School of Fine Art, History of Art and Cultural Studies, both at undergraduate and postgraduate levels and was elected president of Museum and Art Gallery Society.
I've really been able to get stuck in, which has been great. Ultimately, there are so many great opportunities to get involved with and so many communities and societies to feel a part of.
What do you plan to do now you've finished your course?
Not only has Leeds helped me get my foot in the professional door, it's also armed me with the tools to be critical and confident.
My time here has taught me the importance of social engaged practice and the importance of using my voice to speak back to power and using my privilege to give spaces for other voices.
When I graduate, I am going to move to Gothenburg, where I can continue to broaden my horizons and to fulfill my desire to explore new places and learn new languages. Here I hope to continue working in arts and culture engagement and evaluation, to develop my artistic and performance practice and to pursue my activist work.
What would you say to anyone thinking of applying to your course?
The School of Fine Art, History of Art and Cultural Studies is a place where criticality is taken seriously. If you want to gain both the practical/professional skills needed to work in arts and culture, but also have a strong analytical and theoretical basis to understand the role of such institutions in society, then Leeds is the place for you.
The School has a fantastically friendly atmosphere and is a place where you can really feel supported and at home. Moreover, if you know where to look, the city is full of counter-cultural grassroots initiatives. The city also sits in a network of smaller nearby cities which are also brimming with exciting artistic and cultural endeavours, which are constantly bubbling up to the surface.
In short, my advice is: the full university experience at Leeds doesn't stop at the boundary of the campus, nor the city. The whole region is alive with opportunity and culture and if you've had enough of all that, then there is the beautiful nature to escape into too!