Chloe Bower
Course: BA Fine Art
Year of graduation: 2019
Nationality: British
Tell us a bit about yourself.
Ever since I was a child, I have always loved creating and making. Years later, approaching the end of my undergraduate study of fine art, I am now an artist whose practice stems from manipulation of sound and filmmaking, to writing poetry and performing spoken word.
Through becoming friends with fellow course members, I am now part of an arts organisation called Context Collaborative, consisting of six artists, all on the fine art course, who run spoken word events, workshops and art exhibitions throughout Leeds. As the curation rep for my degree show, I have also become interested in the curation of art and its interaction with gallery spaces.
As a fine art student, my work has primarily been centered around catharsis and the process of both creating and engaging with artwork in order to overcome life's difficulties. My work, therefore, often thematically stems around issues surrounding mental health, feminism and grief.
What made you want to apply to your course?
Coming from a small town in Lincolnshire, called Spalding, I wanted to broaden my horizons in a city as cultured – but also as friendly and welcoming – as Leeds.
When I came to the open day, I fell in love with the community feel on campus and during my interview for the course, felt at ease in the presence of kind and hospitable tutors, all with a range of both academic and artistic backgrounds. I knew I wanted to expand on my artistic practise, and the University of Leeds seemed like the perfect place to do so.
What is it that makes you passionate about your area of study?
I love art and its ability to reach out to audiences in exciting and innovating ways. I also feel very strongly towards art's ability to help people who may be struggling, whether that be through the process of making and engaging with art, or art spaces creating communities that people can become a part of.
What aspects of the course do you enjoy the most?
Through most of my art education, I have been kept to a strict structure, routine and set projects that were often limiting to my artistic expression. Here, the course is structured so that you have complete artistic independence over the work you make, with no set project titles or limitations. This has meant my artwork has really developed as I have had the freedom for my work to grow and change how I see fit, in accordance to what I am interested in.
I have also really enjoyed the course having a balance between studio work and theory modules. The theory modules I was able to do in my second year, in particular, were very interesting and not only expanded my cultural awareness but also informed my practice as an artist.
What would you say about the learning facilities in your School and at the University in general?
The School's facilities are very good, with a team of dedicated and friendly technicians who work tirelessly to help students achieve the very best they can with their artwork - helping with the practical issues that are often overlooked but always imperative to the success of the work.
In my final year, I have definitely developed an affinity for the libraries, which became a second home during the process of writing my dissertation. The Brotherton Library, in particular, has brilliant books around art history, as well as the special collections section which has a plethora of artists' books.
Did you make use of the careers and employability support?
My school has an email trail, sent to students regularly, that often includes posts about potential jobs tailored towards Fine Art students and graduates.
I got an internship last summer through applying to one of these promoted jobs, under the University of Leeds' programme called Q Step, which is tailored around providing arts and humanities students with experience in qualitative and quantitative data analysis.
This job was working as a researcher with the charity IVE, who work with young people from underprivileged backgrounds, improving on their employability, learning and development by providing them with more opportunities for arts engagement and education. My job as a researcher was to gather data and create a report in order to prove that this charity is worth philanthropic investment.
The opportunity that was given to me by the University allowed me to develop skills in researching and data analysis, that I never thought I would gain as an art student, therefore greatly improving my employability. It is this combined experience with art and research that arguably gave me the upper hand applying for the internship with Yorkshire Sculpture International.
Tell us more about your internship with Yorkshire Sculpture International.
I am really excited to begin working with Yorkshire Sculpture International. So far, I know that my job will include working with a team of volunteer researchers, gathering data from audiences and galleries taking part in the exhibition happening across Leeds and Wakefield. This is so that I can pool together a selection of data in order to prove that this fantastic exhibition will be worth investing in again for the future.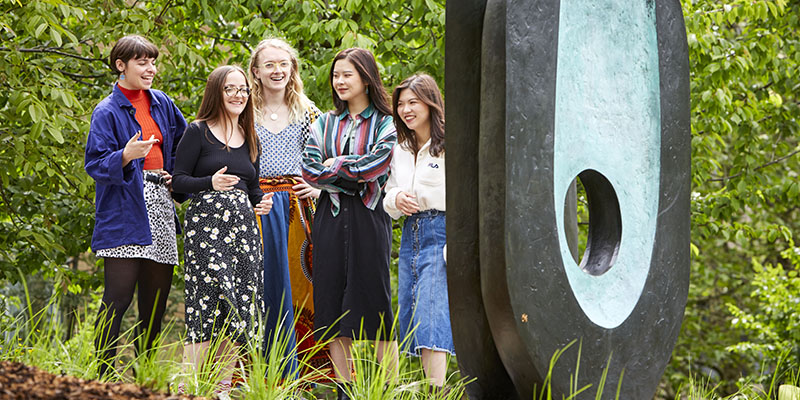 Chloe is gaining practical experience in industry whilst interning with Yorkshire Sculpture International.
Did you work closely with a particular tutor or member of academic staff?
Professor Nick Thurston, one of the Fine Art tutors, ran the poetry workshop I attended in my first year. This was massively influential to my practice and experience as a fine art student at Leeds, as I not only discovered that poetry can very much be a part of art, but it was also where I met five other poets that are now my fellow cohorts in Context Collaborative - one of my proudest achievements at university. Nick has been consistently supportive of my practice, always providing me with helpful recommendations and guidance with keen and genuine interest.
What other activities are available and which ones have you tried out?
Part-time work is often available for students, both within your school, the union and across campus. I have worked as a student ambassador for my school, which has included helping out on open days and interview days. This consisted of showing prospective students around the university and the school, promoting the facilities whilst also helping the interviewees feel at ease.
What do you plan to do once you've finished your course?
I am interested in pursuing a career in public arts engagement, particularly gallery or curation work. I would also like to expand on my own practice and work as a freelance artist alongside this career.
I believe my experience as an art student, having to balance many tasks and responsibilities whilst working to strict deadlines, has provided me with the independence, autonomy and effective time management skills for me to do this successfully.
What would you say to anyone thinking of applying to your course?
If you like artistic freedom, in a friendly and exciting city, then you'll love it in Leeds!
Cultural Institute