Yizheng Shen
Course: MA Culture, Creativity and Entrepreneurship
Year of graduation: 2020
Please tell us a bit about yourself and your background.
This year I am studying MA Culture, Creativity and Entrepreneurship in the School of Performance and Cultural Industries.
When I was an undergraduate student, I learned English and International studies at China Foreign Affairs University. I am interested in creative industries and dream to become a cultural counsellor in the fashion/cosmetic industry.
What made you want to apply to your course and to Leeds?
Leeds is one of those cities with a creative atmosphere and multi-cultural activities in the UK. To learn more about how cultural industries work in modern society, I decided to apply for the MA programme at the University of Leeds, to closely experience daily life in Leeds.
After becoming an international student here, I always feel curious about the local cultural activities in Leeds, as well as how creative and arts make the world a better place. Therefore I have taken part in many local activities such as Light Night, Halloween, Bonfire and Christmas Lights Switch on, and had interesting free talks with friends.
What is it that makes you passionate about your area of study?
I always consider culture as one of the most significant methods of making people's daily life colourful and meaningful. In a multi-cultural society, people with the same interest can come together, while people with a different culture can comprehend and respect each other.
From this perspective, even profit-making companies have the social responsibility of involving creative culture, which may meanwhile regenerate their old products. Therefore, I am passionate about the promotion and application of culture.
What aspects of the course did you enjoy the most?
In the courses of MA Culture, Creativity and Entrepreneurship, the things I enjoy the most are the cases and theories of building the creative city in post-industrial society. This knowledge gives me the inspiration to regenerate the urban area through culture to connect culture with business. With this experience, I always pay more attention to cultural phenomenon and design in every corner of life.
What would you say about the learning facilities in your School and at the University in general?
The School of Performance and Cultural Industries provides us with rooms and facilities like shooting devices for making artworks and rehearsing. The University of Leeds does well in campus infrastructures (such as clusters everywhere) and databases online. Generally speaking, I am satisfied with these learning facilities which make my study go quite fluently.
Tell us about Civic Researcher Module.
This module is held by several schools at the University of Leeds, providing students with opportunities to engage in a variety of arts organizations in Leeds and contribute to some specific programmes as academic researchers.
From our group's cooperation with Leeds Playhouse's creative engaging programmes, I comprehend how social enterprises in Leeds interact with society and what student researchers can do to help improve it.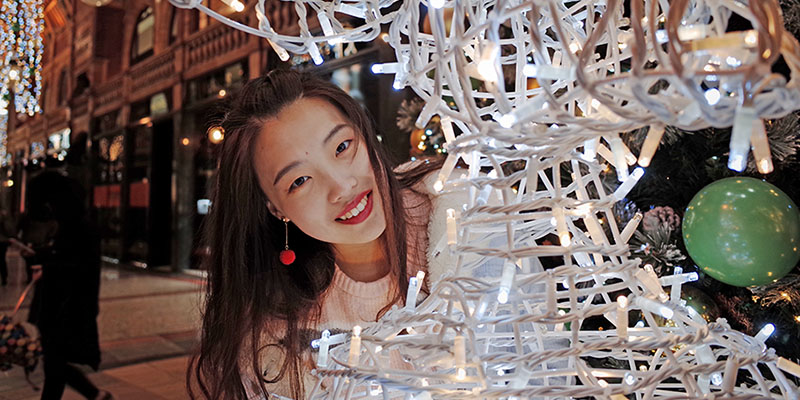 Yizheng Shen gained practical knowledge in social enterprise through the Civic Researcher module.
Did you work closely with a particular tutor or member or the University's academic staff?
For the Civic Researcher Module, Dr James Stark from the School of Philosophy, Religion and History of Science is our personal tutor, giving us incredibly specific and useful guides in our studying process.
All together we have had five tutorials, talking about what the module want from us and how to address the problems we currently have. Moreover, Jamie and our group leader have had frequent emails during the whole process.
What other activities are available outside of your studies, and which ones have you tried out yourself?
In Leeds, there are plenty of things to do. Students who are interested in cultural activities can pay attention to Leeds University Union website for activity information on campus.
Personally, watching the dancing performance and shows and listening to symphony orchestra are also good choices that I have experienced (school sometimes can offer free or discount tickets for students). Furthermore, I am now applying for a part-time job in a restaurant in order to experience more.
What do you plan to do now you've finished your course?
According to my major and interest, I plan to become a cultural counsellor in fashion/cosmetic industries. With the skills and knowledge I've achieved so far, I can think from the perspective of taking culture in advantage and thereby have deep insight for the enterprise to gain further promotion.
What would you say to anyone thinking of applying to your course?
I recommend my MA programme to students who would like to understand how creative and cultural industries work in modern society. Plenty of optional modules can let you access to the specific areas you're interested in the most. I think with these ideas you can have further studies or begin your career in any industry that can be related to creative culture.