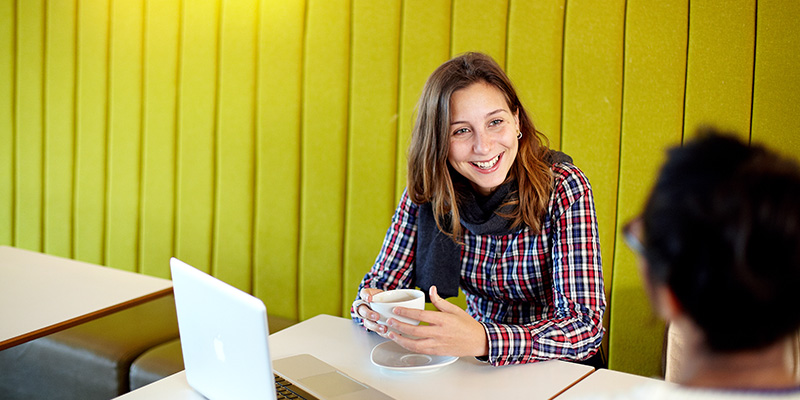 We're committed to increasing your employability and career prospects. As our student you'll have a wealth of opportunities to develop your skills and make the most out of your time at Leeds.
Our varied teaching and assessment means that, on graduating, you'll be equipped with the skills needed for a wide range of careers in the cultural industries or further postgraduate study, including analysis, communication, debating, project management, critical thinking, teamwork, and presentation skills.
---
Students at the University of Leeds are the UK's 5th most targeted by leading employers.
— High Fliers Report 2021
---
What do our graduates do?
Our Masters courses equip you with a high level of transferable skills, so you'll be prepared for a wide range of career paths. Our graduates have achieved great success in sectors as varied as education, publishing, law, journalism, the media, the creative arts, event management, and social work. Recent graduate destinations include:
ITV Television
Freemantle Media
Leeds Playhouse
Many of our graduates also choose to continue studying either here at Leeds or at other institutions. Our School is home to a thriving research student community and supervisors with an extensive range of specialisms, making it the ideal place to study for your PhD.
School opportunities
We offer many opportunities to gain skills and experience that will be valuable for your professional and personal development.

By becoming a student representative you have the opportunity to represent your course or the wider School, providing feedback from your fellow students and helping to ensure everyone has the best student experience
Postgraduate students are also invited to attend the School's Research Seminar Series hosted by researchers, guest speakers and visitors from outside the School. This is an opportunity for all postgraduate students in our School to attend and contribute to the research culture of the School. There are also many other specialised, interdisciplinary and cross-Faculty research seminars run by our postgraduate students and staff.
You'll also have the opportunity to attend Professional Perspectives, a series of talks by leading figures in the cultural industries, hosted by the School of Performance and Cultural Industries in association with the Cultural Institute.
Previous figures have included:
University opportunities
There is a wide variety of careers and employability support available across the University, including:
Lifelong Learning Centre
<iframe width="1280" height="720" src="https://www.youtube.com/embed/xinQLfWq-kY?list=PLPooB6Qr1ayF8gOA4XIpGAwXUYjNaYXfd" title="YouTube video player" frameborder="0" allow="accelerometer; autoplay; clipboard-write; encrypted-media; gyroscope; picture-in-picture" allowfullscreen></iframe>
The Lifelong Learning Centre provides support for mature and part-time learners across the University, including advice on how to apply to university and support throughout your studies.
Kate Barkley
MA Applied Theatre and Intervention
Several external companies visited the School to give taster sessions of their workshop techniques, which was invaluable for developing my skills and understanding the different ways in which these companies operate. Work placements also provided a fantastic way to immerse myself in the creative industries and practise my own methods in a professional setting.
View Profile