Lily Lavorato
Course: BA Fine Art
Year of graduation: 2019
Nationality: British
Tell us a bit about yourself.
I'm a final year BA Fine Art student and I'm just about to graduate. My main practice is sculpture and through my work I explore themes around chronic illness, performance and patienthood.
I'm also a member of two Leeds-based art collectives, Platform 3 and Party Mom Society. Through my time working with these two collectives, I have organised exhibitions, residencies and most recently live performance/drag events.
I'm really interested in accessibility within the arts and especially what artist-led groups can do to counter various barriers in order to create more accessible spaces for a variety of audiences.
What made you want to apply to Leeds?
I've always loved making and throughout school I studied Graphics, Textiles and Fine Art. I visited Leeds when applying to University and felt really comfortable in the city, I'd also heard a lot about the vibrant art scene and this was a major pull for me.
I was drawn to my course specifically as it seemed to have a good balance between studio-based work and theory-based modules in art history and cultural studies.
What is it that makes you passionate about your area of study?
I have been drawn to visual art from a young age and have always loved being in galleries and creating with my hands. Art really excites me as there is always more to learn and it can come in such a variety of forms.
I spend a lot of time drawing, thinking about and viewing artworks, so having the opportunity to study what I'm passionate about and having dedicated time and space to make artwork has been a real honour.
I'm passionate about arts engagement because I believe that art has the ability to transcend language and social barriers, as well as an inherent power to affect positive change within communities.
What aspects of Fine Art did you enjoy the most?
I've really enjoyed working on this year's degree show, Cut the Mustard. Unlike other Fine Art courses across the country, we are responsible for organising all elements of our degree show, including: marketing, curation and fundraising.
It has been a real learning curve, but has meant that we are all very proud of what we have achieved. I've also enjoyed the open seminars run by Professor Griselda Pollock, which have focused on art history from around the world.
What would you say about the learning facilities?
There are great facilities within the building for casting, woodwork, photography and digital work. There are also opportunities to learn new skills at different times throughout the course, so I feel confident to carry on making when I leave the University.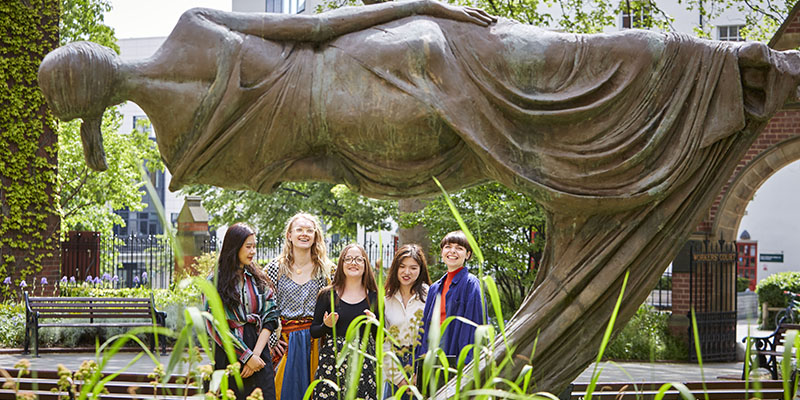 Lily's internship with Yorkshire Sculpture International has developed her skills in arts engagement.
Did you make use of our careers and employability support?
I have used the Careers Centre for mock interviews, as well as for support on how to write a successful CV and covering letter. I found this really helpful and it has made me more confident when applying for jobs.
Tell us about your internship with Yorkshire Sculpture International.
I applied for the Public Programme Internship with Yorkshire Sculpture International as I'm passionate about arts education and engagement.
Yorkshire is an amazing place to study sculpture and the quality of the exhibitions that I have seen over the past few years at Leeds Art Gallery, Yorkshire Sculpture Park, Henry Moore Institute and Hepworth Wakefield has had a major influence on my practice as a sculptor.
I'm really excited that so many artists and visitors will be coming to Yorkshire and I am looking forward to sharing my passion for the region with different groups of people across all the galleries. I'm expecting to develop my knowledge and skills around arts engagement and to gain a better insight into how these large scale public programmes operate. I'll also have the opportunity to develop my own knowledge around contemporary art through the events and talks that I'll be attending.
Did you work closely with a particular tutor or the University's staff?
Due to the nature of the course I have had a lot of contact with tutors through individual tutorials and crit sessions. It's been an honour throughout the last year to discuss my work with Griselda Pollock ⁠— her insights have been really formative in the development of my practice.
I have also worked closely with all the technicians in the building, including Peter Morton, David Sowerby and Jubal Greene. Not only they have helped me to develop my technical skills, but they have also given really valuable advice and support in the run-up to the degree show.
What activities are available outside of studying?
Throughout my time in Leeds I have been involved in a number of art projects outside of my studies, this has included organising exhibitions and doing voluntary work. I volunteered for a year with Pyramid Arts, a charity based in Leeds who run weekly collaborative art sessions for disabled artists.
This year I have also been working with Saturday Art Club, which involved working with secondary school pupils on various art activities, which I have really enjoyed.
Another highlight has been the opera project run by Griselda Pollock and Sam Belinfante which involved a number of visits to Leeds Opera House, including backstage sessions to learn more about how operas are created.
What do you plan to do now you've finished your course?
I will be working over the summer with the engagement team for Yorkshire Sculpture International. After that finishes in September I plan to carry on working in arts education/engagement and continue to put on events and exhibitions in Leeds.
The technical skills that I have learnt on my course will help me when making my own work, as well as in the planning and execution of exhibitions. I've also developed the ability to think critically and this will help me to reflect and analyse on what I'm doing as I continue to progress through my career.
What would you say to anyone thinking of applying to your course?
If you're keen to improve your knowledge of art history and cultural studies alongside developing your artistic practice then this is a great course for that.
As for being on the course, my main advice is to attend everything. There are a lot of extra-curricular activities run by tutors and also throughout the city; even if you think an event might not link exactly to your practice, there is always something new to see and learn.