Zi Yang
Course: MA Arts Management and Heritage Studies
Year of graduation: 2019
Nationality: Chinese
Please tell us a bit about yourself.
I am originally from China and this is the first year I've studied abroad. I studied Art Management and Planning at Guangzhou Academy of Fine Art in China.
There are several reasons why I chose to study MA Arts Management and Heritage Studies. I've always had a passion for art and diverse cultures. Studying at the University of Leeds has allowed me to explore the differences between art management in China and the UK.
Not only am I interested in contemporary art, but also traditional cultures and heritages. MA Arts Management and Heritage Studies cover both of these aspects, which is why I chose Leeds as a place to develop my thoughts and skills in this field.
As an international student, this one-year study has been a precious journey in my life. Although I had struggled with language and experienced cultural shocks, I gained and learned a lot here. Studying in Leeds is a decision that I will never regret.
What aspects of the course did you enjoy the most?
I am always curious about how to make heritages come alive in the contemporary context. In semester 2, I chose a module called Intersecting Practices: Questioning the Intersection of Contemporary Art and Heritage. This module gave us many useful academic resources and practical examples, which gave me a new perspective in thinking about the relationship between art and heritage. This learning experience also gave me great inspiration towards what I am going to do in my future career.
What would you say about our facilities and opportunities?
The School of Fine Art, History of Art and Cultural Studies provides many opportunities for us to experience art and culture. For example, we have had three research trips towards Liverpool, Wakefield and Ripon respectively, which gave us a chance to explore the cities, architectures and museums.
We have access to very rich academic resources provided by the University. Most of the books can be read online, while others can be borrowed from four libraries on campus, which is very convenient for our research.
Tell us about your internship with Yorkshire Sculpture International.
My placement at Yorkshire Sculpture International (YSI) was with the engagement team and I was based at the Learning Centre of Yorkshire Sculpture Park (YSP).
I helped run teachers' CPD sessions run by the YSI festival and took part in the planning for self-guided resources for YSP. Not only did I gain work experience that I can feature in my CV, but their methods for developing audience engagement also inspired me a lot and I'll utilise these methods in my future career.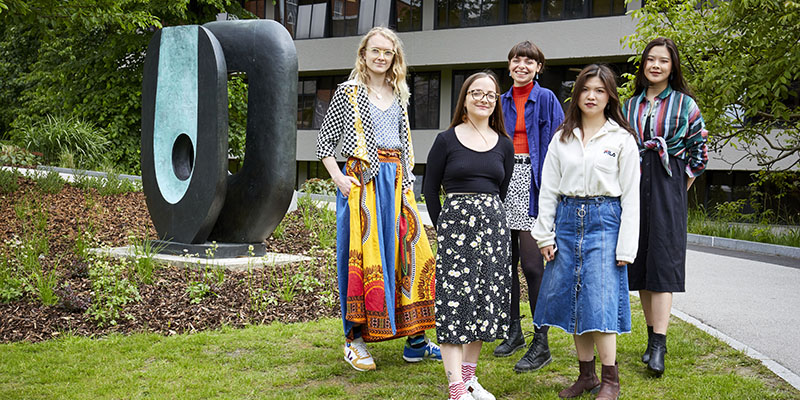 Zi Yang's work experience with Yorkshire Sculpture International has helped expand her knowledge and expertise.
What do you plan to do once you've finished your course?
I had already set up my own creative cultural organisation in China, so I will go back to China and carry on with my career. Although the context is different between China and the UK, the things I learned in Leeds helped me broaden my horizons and provided me with new ideas of how to make my work stand out among others in the field.
What would you say to anyone thinking of applying to your course?
This course is very practical and encourages us to think critically. We had a chance to work as a team to curate an exhibition in semester 1, focusing on the interpretation in an art gallery. We also had opportunities to take a placement in renowned arts and cultural sectors based on our own interests.
In addition, readings provided by the course could give you an academic perspective to help reflect on what you've seen and experienced. Therefore, if you want to obtain nice working experience and academic development, this course can be a good choice for you.