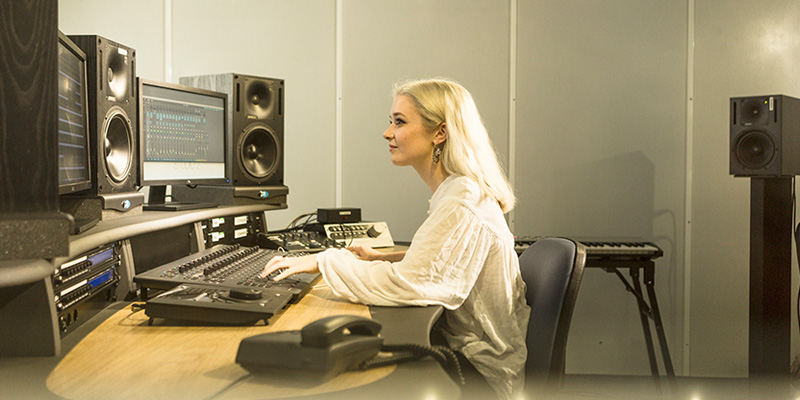 How do I apply?
Applications to the School of Music can be made at any time of the year, however, we recommend you contact the School before submitting an application.
You can apply and track the status of your application online.
What documents do I need to apply?
copies of your academic transcripts or certificates (you must provide English translations, if necessary)
your CV
a research proposal (up to 2,000 words)
English language qualification certificates (if required)
visa and immigration documents (if required)
You'll also need the names of supervisors you would be interested in working with.
How do I write a research proposal?
Watch our webinar for an introduction to PhD proposal writing and funding. Also available as an MP3 podcast (with a transcript and slides also available).
Your proposal should be up to 2,000 words, including a bibliography. We use your proposal to assess the potential of your topic for research, and to match your interests with appropriate supervisors.
Please provide the following information in separate sections:
Whether you are applying for a PhD or a practice-led PhD (where your research questions can only be answered through practical engagement).
Your central research question.
A list of sub-questions that inform or underpin the central research question. This should take the form of a brief outline of the general area of study, and should do the following: identify the context within which you place your research; identify the key relevant literature and/or practice for your proposed research project; demonstrate that you are aware of current debates and issues; make reference to key articles and texts; demonstrate your own expertise in your chosen area; and articulate the potential contribution to new knowledge in the chosen field of research (for example, what are the gaps in the field that you can see, or what limitations are there in the current field). A PhD is an original piece of work and this section should demonstrate that your proposed area of study has not been studied before or that you have a new angle on this area of study or that you are applying new methodologies and/or models to this area of study.
An outline of the methods you intend to employ in your research and the kinds of data you will require. You may use a variety of methods, including qualitative methods, literature review and studio experimentation, amongst others. Specify the approach you feel will be most appropriate for your research project.
An explanation of why you are interested in this research and why you are well placed to conduct the research.
Indicative timetable for your research.
A brief bibliography that supports the key concepts, frameworks that you have discussed in your context section.
If you are applying for practice-led research:
A rationale for choosing this method of research and evidence of your experience of working through practice.
A brief bibliography that supports the key concepts, frameworks and, if appropriate, existing practices/performances, that you have discussed in your context section.
A sample of your own practice.
A sample of your work on a DVD or a website. If you need to submit your sample in another format then please contact us to check that we will be able to access it. The sample should be of suitable length and content for us to assess the quality of your practice in relation to your proposed methodology.
If you have any questions about writing your research proposal, please contact us.
Deadlines and timescales
We have two main start dates for our postgraduate research degree programmes: 1st October and 1st February.
We would recommend starting at these times whenever possible so that you have the benefit of a full induction programme. Deadlines to apply for these start dates are below. Applications submitted after these dates will be automatically considered for the next available start date unless otherwise stated. We may be able to consider other start dates throughout the year at the discretion of the School. If you would like to be considered for a different start date, you should apply at least 3 months (for UK applicants) or 4 months (for international applicants), before your proposed start date.
If you are applying for funding you should ensure you apply for the academic place of study well in advance of any scholarship deadlines. The majority of scholarship deadlines start in January and will stipulate an October start date.
| | | |
| --- | --- | --- |
| Start date | Deadline to apply for UK applicants (full-time or part-time) | Deadline to apply for International applicants (full-time only) |
| February 2024 | 31 October 2023 | 30 September 2023 |
| October 2024 | 30 June 2024 | 31 May 2024 |
| February 2025 | 31 October 2024 | 30 September 2024 |
Scholarships deadlines
If you intend to apply for scholarships these usually have deadlines early in the year and most require you to have already secured your place on a course. We advise you to apply for a place on the PhD at least 6 weeks before a scholarship deadline.
What happens next?
You can track the status of your application online. Wherever possible, we invite candidates for interview. For international students, this can be a telephone interview.