Professional ethics short courses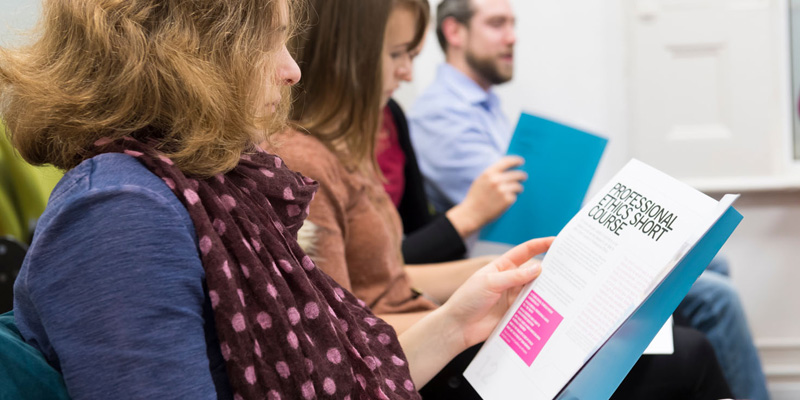 Our professional ethics short courses are a great opportunity to further your professional development and decide whether you're interested in studying one of our Masters courses.
We offer two distance learning courses which explore the concept and nature of professional ethics. On each, you'll study a module from one of our Masters courses; if you go on to study for the full Masters course this module will count towards your credits.
Each course is taught online over 8 weeks and is worth 15 credits at postgraduate level. When you've completed your course, you'll receive a certificate of completion from the University.
We're experienced in providing high-quality distance learning, and offer extensive resources, specialised support, and courses that you can fit around work and other commitments.
Applied and Professional Ethics Short Course
This course introduces you to the concept of professional ethics and some of the key issues in this area. These might include trust, integrity, duty, conscientious objection, ethical fragmentation, codes of ethics, truth and deception in professional contexts, and the interaction between the professional and the personal.
You'll also consider what it means to be a professional and the implications of this on whether professional ethics is distinct from or a specific application of ethics.
Explore our short courses to find out more.
Biomedical and Healthcare Ethics Short Course
This course introduces you to a range of ethical issues in medical and nursing practice. These might include truth-telling, trust, confidentiality, and consent in carer/patient relationships as well as the content and stringency of the philosophical arguments that underlie these issues.
You'll also consider the role of ethical codes in a medical professional's decision-making and the justification, if there is one, to appeal to conscience in objecting to undertaking certain practices in healthcare.
Explore our short courses to find out more.
Peggy Baxter
MA Applied and Professional Ethics
I intend to use what I have learned about complex nuanced ethical issues involving fairness, confidentiality, privacy, professionalism, equality and diversity in my teaching role.
View Profile