Gheorghe Williams
Course: BA English Literature and Theatre Studies
What made you want to apply to your course and to Leeds?
I've always had a vivid imagination, which helps to coordinate my reading of books and watching of theatre at any level. Studying literature has an intriguing way of drawing out your point of view and allowing you to locate yourself in ways of thinking that have existed for centuries. At the same time you can see in literature where newer philosophies are beginning to emerge, and use that knowledge to measure how civilisations, societies and cultures across the world are changing and responding to one another.
I am passionate about making, watching and studying theatre in the same way. Somehow, theatre always has the potential to surprise you. What excites me about theatre more than any other medium is its particular kind of liveness. It can use your own expectations against you, which I find really exciting, and the fact that it can bring together multiple individual and communal experiences makes it a really unique field of study.
I was born in Leeds and had lived here my whole life by the time I was in sixth form. The idea of moving far away from home seemed like one of the most important parts of going to University, so I had not originally considered going to Leeds based upon that fact alone.
It was only when I decided to sign up for an open day and visited the School of English that I realised it was an amazing institution and a clear first choice. I was surprised by the sheer range of modules available to choose from, and being given a tour of the libraries and theatre spaces was the turning point in my realisation that Leeds was for me.
How would you describe your experience of studying at Leeds?
My course group was relatively small, which was one of its best features. Beginning with a weekend-long workshop in first year, it was instantly easy to find a close group of friends, but we were also very close to one another as a year group, which was an invaluable aspect of my entire University experience.
As well as studying the analysis, production, and application of theatre, I have developed a unique perspective of texts through the modules that I shared with students on other courses in the School of English. Some of the best memories I have from my time at Leeds are because of the innovative and engaging modules I was able to take.
The libraries at Leeds are an invaluable asset to anyone studying here, because there's such a range of material to access. For students on my course, who use the exploration of theatre both as a way of learning and a way of presenting knowledge and ideas, the theatre spaces in the School of English and the wider University are flexible and so easy to work with.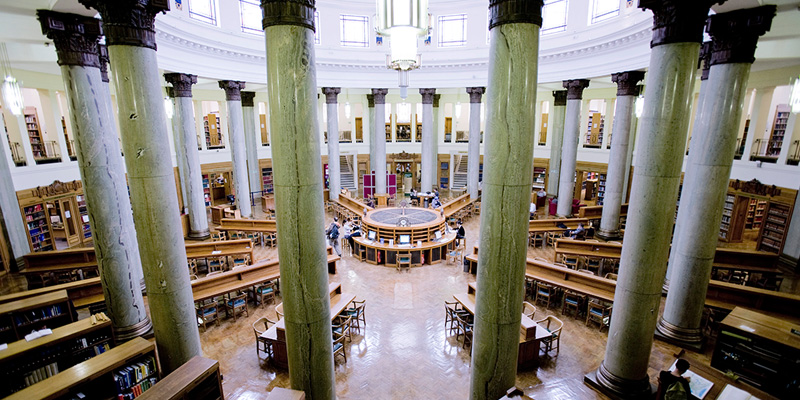 I took part in the student society Theatre Group, and socialised with people in many other performance societies. I also co-founded the Theatre Outreach and Education Society, which uses theatre to bridge communities and assist in the education of local school children, with two friends from my course. The Students' Union helped us to get the society on its feet, and it went on to win Best New Volunteer Society at that year's Riley Awards!
I also participated in many of the events organised by the LGBT Society, which was hugely welcoming and a good way to meet new people and to get to know the many LGBTQ+ spaces around the city.
I always knew that Leeds was a great city to live in, but it is especially true for students. Not only because of the amazing nightlife and entertainment scene, but it is connected to so many places in all corners of the country, and surrounded by beautiful countryside. To put it simply, it has everything you could want or need, and more.
How would you describe your experience of studying abroad?
I had wanted to study abroad even before I applied to university, but Leeds' range of connections around the world was an influential factor when I chose where to go after sixth form. I lived and studied at California State University, Monterey Bay during my third year of study, and it was easily one of the best years of my whole life.
In California, I experienced a completely different take on university life. I based my choice of university on not only the beautiful location, but also the strong set of values that are shared across the state's university system. I took a range of subjects and it completely transformed both my academic skills and the way I see academia. My studies there inspired me to pursue a career in higher education, and I am looking forward to starting my Masters degree this autumn, thanks in no small part to the support I received and connections I made in California.
I think the best part of my year abroad was the friends I made. In my first semester I was intrigued by the idea of Greek life, and so I joined a fraternity to see what it was like. My expectations were shattered by how hardworking and supportive my new friends were, and by the strength of the lifelong friendships I made. I was also able to travel to both ends of the state because of the people I met, and as a result I'm strongly considering the possibility of moving there after I finish my education.
What do you plan to do once you've graduated?
Having studied close to home in Leeds and thousands of miles away in California, I decided to move somewhere that was further away from home but not so far as another time zone. I am going to study for an MA in Twentieth and Twenty-First Century Literature at Durham University, and would then like to pursue a career in publishing. I would eventually like to return to Leeds to gain a PhD qualification.
The support I've received from my tutors at Leeds has been really helpful. The range of specialisms among the staff meant that I was able to find the right people to talk to about my application, and their assistance did the trick!
What would you say to anyone thinking of applying to your course?
Even though the modules and assignments are challenging, my course is also simply a lot of fun. For people who love to explore texts, concepts, and performance from a variety of different perspectives, this course is definitely for you.
You have the freedom to apply all of the skills you develop in each of your classes. The independence you get in your theatre projects is the perfect opportunity to advance your abilities and gain some really worthwhile experience, particularly if you are interested in working in the industry as an actor, director, designer, technical specialist, or even producer.