Jasper Clow
Course: BA English Literature (Joint Honours)
Year of graduation: 2020
Nationality: British
Why did you choose to study at the University of Leeds?
I chose Leeds halfway through the open day. I was struck by the incredible enthusiasm that the students and staff had for their subjects; they took such pride in their work.
It is a university and a city full of people doing things they love.
Tell us about the benefits of studying a joint honours degree.
Doing joint honours means that I didn't have to sacrifice any of the skills I wanted to develop.
It offers me far more choice with regard to my modules especially at level 2 and 3; I never have to take a module reluctantly.
What opportunities have you taken advantage so far?
During my year studying abroad I worked for 6 months as an intern for a yacht broker in Montpellier in the South of France.
It was fantastic work experience and did wonders for my French. I also write for the student newspaper, The Gryphon, and play for French Soc FC. In my second year, I was part of the annual French play.
How do you think your degree at Leeds will help you in your career?
Leeds has encouraged me to be proud of my strengths, to represent myself with confidence and seize the opportunities that my study has presented to me.
I've also learned how to deal with large amounts of information, extracting and presenting effectively the most important elements.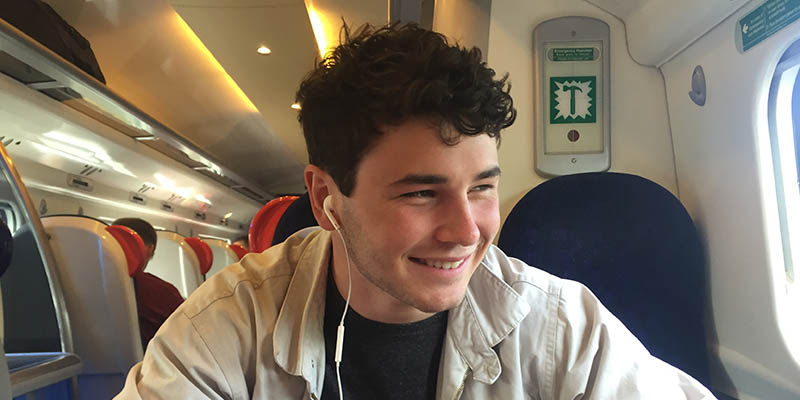 Jasper says he feels at home at Leeds.
What skills have you gained so far?
My academic and personal writing style has developed more than I expected. I am more motivated, organised and independent.
I've also met, during my time at Leeds, some of the people that I love most in the world.
Have you worked closely with a particular tutor or member of staff?
After particularly enjoying a module with Professor Paul Hammond at level 2, having him now as my dissertation tutor is perfect for sharing my ideas with a tutor who will challenge and encourage me to produce the best piece of work that I can.
What advice would you give to someone who is considering an English degree?
Relish it. Allow yourself to be challenged by the material and enjoy the new outlooks that you'll gain. Approach your academic journey like a child on Christmas morning, there is always another box to open.
What do you think of the facilities?
The facilities on offer enable students to make the most of their time here.
They're great, but more importantly, they're available to students. From the sports facilities to the special collections we are encouraged and able to take advantage of them.
And what do you think of Leeds as a city?
Leeds is a vibrant Northern Powerhouse of which I'm proud to be a part. I feel at home here.