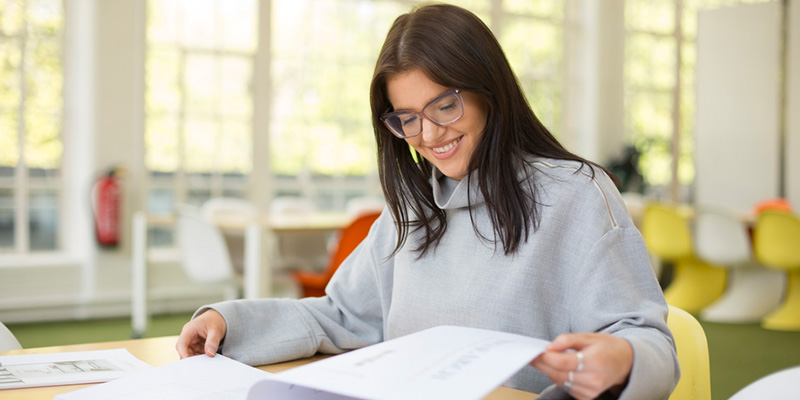 Entry requirements
In order to study a postgraduate research degree with us, you'll need a strong academic record with a degree in a relevant subject area.
For masters by research this will usually be a bachelor degree.
For PhD this will be a masters degree.
We also accept equivalent international qualifications. We may also take into account any relevant professional experience that you may have.
• If your first language is not English, you'll also need to demonstrate proficiency in English language by meeting the School of Design English Language requirements: IELTS - an overall band of 6.5 with no less than 6.0 in each component skill
You can improve your academic English level to the standard needed to study a postgraduate research degree by taking one of the following pre-sessional courses:
Please see our entry requirements page for alternative English Language tests we can accept.
The application process
Applications for postgraduate research courses are made online through our application portal. As part of the application process, you'll need to provide a number of documents:
a copy of your transcript from your previous or current degrees, listing all courses and marks achieved
a copy of your certificates from your previous degrees
a detailed research proposal on your intended topic
two academic references.
If your first language is not English you may also need to provide evidence of English language proficiency.
You'll also need to supply the names of supervisors you would be interested in working with, explore the research interests of our staff.
Once you have submitted your application, it will be sent to our admissions team and the Director of Postgraduate Research for consideration. We aim to process your application as soon as possible which is usually within 2-4 weeks of receipt. Please note that we may ask you for an interview as part of the application process.
Deadline and timescales
We have three main start dates for our postgraduate research degree programmes: 1st October, 1st February and 1st April.
We would recommend starting at these times whenever possible so that you have the benefit of a full induction programme. Deadlines to apply for these start dates are below. Applications submitted after these dates will be automatically considered for the next available start date unless otherwise stated. We may be able to consider other start dates throughout the year at the discretion of the School. If you would like to be considered for a different start date, you should apply at least 3 months (for UK applicants) or 4 months (for international applicants), before your proposed start date.
If you are applying for funding you should ensure you apply for the academic place of study well in advance of any scholarship deadlines. The majority of scholarship deadlines are in January and will stipulate an October start date.
| Start date | Deadline to apply for UK applicants (full-time or part-time) | Deadline to apply for International applicants (full-time only) |
| --- | --- | --- |
| February 2024 | 31 October 2023 | 30 September 2023 |
| April 2024 | 31 December 2023 | 30 November 2023 |
| October 2024 | 30 June 2024 | 31 May 2024 |
| February 2025 | 31 October 2024 | 30 September 2024 |
| April 2025 | 31 December 2024 | 30 November 2024 |

Scholarships deadlines
If you intend to apply for scholarship these usually have deadlines early in the year and most require you to have already secured your place on a course. We advise you to apply for a place at least 6 weeks before a scholarship deadline.