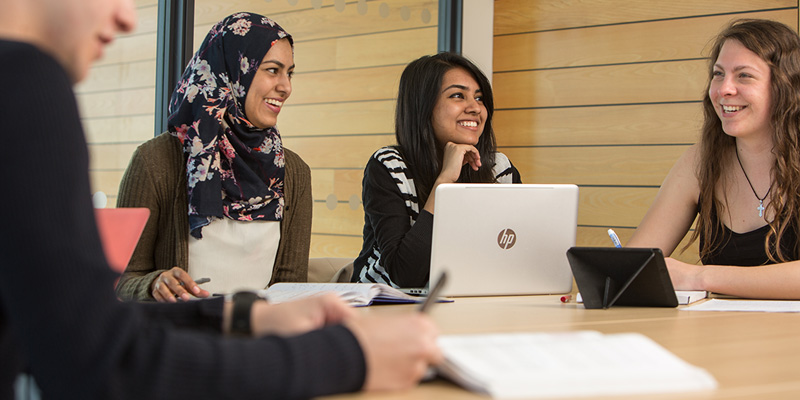 Research community
As a Russell Group university, research is at the heart of our teaching and learning. We have a large number of postgraduate research students and academic staff and are currently leading innovative research in a range of areas such as 3D weaving technology, performance testing and sustainability.
As part of a vibrant research community, you'll be able to benefit from many opportunities to share best practice. We are an interdisciplinary school covering fashion, graphic communications, graphics and art and design, meaning you'll benefit from access to shared knowledge of current issues, theory and practices across all areas of design.
A supportive environment
Although a research degree involves a large element of independent study and research, you'll be fully supported throughout your time studying with us.
As a postgraduate researcher you'll have your own dedicated supervisor, who'll oversee your research and provide guidance and support to ensure you achieve the best possible results. Your supervisor will help you by assessing any training needs you may have and ensuring that you receive the relevant training. You'll have regular meetings with them to assess your progress and to receive feedback on any written work you produce.
The Organisational Development and Professional Learning team at Leeds offer a range of training courses specific to postgraduate researchers from workshops on specialist IT software, to techniques for developing your thesis, research ethics and how to make the best use of library facilities for your research.
You'll become a member of the Leeds Doctoral College, which brings together all the support services available to you as a postgraduate researcher.
World-class research facilities
We are committed to investing in state-of-the-art facilities to support teaching, learning and research. We have recently invested over £4 million in new facilities in the Clothworkers South Building including new laboratories, exhibition areas and student spaces.
Specialist facilities
We have a number of dedicated laboratories and workshops with world-class equipment used for both teaching and research, including specialist spaces for:
Weaving and knitting
Clothing performance testing
Testing characterisation
Colouration and chemistry experiments
Colour imaging and communication
Clothing manufacturing
Digital printing and photography
We'll support you to develop the necessary skills to use equipment related to your area of study and our technicians are also on hand to assist you and help you to use equipment efficiently and safely.
Student spaces
Nine studios are used by students to complete practical work and as exhibition spaces for events such as the end of course degree shows.
For postgraduate researchers, our dedicated PGR student office means you'll have your own workspace in a shared space with other postgraduate students conducting research in a range of design-related areas, offering a great opportunity to share experiences and practices with fellow researchers.
Libraries and archives
Studying at the University of Leeds means you'll have access to library facilities as well as a number of galleries such as The Stanley & Audrey Burton Gallery which runs regular art exhibitions.
The Marks and Spencers archive is also based on our campus with access to a permanent exhibition showcasing clothing, food packaging and merchandise as well as photography and marketing collateral from Marks and Spencers dating back to 1884. This is a fantastic resource and is an excellent case study of how fashion, textiles, graphics and design have changed over the past century.
You'll also have access to the International Textile Collection which dates from Ancient Egyptian times to the present day, with the greater part covering the 19th and early 20th centuries. The collection is comprised of world textiles and related objects, documents and manuscripts.