Winners: Faculty of AHC Partnership Awards 2020
Words about our winners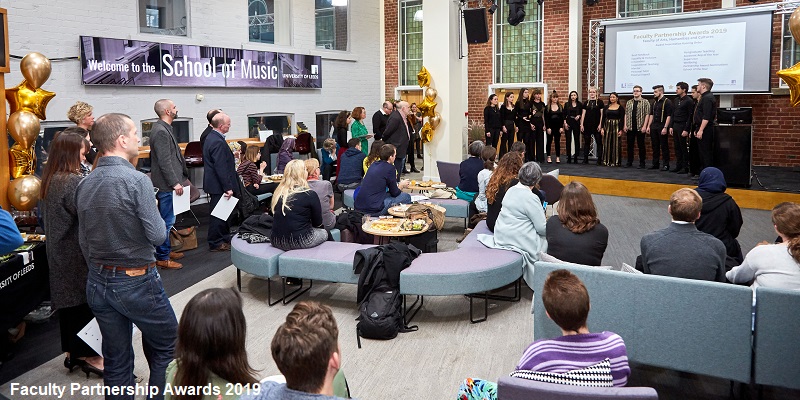 Equality and Inclusion
Winner: Arts and Humanities Outreach Team, Educational Engagement (Group)
Through a rich and varied programme of outreach and engagement activities they consistently inspire school students and teachers, raising attainment and aspiration to HE both locally and nationally. Their work is vital at this critical time for the arts and humanities, with arts subjects being squeezed from the curriculum...
Feedback
Winner: Caitlin Branagan, School of Design (Staff)
Caitlin has done an excellent job in developing online assessment and feedback. The School has a diverse range of types of assessment, from traditional essays and exams to 3D artefacts and hard copy design work. She has worked tirelessly with staff to move all feedback online during semester one. This has also had a positive impact on the student community as they can access their feedback all in one place.
Global
Winner: Adam Strickson, School of Performance and Cultural Industries (Staff)
Adam's engagement with 6 Million+, a charitable organization that works with refugees in the UK to raise awareness about the atrocities of the genocide around the world, has not only created an impact amongst the local community members but has also allowed international students like me and my peers to be engaged with such an integral project.
Innovation
Winner: Edina Decsics, Language Centre (Staff)
Edina is a mastermind of continuous improvement for admissions processes in the Language Centre admissions. Amongst several examples, the most impressive is her idea to pursue the development of an online self-assessment tool to enable applicants to independently and 24/7 assess their English language qualifications against the entry requirements for the pre-sessional courses. Edina has shown determination in taking each step to ensure her proposal received formal approval and funding and is now due to be delivered in the spring.
Inspirational Teaching
Winner: Richard De Ritter, School of English (Staff)
He's a wonderful, friendly welcoming teacher who inspires passion in every topic he teaches" "He's always a positive and motivating teacher. His lectures are always fascinating and we genuinely look forward to seeing them on our timetable. " "What sets him apart is his openness and happiness to learn from the ideas of his students, as well as teach them. This effortlessly fosters an encouraging, stimulating and inclusive learning environment. He is clearly passionate about his teaching, encouraging his students to be the same, and his seminars and lectures are always fantastically engaging.
Mentoring
Winner: Kashmir Kaur, School of Languages, Cultures and Societies (Staff)
I always leave my mentoring sessions with Kashmir Kaur with a renewed sense of purpose and a clearer sense of direction. She gives me encouragement and I appreciate her holistic approach to mentoring." "My mentor has been really helpful throughout my time in Leeds and continues to inspire me to reflect on and improve my work".
"She just has this wonderful ability to engage people with her contagious enthusiasm and positive outlook. She has been able to provide me with constructive advice and direction, and encouragement to pursue my interests in scholarship.
Personal Tutor
Winner: Claire Eldridge, School of History (Staff)
Claire is an incredible personal tutor who always goes above and beyond to help in anyway she can with both academic and personal issues. I would have never been able to finish the year without her constant help and advice...Her passion for her history is infectious, she's inspired me to become a better historian, helping me to find the projects I am passionate about." "Claire has provided me with amazing support during my final year...It is obvious that she really cares about her students' wellbeing, and has worked so hard to make sure I am taking advantage of the support around me...Without her I do not believe I would have made it this far.
Positive Impact
Winner (SES): Linda Watson, School of Performance and Cultural Industries (Staff)
I just find that she is reliable, attentive, responsive, supportive, knowleadgeable, kind, and if she can, she will make any processes smoother. Finding people like this in such a big institution is a gift." " Linda is someone who always goes the extra mile. She brings a level of strategic insight and creative thinking based on years of experience..." "Her role within PCI is essential and I can't picture my life as a PhD without Linda's brilliant collaboration. Thank you for being so incredible in everything you do!
Winner (Academic): Mel Prideaux, School of Philosophy, Religion and the History of Science (Staff)
Mel has worked tirelessly and creatively to foster a continued and enhanced partnership between students, staff and partners within and beyond her own Faculty. Both in her personal actions, and in leadership of others she has maintained a productive relationship with the officers and employees of LUU, and ensured that wherever possible the student voice is not just heard, but acted upon". "The impact of this work has been hugely valuable to the our sense of community, and has led to better outcomes for students in the areas of general student education, employability and pedagogy..." "Mel Prideaux is the very definition of positive impact...with Mel you can tell it isn't just a job, she genuinely cares.
Wellbeing
Winner: Antony Butcher, School of Music (Staff)
Antony has always gone above and beyond to support the wellbeing of students in our school. You can tell that he doesn't just do it because it is a part of his job...he always makes the time for students...Antony deserves the Leeds Partnership Award for Wellbeing this year because he is the unsung hero in our school. I am sure many would agree with me that he is a friendly face and positive energy in the school, who's efforts , regrettably, go unnoticed.
Postgraduate Researchers who Teach or Demonstrate
Winner: Rebecca Starr, School of Fine Art, History of Art and Cultural Studies (Staff)
Rebecca always goes above and beyond to make sure we understand and have the capacity to make our own interpretations of the concepts and texts we are discussing..She is understanding of students' mental health and wellbeing... Rebecca's hard work means she is widely respected amongst students and considered one of the best members of staff in the school. Whilst working this hard, she is also liked and respected.
Student Academic Rep of the Year
Winner: Stephanie Boon, School of Music (Student)
Steph has gone above and beyond all year to improve the quality of student life in the School of Music. Always been approachable and inclusive to everyone. In particular her work on improving communication and creating feedback platforms so that every student in the school can have their say has made a huge difference, making students feel like their voice can be heard.
Supervising PhD Thesis/Theses
Winner: Maria Lonsdale, School of Design (Staff)
Dr Lonsdale is an excellent supervisor who has incredible responsibility and passion in her work. She is not only a helpful supervisor in my study, but also a good supervisor in my life. The PhD study is tough, but every time her warm concern and patient advice can always make me feel warm and confident. There is no doubt that for me, an international student, Dr Lonsdale is the most trustworthy person in this country, I feel very grateful for her excellent supervision and the great help.