Winners: Faculty of AHC Partnership Awards 2020
Winners and shortlisted nominees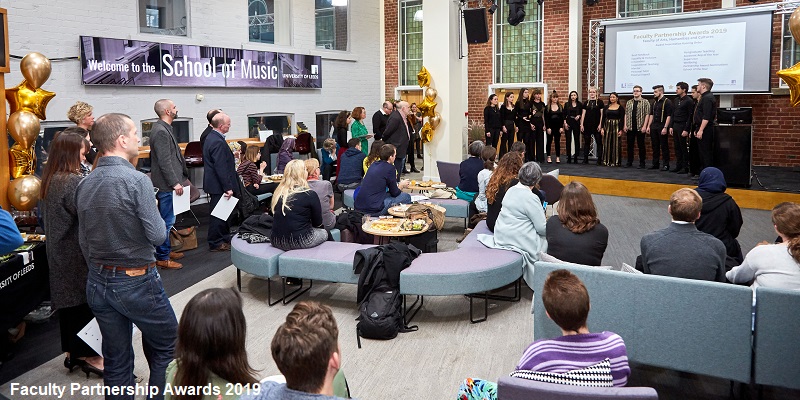 The Faculty of AHC Partnership Awards is an annual event to give recognition and thanks to staff and students in the Faculty of Arts, Humanities and Cultures. It is part of the larger Leeds Partnership Awards, organised by Leeds University Union.
At Leeds we value our academic community, and actively involve all staff and students in working together to provide an exceptional learning experience.
We invite nominations to recognise oustanding impact across several areas categories. Please see below for further information, our winners, commendations, and all our nominees. Thank you to everyone who submitted.
Read some of the wonderful comments we received about our winners.
---
AHC School of the Year
This is awarded the School in recognition of the range, number and quality of applications received.
Equality and Inclusion
This person or group strives to create a fair and equal environment in which everyone can achieve their potential.
Winner: Arts and Humanities Outreach Team, Educational Engagement (Group)
Feedback
The person who provides invaluable and supportive academic feedback, in both content and delivery method, which helps others to develop and excel in their work.
Winner: Caitlin Branagan, School of Design (Staff)
Global
The Global Award celebrates staff members, students, or groups who work with a global focus. It aims to recognise excellence amongst those who have actively engaged in the promotion and maintenance of international or intercultural activities, education; or competence.
Winner: Adam Strickson, School of Performance and Cultural Industries (Staff)
Innovation
The person or group who uses innovative methods and approaches to engage and excite others, such as embracing new technology to the benefit of students and staff, or developing new and innovative ways to enhance the academic or non-academic student experience.
Winner: Edina Decsics, Language Centre (Staff)
Inspirational Teaching
The person who has used their passion and dedication for a subject area to inspire others to be ambitious, enthusiastic and challenged to develop new ideas.
Winner: Richard De Ritter, School of English (Staff)
Mentoring
Whether an SES staff member, academic, or a student, this person's guidance and support has encouraged and nurtured others to develop their skills and prospects for the future, helping them to grow and progress, either personally or in their learning.
Winner: Kashmir Kaur, School of Languages, Cultures and Societies (Staff)
Personal Tutor
The personal tutor who does their utmost to support their students, promoting engagement with academic and co-curricular activities, and facilitating their personal development.
Winner: Claire Eldridge, School of History (Staff)
Positive Impact
The person who has made an exceptional difference to others' experiences through an outstanding contribution to the School or Faculty, and who has worked hard to make individuals' experiences better.
Winner (SES): Linda Watson, School of Performance and Cultural Industries (Staff)
Winner (Academic): Mel Prideaux, School of Philosophy, Religion and the History of Science (Staff)
Wellbeing
The staff member, student, or group who makes an exceptional contribution to wellbeing at Leeds through raising awareness, supporting individuals and/or actively referring others at Leeds.
Winner: Antony Butcher, School of Music (Staff)
Postgraduate Researchers who Teach or Demonstrate
A registered AHC PhD student who, while undertaking their own study, has also actively and exceptionally contributed to other students' education as a module assistant, seminar leader or demonstrator.
Winner: Rebecca Starr, School of Fine Art, History of Art and Cultural Studies (Staff)
Student Academic Rep of the Year
The School, Course, or Postgraduate Research Rep who has actively worked in partnership with others to secure positive, student-led change that makes a real difference to both students and staff.
Winner: Stephanie Boon, School of Music (Student)
Supervising PhD Thesis/Theses
The dissertation, final year project, or thesis supervisor who has guided and inspired others to push the boundaries of their research for a dissertation, final year project or thesis.
Winner: Maria Lonsdale, School of Design (Staff)
The Partnership Award
This Award is a focus of the LUU Partnership Awards and is decided by the shortlisting panel. It is given to the person or people who have been deemed to have had an exceptional impact. Often this will be someone who has been nominated broadly, or particularly active on a specific issue. The Committee were delighted to put forward Linda Watson, School of Performance and Cultural Industries and Maria Lonsdale, School of Design to be considered for the University's Partnership Award.
Thank you to all our exceptional staff and students in the Faculty of AHC community.
Commendations
Equality and Inclusion / Global: Yasmeen Soudani and Michael Bramham, School of Music and School of Performance and Cultural Industries (Group - SES)
Global: Jo Fairley, School of Music (Staff)
Innovation: Nathalie Lloyd-Cope representing the FAHACS Student Leader Team, School of Fine Art, History of Art and Cultural Studies (Group)
Inspirational Teaching: Jaeuk Park, School of Languages, Cultures and Societies (Staff)
Faculty Partnership Award shortlisted nominees
Thank you to all our nominees and all who submitted nominations – we had an overwhelming response. Please see the shortlist below.
Equality and Inclusion:
Abigail Harrison Moore, School of Fine Art, History of Art and Cultural Studies (Staff)
Helen Finch, School of Languages, Cultures and Societies (Staff)
Nina Wardleworth, School of Languages, Cultures and Societies (Staff)
Feedback:
Peter Rhodes, School of Design (Staff)
Adam Richardson, School of History (Staff)
Global:
Manuel Barcia Paz, School of History (Staff)
Sarah Jewers, School of History (Student)
Innovation:
Marcus Scott, Language Centre (Staff)
Burkhard Hauder, School of Languages, Cultures and Societies (Staff)
Ian Sapiro, School of Music (Staff)
Inspirational Teaching:
Maroula Perisanidi, Institute for Medieval Studies(Staff)
Marta Cobb, Institute for Medieval Studies (Staff)
Race & Resistance Teaching Staff, School of History (Group)
Milada Walkova, School of Languages, Cultures and Societies (Staff)
Michael Finn, School of Philosophy, Religion and the History of Science (Staff)
Penny Rivlin, School of Media and Communication (Staff)
Mentoring:
Mike Sheedy, School of Design (Staff)
Chris Norton, School of Languages, Cultures and Societies (Staff)
Charlotte Crowe, School of Music (Student)
Sophie Rogers Owen, School of Performance and Cultural Industries (Student)
Personal Tutor:
Sara Magro Ramos Pinto, School of Languages, Cultures and Societies (Staff)
Oliver Thurley, School of Music (Staff)
Matthew Kieran, School of Philosophy, Religion and the History of Science (Staff)
Penny Rivlin, School of Media and Communication (Staff)
Positive Impact:
International Medieval Congress, Institute for Medieval Studies (Group)
Ana-Maria Milescu, Language Centre (Student (Undergraduate)
Lauren Barraclough, Outreach team (Staff)
Azim Abadi, School of Design (Staff)
Cathryn Reardon, School of Languages, Cultures and Societies (Staff)
Rasha Soliman, School of Languages, Cultures and Societies (Staff)
Arijit Das, School of Media and Communication (Student)
Kate Watkins, School of Media and Communication (Staff)
Ashish Sharma (Sifar Ashish), School of Performance and Cultural Industries (Student)
Rachel Muers, School of Philosophy, Religion and the History of Science (Staff)
Wellbeing:
AHC Wellbeing Project, Faculty of AHC (Group)
Sarah Hargreaves, Graduate School (Staff)
Jane Rushton, School of Design (Staff)
Bethan Artro Morris, School of English (Student)
Postgraduate Researchers who Teach or Demonstrate:
David Gould and Kate Marrison, School of Media and Communication (Group)
Benedetta D'Ettorr, School of Performance and Cultural Industries (Student)
Student Academic Rep of the Year:
Ibrahim Latif Ince, School of Fine Art, History of Art and Cultural Studies (Student)
Ross Large, School of Music (Student)
Alice Acland, School of Fine Art, History of Art and Cultural Studies (Student)
Adam Abdalla, School of Languages, Cultures and Societies (Student)
Sasha Williams, School of Media and Communication (Student)
Lorena Serrano Tamayo, School of Performance and Cultural Industries (Student)
Supervisor - Supervising PhD Thesis/Theses:
Iona McCleery and Catherine Batt, Institute for Medieval Studies (Group)
Vien Cheung, School of Design (Staff)
David Higgins, School of English (Staff)
Heather Xiaoquan Zhang, School of Languages, Cultures and Societies (Staff)
Sameh Hanna Soliman, School of Languages, Cultures and Societies (Staff)

For further information, contact:
Tess Hornsby Smith (Faculty Student Education Enhancement Officer / University Student Education Fellow)
Faculty of Arts, Humanities and Cultures
Email: t.r.hornsby-smith@leeds.ac.uk