Research project
Documentary Films and Buddhist Performing Arts : innovative ways of engaging with Buddhist teachings and rethinking gender roles in modern Thai Buddhism
Start date: 1 January 2013
End date: 31 December 2025
Funder: Multiple funders
Primary investigator: Professor Martin Seeger
External co-investigators: Ajarn Apirak Chaipanha (Faculty of Humanities and Social Sciences, Burapha University), Ajarn Naris Charaschanyawong (independent scholar)
Partners and collaborators
Buddhadasa Indapanno Archives, Burapha University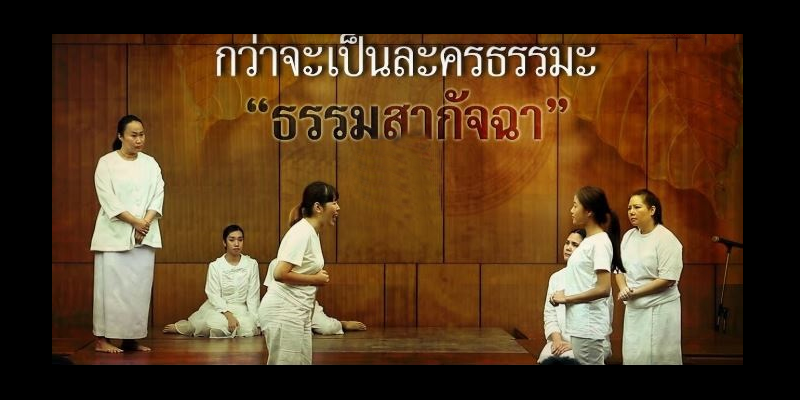 Description
Funded by Panyaprateep Foundation, British Academy, University of Leeds, Buddhadasa Indapanno Archives, Thai Health Promotion Foundation.
The three edited volumes, three documentary films and a number of public performances that emerged from Martin Seeger's long-term ethnographic and textual research on the biographies, literary work and veneration of Thai Buddhist women have prompted significant rethinking about female forms of soteriological practice and teaching in modern Thai Buddhism.
By adopting performing arts as a tool of interpretation of complex Buddhist teachings, Seeger and his Thai team of performers and researchers have developed an innovative approach to researching and help Thai Buddhists to engage in issues of gender and female authorship in Buddhism.
This project has also proven that Buddhist performing arts can be an effective alternative form of Buddhist pedagogy in modern Thai Buddhism.
Impact
With now four public performances, the research tested if and how Buddhist performing arts may enable raising awareness and rethinking of gender roles in modern Thai Buddhism, and at the same time constitute an effective way of making Thai Buddhists engage with Buddhist teachings that are generally believed to be difficult to understand.
The first performance took place at the Thai University Burapha. Students of performing arts and philosophy were invited and more than 150 people attended (the playhouse was filled to overflowing). The second performance was sponsored, co-organised by, and took place at the prestigious Buddhadasa Archives in Bangkok.
The event was advertised predominantly but not exclusively to Thai Buddhists with a deep interest in Buddhist teaching and spiritual practice. There was an audience of more than 200 people (due to the enormous interest the performance generated it was spontaneously decided to also live-broadcast the performance in an adjacent room as the main hall in which the performance took place was too small).
The audiences of both events were asked to fill in a questionnaire immediately after they watched the performance, and 129 out of 138 respondents who filled in the questionnaires said that they strongly agree that using performing arts can be an effective tool for teaching Buddhist doctrine. Many of them welcomed this "innovative" and "creative" kind of engagement with Buddhist teaching saying that it not only facilitates understanding of Buddhist teachings but also "motivates," "inspires," and "encourages" them to pursue more textual studies or spiritual practice of Buddhist teaching.
A number of respondents said that the performance led to personal self-reflection. Many respondents praised the combination of "education" with "entertainment" and 120 of the 138 respondents said that their understanding of gender in Buddhism changed as a result of watching the performance.
Publications and outputs
Film trailer: A Dhamma stage play from yesteryear (340k+ Facebook views)
Documentary film: Producing the Dhamma stage play from yesteryear (31k+ Facebook views)
Film: A Dhamma stage play from yesteryear (41k+ Facebook views)
You may prefer to view the films via YouTube (see below).
We would be very keen to receive feedback on the project and the video content; please send your comments to:
Professor Martin Seeger, Professor of Thai Studies – M.Seeger@leeds.ac.uk
The documentary 'Lost in the Mists of Time' on the life and work of Khunying Damrongthammasan and the wrong authorship attribution of some of her major texts (see above) was broadcast by the public broadcaster ThaiPBS, one of Thailand's major TV channels, on the 2016 "Asalha Puja Day" (19 July), which is one of three most important days in the Thai Buddhist calendar. Subsequently published online on YouTube and Facebook, the film has achieved more than 80,000 views in the meantime.
Lost in the Mists of Time
Documentary film: Producing the Dhamma stage play from yesteryear
A Dhamma Stage Play from Yesteryear
Publications that emerged from Seeger's research
[anonymous]. 2562 [2019]. Thongtham Nangsue hok lem samai roo. 5 [Thongtham: Six Dhamma Books from the Reign of King Rama V], edited by Martin Seeger and Naris Charaschanyawong [50%-50%]. Bangkok: Thammasapa. 156 pp.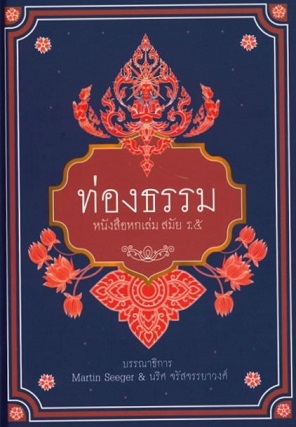 Thammakathikajan. 2561 [2018]. Hattham Siangtham sattri samai roo. 5 [Practising the Dhamma: The Voice of Truth by Women from the Reign of King Rama V], edited by Martin Seeger and Naris Charaschanyawong [50%-50%]. Bangkok: Thammasapa. 428 pp.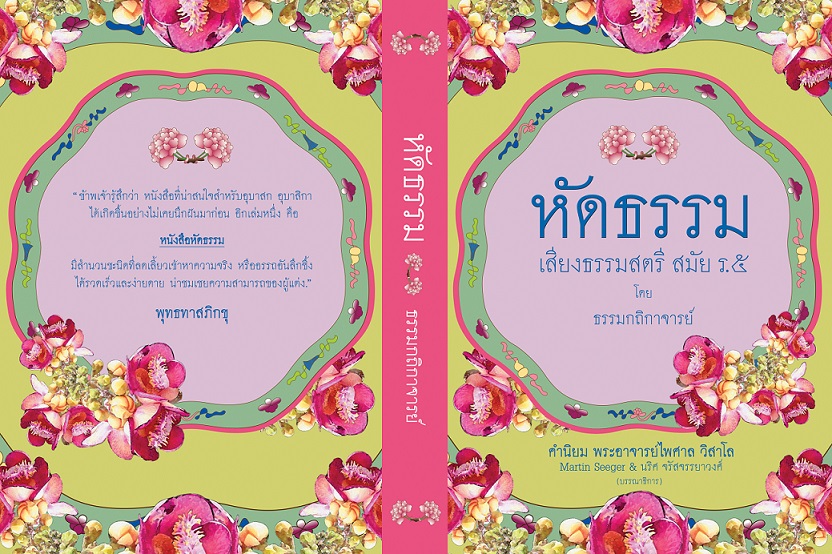 Khunying Damrongthammasan (Yai Wisetsiri), 2559 [2016], Damrongtham, Bangkok: Thammasapa, edited by Martin Seegerand Naris Charaschanyawong, 428 pages.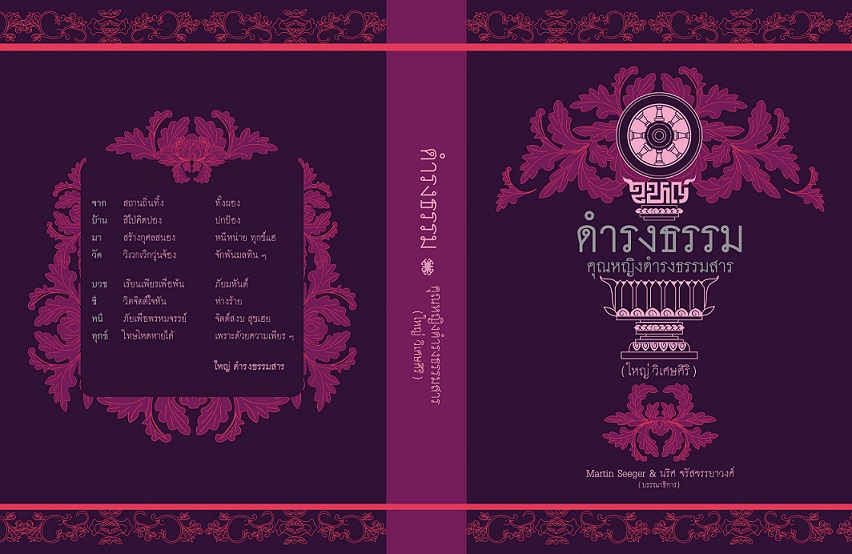 Gender and the Path to Awakening: Hidden Histories of Nuns in Modern Thai Buddhism, [2018], Martin Seeger, 360 pages https://silkwormbooks.com/products/gender-and-the-path-to-awakening
In Gender and the Path to Awakening, Martin Seeger lays out the nuances and varying conceptions of female renunciation in modern Thai Buddhism. Centered on long-term textual and ethnographic research on six remarkable female practitioners, Seeger considers trends and changes over the last 140 years in the practices of female renunciants and their devotees. He also investigates understandings of female sainthood in Thai Buddhism, its expressions in material culture, and the importance of orality and memory in Thai Buddhist epistemology.
The People – Interview with Martin Seeger
Print: Martin is interviewed on the history of Thai Studies at the University of Leeds, and the way Thai language, culture, history and Buddhism is taught there. Also covers Martin's research on female renunciation in modern Thai Buddhism, and Professor Seeger talks about why he became interested in the study of Theravada Buddhism and his long-term research on the well-known Thai Buddhist scholar monk, Somdet Phra Buddhaghosacariya (P. A. Payutto). He also discusses why he decided to become ordained as a Thai Buddhist monk in northern Thailand. https://thepeople.co/interview-martin-seeger-german-expert-on-thai-women-role-in-buddhist-society/
Video: This is also available to view on Facebook (please note the University of Leeds does not take responsibility for video content or pages held and maintained by external providers): https://www.facebook.com/thepeoplecoofficial/videos/465071081013394/