Research project
The Western Indian Ocean in the First Millennium CE
Start date: 31 March 2020
End date: 31 July 2024
Funder: British Academy/Wolfson Fellowship
Primary investigator: Dr Rebecca Darley
Description
The Western Indian Ocean stretches from East Africa to South Asia. The development of this geographic area over a thousand years is a huge topic both in terms of the material it covers, and the regional diversity of the area. But it is also an area that is very remote from most people's sense of the past, both in the UK and in the Indian Ocean region, and, at least for large parts of the first millennium CE, it hasn't been written about very much.
At the beginning of those thousand years, it is quite widely known that the Roman Empire traded with 'India' (a term that could mean much more than the modern state of India), and many people will have seen the ruins of Palmyra in their news feeds over recent years - a city made wealthy by this Indian Ocean trade. At the end of those thousand years, we enter the world of the Arabian Nights and Sinbad the Sailor, the bustling streets of Baghdad and genies in lamps. Other names from those times have fallen into obscurity. Empires and political centres, which wielded enormous power have become footnotes to history, perhaps important in the areas where they ruled, but little known otherwise: the Aksumite Empire of East Africa, the Sri Lankan kingdom of Anuradhapura, the Kushan, Satavahana or Chera empires of South Asia… Others, like the Roman Empire, have loomed larger and larger in our imagination of the past, so that sometimes they can seem to block out all of the light from other things.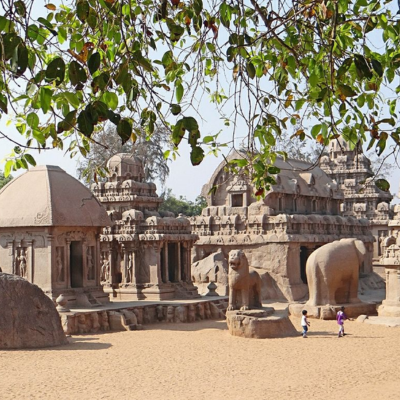 The incredible, stone-cut temple complex at Mahabalipuram in Tamil Nadu (South India) is thought to date mainly from the seventh and eighth centuries CE and is unlike any other temple architecture in India. As well as a monolithic elephant, the individual buildings, each carved from a single outcrop of rock, are though to imitate the design of wooden buildings from the time, which have now been lost. This remarkable group of monuments speaks to a transition in ideas of society, power, economic relationships and religion which can be traced, in its different forms right across the Western Indian Ocea in the first millennium.
This research tells a story that joins up these many different themes, and fills in the gaps that have been overlooked until now. The project creates a new paradigm for understanding trade and politics across a critical millennium in one of the most important maritime spaces on the planet.
The Dragon's Blood tree (dracaena cinnabari) is unique to the Indian Ocean island of Socotra. At various points in the first millennium, the island was visited by sailors trading in the cinnabar obtained from these trees, which was considered to have special medicinal as well as culinary properties. In the early 2000s, graffiti left by some of these sailors was identified deep inside a cave on the island, showing that people, mainly from the region of modern Gujarat in India, had visited the island and explored the cave complex, perhaps for religious reasons, or perhaps simply as tourists!
The Western Indian Ocean refers to the connected sea spaces that lie between East Africa and peninsular South Asia, including modern Sri Lanka. This includes the Red Sea and the Persian/Arabian Gulf. The southern Indian Ocean, roughly south of modern Tanzania, is excluded because strong oceanic currents and winds mean that these regions were not closely connected to the areas further north in the first millennium. In fact, in the fifth century CE, travellers from Southeast Asia first arrived in Madagascar, completely by-passing South Asia. By contrast, the Western Indian Ocean is bound closely together by its own winds and currents, especially the monsoon winds, which blow northeast to southwest for half the year then reverse, moving people and things.
Writing about the Western Indian Ocean in the first millennium CE is a tricky business. Historians have made sense of the passage of time with labels, such as 'ancient', 'medieval' or 'modern' that were designed mainly with Europe in mind. Nation states, using names from centuries ago, often use the past to justify their own policies. For that reason, in my book, I don't use any period markers, and just refer to time by centuries. I also do not use any names associated with modern states: no China, or India or Ethiopia or Sri Lanka. Instead, I try to refer to regions (West Asia, South Asia, North Africa, etc.), even if this can sometimes sound a bit clunky!
The Western Indian Ocean has mostly been studied from the perspective of trade: people have talked about it as the first region in the world to 'globalise'. Scholarship has focussed on two periods when commercial networks were most vibrant. In the first and second centuries CE, trade, especially between the Roman Empire in the Mediterranean, and various states in South Asia, has given rise to the idea of a 'Roman' or 'Indo-Roman' Indian Ocean. From the ninth century onwards, new trade networks sprang up again, this time involving large numbers of Muslim traders, leading to the notion of a 'Muslim' Indian Ocean. A 'Roman to Muslim' history of the Indian Ocean, though, leaves out many other people's stories and also ignores changes to things that weren't trade. Transformations in political systems, in culture and in things like farming all made a huge difference to people's lives.
My study brings together textual, material and especially numismatic (coin) evidence, to look mainly at the story of state structures in the first millennium. In the first century CE many regions around the Western Indian Ocean were not organised into large political units. Smaller communities and groups organised themselves and supported themselves by hunting, gathering, raising livestock or farming. Millions of other people, though, lived in huge empires - the Satavahana, Kusha, Parthian and Roman Empires - which stretched over vast areas of South and West Asia, North Africa and South Europe. By the end of the first millennium, by contrast, almost everywhere around the Indian Ocean had been incorporated into states. They were smaller than the old empires but much more involved in their subjects' lives. This process of 'filling up the map' changed the world forever.
The story of the Western Indian Ocean in the first millennium has to be told using lots of different kinds of evidence. Some regions, especially those which began the millennium under the control of large empires, produced written material and huge archaeological remains, such as buildings, roads and harbours. Other regions, which had had simpler social structures, left behind different remains. Sometimes, little survives today. On top of that, some empires, like the Roman Empire, have had their remains carefully preserved ever since by powerful, wealthy states, while other empires, such as the Kushans or the Parthians, were not given the same treatment. This study tries to bring together many different kinds of source, and coins are especially valuable. Where coins moved, where and how they were made, how their numbers increased or decreased over time, can all reveal patterns that other kinds of sources leave out, and they are just one way in which it is becoming possible to create new global histories.
Read more about this research
Darley, Rebecca, 'Byzantine Gold Coins and Peninsula India's Late Antiquity', Journal of Ancient Civilizations, 8 (2021), 135–69
Darley, Rebecca, 'Seen from across the Sea: India in the Byzantine Worldview', in Global Byzantium: Papers from the Fiftieth Spring Symposium of Byzantine Studies, ed. by Leslie Brubaker, Rebecca Darley, and Daniel Reynolds (London: Routledge, 2022), pp. 9–38. See more details here.