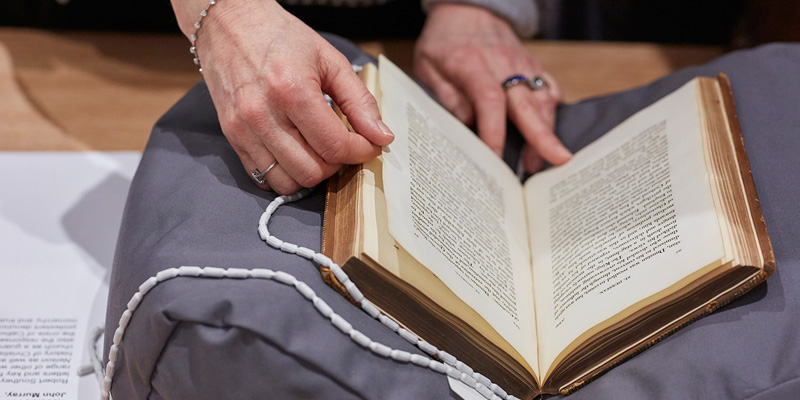 A supportive environment
Although a research degree involves a large element of independent study and research, you will be fully supported throughout your time studying in the Institute for Medieval Studies.
As a postgraduate researcher, you will have your own dedicated supervisors to oversee your work and to provide guidance and support to ensure you achieve the best possible results. Postgraduate researchers are allocated two supervisors who will be experts in the field that you are proposing to undertake your research. Your supervisors will help you by assessing any training needs you may have and ensuring that you receive the relevant training and will meet with you regularly to assess your progress, providing feedback on any written work you produce.
The Organisational Development and Professional Learning team at Leeds offer a range of training courses specific to Postgraduate Researchers from workshops on specialist IT software to techniques for developing your thesis, research ethics and how to make the best use of library facilities for your research. All postgraduate researchers are also members of the Leeds Doctoral College, bringing together the support and enhancement opportunities available to you from across the University.
We are committed to ensuring that you develop advanced skills as a medievalist. In the first year of your studies, you will have an opportunity to improve your Latin translation skills and/or one the vernacular medieval languages relevant to your project, as well as palaeography and research methods more broadly through specially design modules.
A dynamic research community
The Institute for Medieval Studies brings together academics from across the University who are specialists in all areas of Medieval Studies. We also have a large postgraduate community of approximately 50 students. This creates a vibrant community which you'll be encouraged to be an active member of. The Medieval Group is the oldest Medieval Studies-related association at the University, dating back to the 1950s, and is run by a committee of volunteers from among the staff, PhD, and MA students. Every year in October there is a 'Medieval Research Afternoon', which showcases the range of current research in medieval studies at the University. They also organise regular seminar series, examples of recent research and conference initiatives run by students and alumni of the institute include:
The Leeds Animal Studies Network - research on the diverse approaches to the 'animal' in the arts, humanities and science. The LASN is intended as an interdisciplinary hub, fostering connections between departments and networks both within the University and further afield.
Medieval Mediterranean: Cultural, Religious and Economic Exchanges - covering a broad range of topics from the military to the literary and the scientific, the papers presented engaged with the idea of the Mediterranean as a hub of exchange of ideas, trade routes, and conquest.
Medieval Bodies Ignored - a cultural history of the body, particularly that relating to bodies that are ignored, by either medieval society or modern scholarship.
There are also opportunities to take part in organised field trips to important medieval sites in Northern England with fellow students and staff from the institute.
International Medieval Congress
As a student in the Institute for Medieval Studies, you will have a unique opportunity to attend the International Medieval Congress, free of charge. We are proud that the University of Leeds hosts the Congress each year, which welcomes over 2900 medievalists from across the globe onto campus with a programme of 700 sessions which allow interdisciplinary insight and discussion on the medieval period, from art and architecture to theology, literature and medicine. This is a fantastic opportunity to expand you knowledge of the subject area, to network with people from all over the world who have a passion for Medieval Studies and to learn from active researchers.