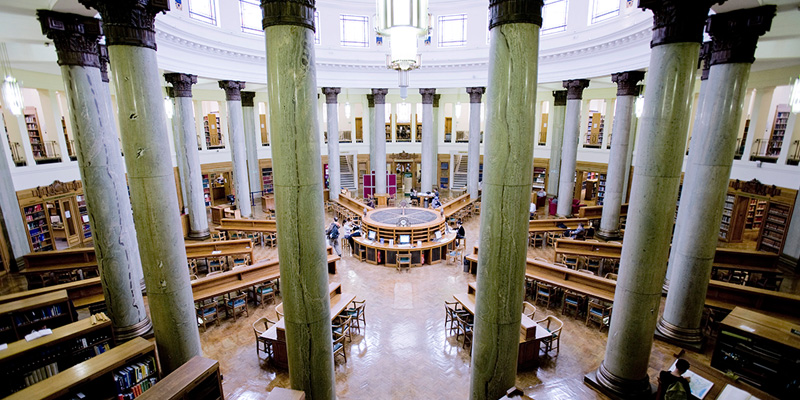 We have excellent facilities on offer to enhance your studies and provide you with access to a wide range of materials and resources.
Dedicated study space
The Le Patourel room is a dedicated study space for all of our postgraduates, and it is also used for research events such as those run by the Medieval Group. By working in a dedicated area with other postgraduate students, you'll benefit from the chance to work closely with other people who have a passion for your subject and to share knowledge and ideas.
International Medieval Bibliography
The International Medieval Bibliography (IMB), established in 1967, is the leading interdisciplinary bibliography of the Middle Ages. The IMB is produced by an editorial team based in the Institute for Medieval Studies at the University of Leeds and has over 30 contributors from across the world covering periodical literature and texts on themes across Medieval Studies, from religion to warfare and gender.
The University Library
Leeds University Library provides extensive research material in all arts subjects taught at Leeds with over 2.7 million items. The Library is a founder member of the twenty-strong Consortium of University Research Libraries in the UK. Together these libraries' holdings are greater than that of the British Library and account for a large proportion of the total national university library holdings.
As a major research library, the University Library has extensive holdings of facsimiles, microfilms and microfiches of primary materials, and excellent bibliographic resources. Its extensive collection of electronic databases include the following of particular interest to medievalists: Library of Latin Texts Online and the Patrologia Latina Database.
As a postgraduate student, you'll also have access to the Special Collections, which contain rare books, manuscripts and archives including from the medieval period. These include:
The Brotherton Collection - a celebrated collection of rare books and manuscripts, contains important medieval manuscripts and incunabula. Its nucleus is the private library of Lord Brotherton, presented to the University after his death in 1930 together with funds to finance its growth. A list of the medieval manuscripts is available for consultation, and new items continue to expand the collection.
The Melsteth Icelandic Collection - a collection of some 13,000 volumes and pamphlets gathered by Mr Bogi Melsteth. This material has since been augmented by many gifts from Iceland. It is one of the finest collections of Icelandic material in the world.
The Archives of the Dean & Chapter of Ripon - collections containing medieval manuscripts and documents. The Library has on long-term deposit both the old library of Ripon Cathedral, especially rich in sixteenth- and seventeenth-century theological works, and the Archives of the Dean and Chapter of Ripon.
The Roth Collection - containing post-Biblical Judaica, and includes manuscripts of many types, some of which are medieval. This material was originally collected by the late Dr Cecil Roth.
The Oriental Manuscript Collection - part of the University Library holdings, and contains over 500 manuscripts, some of which are medieval. Most of the manuscripts are Arabic and Persian and there are also several in other oriental languages, such as Syriac, Hebrew and Turkish.
The Yorkshire Archaeological and History Society - collection contains medieval and later manuscripts, as well as printed books, related to all areas of Yorkshire's history. Acquired in 2016, the Society's collection contains many treasures related to the social, religious and cultural history of Yorkshire.
Access to museums and galleries
We collaborate with local and national museums such as Leeds City Museum and the Royal Armories, and the location of Leeds means that you are close to nearby medieval landmarks including Bolton Abbey, Kirkstall Abbey, Fountains Abbey and Ripley Castle.