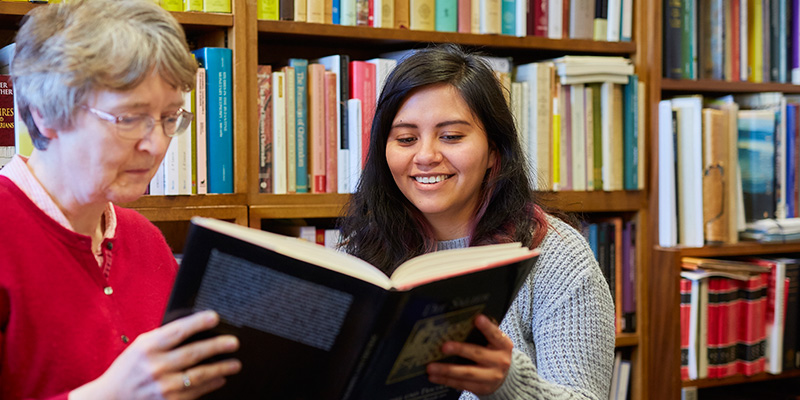 A supportive study environment
As a Masters student you'll receive support from your personal tutor who you'll work closely with for the duration of your studies. Your tutor will keep in regular contact with you and can provide support in all matters relating to your academic study. You'll also be able to access support from a dedicated Student Support Officer, who can help you with any personal or wellbeing issues.
A dynamic research community
The Institute for Medieval Studies brings together academics from across the world who are specialists in all areas of Medieval Studies. We have a large vibrant postgraduate community of approximately 50 students.
The Medieval Group is the oldest Medieval Studies-related association at the University, dating back to the 1950s, and is run by a committee of volunteers from among the staff, PhD, and MA students. Every year in October there is a 'Medieval Research Afternoon' which showcases the range of current research in medieval studies at the University. They also organise regular seminar series as well as research and conference initiatives run by students and alumni of the Institute.
There are also opportunities to take part in organised field trips to important medieval sites in Northern England with fellow students and staff from the Institute.
Interconnections
Interconnections is exclusively for postgraduates in the Faculty of Arts, Humanities and Cultures and aims to create spaces where you can meet, relax and develop friendships across different disciplines through a series of social and cultural events.
International Medieval Congress
As a student in the Institute for Medieval Studies, you'll have an opportunity to attend the International Medieval Congress. We are proud that the University of Leeds hosts the Congress each year, which welcomes over 2900 medievalists from across the globe onto campus with a programme of 700 sessions, allowing interdisciplinary insight and discussion on the medieval period, from art and architecture to theology, literature and medicine. This is a fantastic opportunity to expand your knowledge of the subject area, to network with people from all over the world who have a passion for Medieval Studies, and to learn from active researchers.
Lifelong Learning Centre
<iframe width="1280" height="720" src="https://www.youtube.com/embed/xinQLfWq-kY?list=PLPooB6Qr1ayF8gOA4XIpGAwXUYjNaYXfd" title="YouTube video player" frameborder="0" allow="accelerometer; autoplay; clipboard-write; encrypted-media; gyroscope; picture-in-picture" allowfullscreen></iframe>
The Lifelong Learning Centre provides support for mature and part-time learners across the University, including advice on how to apply to university and support throughout your studies.