Careers and employability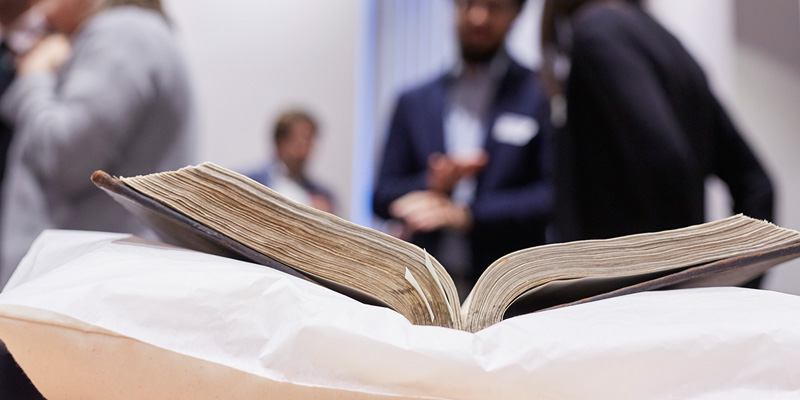 Studying a masters degree with us here in the Institute for Medieval Studies will not only provide you with advanced academic research abilities, but the nature of the course means you'll gain transferable skills including research, text analysis and communication skills.
Our graduates go on to find employment in a wide range of sectors, and popular career areas include:
museums
archives and galleries
teaching and education
academic research
conference and events management
heritage and culture
publishing.
Gain experience whilst you study
We offer various employment opportunities alongside your masters study, giving you valuable work experience whatever your planned career destination:
Internships
We offer a number of paid, part-time employment opportunities for our current postgraduate students. Opportunities include helping to organise the Institute's annual lecture series, coordinating communications for the IMS, supporting the Editorial team for the International Medieval Bibliography and assisting in the delivery of the International Medieval Congress. A number of internships are available in each area and are a great chance to gain practical work experience alongside your academic study, developing skills from bibliographical archiving to events management.
Mentoring undergraduate student dissertation(s)
All postgraduate students are invited to become paid academic mentors within the School of History, offering advice to undergraduate students as they research for and write up their dissertations. Mentors will be paired with mentees who similar research interests and you'll provide advice on primary research, archival and electronic resources, thesis planning and writing. This provides valuable training towards teaching, as well as more generic skills such as communication, mentoring and people management.
Work experience in local museums
Our strong links with local and regional museums such as the Royal Armouries and Leeds City Museum mean that we're able to help you to find internship opportunities, giving you the chance to gain relevant experience alongside your studies.
Access a range of support
Our experts in the University's Careers Centre will support you to make informed decisions about your career path. They can provide you with advice about the range of opportunities available to you and support you in taking the steps you need to take to pursue your choices. You'll also be encouraged to attend on-campus events such as graduate recruitment fairs, employer networking and information sessions, and meetings with our alumni to help you understand and plan your career path.
Leeds University Union also provides career-related support through the part-time job hub, student societies and other activities throughout the year.
A global experience
You can further enhance your postgraduate experience by spending time studying at a partner institution overseas. Currently, we have an Erasmus+ agreement with the Centre d'études supérieures de civilisation médiévale,at the University of Poitiers the leading centre for medieval studies in France. This would involve two months spent in France in the summer, whilst completing your masters dissertation. This is a fantastic opportunity to experience another culture and to benefit from the teaching and research expertise of two leading European centres for medieval studies.
Whilst studying with us you'll also have the unique opportunity to actively participate in the International Medieval Congress, one of the largest gatherings of medievalists in the world, free of charge. This is an excellent opportunity to network and meet people from across the globe who share a passion for medieval studies and is a fantastic opportunity to enhance your experience.