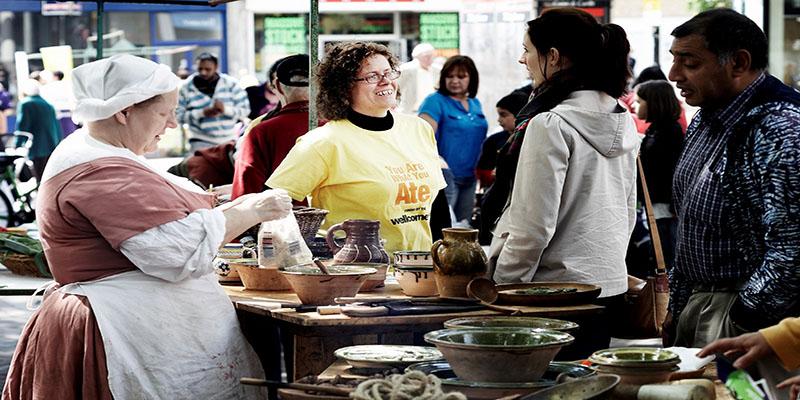 Research Impact is defined by Research England as research that has 'an effect on, change or benefit to the economy, society, culture, public policy or services, health, the environment or quality of life, beyond academia'. In the Institute for Medieval Studies we consider research impact to be very important and strive for our research to have impact outside of academia.
Public Engagement
Staff and students of the Institute for Medieval Studies regularly participate in public engagement activities. These range from PubHD – can you talk to a pub audience about your research for ten minutes – through to talks to historical societies, and large festivals such as Be Curious or Light Night. We also give talks at Leeds Central Library, Leeds City Museums and the Royal Armouries.
Over the last two years we have presented research to the public on travels through Asia, veterinary medicine, monastic estates, visual impairment, anchorites, medieval herbs and spices, saints' attributes, maps, early firepower, the Crusades, the four humours, and siege diets.
Impact case studies
Every few years UK researchers have to demonstrate the impact of their research through the Research Excellence Framework exercise (REF).
In the last REF in 2014, there were two submitted case studies written by members of the Institute for Medieval Studies:
Professor Matthew Treherne and Professor Claire Honess, Dante and Late Medieval Florence: Economic, Cultural and Religious Impact
The underpinning research of this case study examined the political (Honess) and theological (Treherne) concerns of Dante's poetry setting them in their social and religious contexts. The research demonstrates how Dante's poetic practice was neither decorative nor abstract but firmly set within the lived experiences of late medieval Italy.
The research findings of Claire Honess and Matthew Treherne on the relationship between Dante's poetry and political, religious and intellectual practice in late medieval Italy have brought significant benefits to visitors to Florence and to the Florentine tourist industry, to faith groups and to the general public.
By engaging with the tourist industry, faith groups, UNESCO and regional bodies in Italy, through the development of online resources, such as tourist itineraries, and by developing new ways of experiencing Dante's work, Honess and Treherne have enriched both cultural and religious life in Italy, in the UK and beyond, meeting a need identified by key partners. See the website of the Leeds Centre for Dante Studies for more information.
Dr Iona McCleery, You are What You Ate: Enhancing adults' and children's awareness of healthy eating today by using research into medieval ideas of healthy lifestyle and diet
The underpinning research of this case study highlights the social and cultural determinants of medieval health: wealth, status, location, religion, gender, age and fashion. Much of the impact of Iona McCleery's work derives from the fact that these determinants are similar today. Diet continues to play an important role in healthcare. People continue to eat in accordance with their customs and beliefs.
Between 2010 and 2014, Iona McCleery led a programme of public engagement activities including children's workshops and museum exhibitions. These activities enhanced adults' and children's awareness of historical food and diets and encouraged participants to reflect on their own diet through comparison with medieval lifestyles. Supported by the Wellcome Trust, and part of a collaboration with Wakefield Council and the University of Bradford, the project work fired the public imagination and inspired children in formal education to follow a healthier lifestyle (50,000 adults and children in Yorkshire participated in the project). See the project website for more information.