Research project
Histories of Women in the British Film and Television Industries, 1933-89
Start date: 1 January 2014
End date: 31 December 2018
Primary investigator: Professor Melanie Bell
External co-investigators: Dr Vicky Ball
Partners and collaborators
De Montfort University, BECTU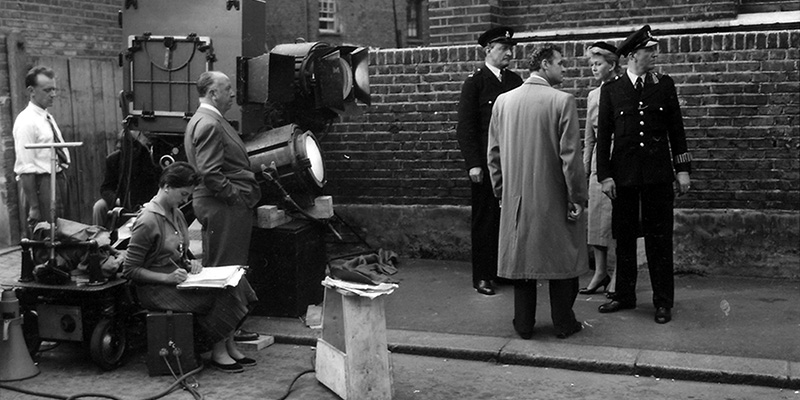 Description
Photo caption: Connie Willis (seated), continuity 'girl' on the set of The Man Who Knew Too Much (1956, dir. Alfred Hitchcock). Photo credit: The Cinema Museum.
This four-year project assesses the contribution women have made to film/TV production in Britain during 1933-89, a period of considerable social change for women and substantial institutional change for the industries. This project (2014-2018) is a collaboration between the University of Leeds (Dr Melanie Bell, Principal Investigator), De Montfort University (Dr Vicky Ball, Co-Investigator) and BECTU, the film and television union for the UK.
Whilst a small number of women have worked in 'above-the-line' roles in the film and TV production industries (for example as directors or costume designers), thousands have been employed 'below-the-line' as hairdressers, continuity 'girls', production assistants, and negative cutters, and their history has barely been studied. Much of their work has been undervalued by academic scholarship, and its study has been hampered by scarce archival sources.

This research project looks at the historical relations between women and production by exploring women's contribution through a dataset of ACT/T trade union records and oral history interviews with women who have worked in media production. By tracing women's contribution through union membership, this project will provide empirical data about how many women worked in the industries, their roles and their movement between film/TV.

In bringing archival research and oral histories together, this project will unlock previously hidden evidence about women's work, and develop new ways of conceptualising and historicising the film/TV industries through the experiences of below-the-line workers. This will have a wider impact on both the study of film/TV and our understanding of the role of women in 20th century creative arts and industries.
Although historical in focus, the project also asks: what kind of wider impact on current working practices might follow from this research? Through our partnership with the BECTU union and other industry bodies, we aim to connect the past with the present and provide evidence and knowledge which can support campaigns for change.