Doctor of Philosophy (PhD)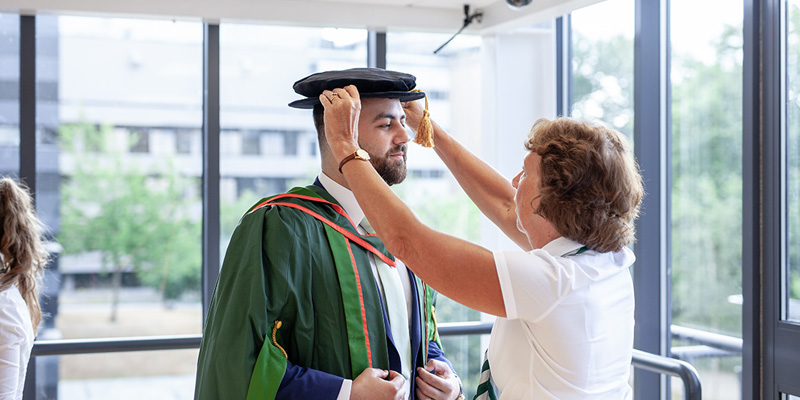 Studying for a PhD allows you to explore a subject that fascinates you in great depth, and make a meaningful contribution to your chosen field. It is a necessary qualification for anyone seeking a research or an academic career.
Structure
You'll complete an extensive independent research project on a topic of your choice, using your findings to produce a thesis of around 100,000 words. Throughout, you'll receive expert guidance from supervisors who are active in your area of interest.
Your thesis should make an original contribution to knowledge through, for example, gathering and analysing new facts or by interpreting existing information in an important new way.
For the first 12 months (or 18 months if you are part-time), you'll be enrolled as a provisional PhD student and will have regular meetings to check your progress and to make sure you're acquiring the right skills for your research. You'll develop a detailed research proposal, establish a feasible timescale for your project and write a literature review. This work is submitted to a panel of examiners who will assess it and provide you with feedback and advice on the progress of your research.
This process is called 'transfer' and is an important means of monitoring the progress of your work and assessing whether your proposal has enough weight to be accurately explored through a PhD. After a successful transfer, you'll enrol as a full PhD student, complete your research and write a thesis of approximately 100,000 words.
The degree of Doctor of Philosophy is awarded on the basis of this thesis, and your viva voce, where you present and discuss the rationale, methods and findings of your original study with an examining panel.
Duration
If you study full time, you'll usually complete your PhD in three years. You can fit your studies around other commitments by studying part-time, which allows you to complete your PhD in five years.
Practice-led research
We welcome PhD applications that include a practical element, especially in the areas of cinema, photography and imaging.
For a practice-led PhD, you will produce a body of work which demonstrates an original contribution to knowledge and scholarship. This will comprise a substantial creative practice produced in pursuit of the degree, displaying critical understanding and being worthy of public presentation or publication.
You will also produce a written submission of 15,000 to 50,000 words. This will provide an exploration of the research question(s) and will indicate how the research is embodied in and through the practice.
Toussaint Nothias
PhD Media and Communication
I was very attracted to the range of research expertise and multidisciplinary training of the faculty members. In particular, the School of Media and Communication has strong interests in the linkages between the critical analysis of media texts and of media production, and this was aligned with my own research objectives.
View Profile