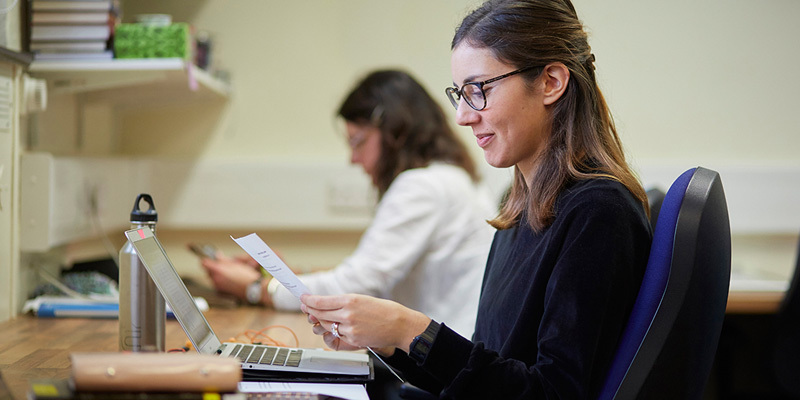 Our optional work placement module, Making History, provides you with an opportunity to gain relevant experience if you are interested in working in the heritage, culture or history related sectors.
As part of the module, you will undertake 50 hours of work experience and will also be involved in debate sessions on topics in and about the profession. The debates encourage you to develop your awareness of the complex relationships between archivists and archives and how they create and shape history and heritage.
You'll work on public engagement projects such as content for an exhibition, developing new catalogue information, or planning events. This is a fantastic opportunity, not only to gain relevant experience, but also to develop transferable skills which can be used in any future career.
Opportunities for 2019-20
Medieval Collections Exhibition
Project partner: West Yorkshire Archives, Leeds
Priority MA course: MA Medieval History / MA Medieval Studies
Next year, to tie in with the 2020 International Medieval Congress, WYAS are curating an exhibition to showcase the fantastic Medieval archives in our collections. We are looking for a student to help us curate that exhibition. You will be involved in the planning and research stages right through to the development of the text for exhibition panels, the creation of family activities associated with the exhibition and the logistics of selecting and exhibiting original archives.
WW1 Leeds Town Clerk, Google Map Project
Project partner: West Yorkshire Archives, Leeds
Priority MA course: MA War and Strategy
In 1918 the Leeds Town Clerk wrote to the Ministry of Defence to ask permission to write to his colleagues who had been deployed across the globe during WW1. Permission granted, the replies started to flood in and this previously unseen bundle of letters sheds a fascinating insight into how one group of colleagues and friends from Leeds dealt with the effects of war. This placement will chart the physical locations and experiences of individuals and produce an interactive Google Map to be available online.
In Her Words: A comparison of the worlds of Anne Lister and Amabel Yorke
Project partner: West Yorkshire Archives, Leeds
Priority MA course: MA Social and Cultural History
The original 19th century diaries of Anne Lister (aka Gentleman Jack) have been brought to life by the new HBO and BBC drama and provide a detailed account of her life as a landowner, traveller, entrepreneur, mountaineer, scholar and lesbian. For a period of 10 years (1817-1827) Anne's diaries overlap with the journals of Amabel Yorke, Countess de Grey, daughter of the Earl of Hardwicke. Both women comment on their political and social experiences but we are keen to find out how similar, or how different those experiences were. You will research the diaries of both women and write a talk to be delivered as part of our exhibition on Anne Lister in May 2020.
Networking history: mapping and visualising correspondence in Special Collections
Project partner: Special Collections, Brotherton Library, Leeds
Priority MA course: MA Modern History
Archives are seeking new ways to connect and present their collections online. Taking inspiration from historical and sociological research techniques such as network analysis, and from increasingly versatile online visualisation tools, the ways that archives can present their data are growing increasingly sophisticated. Leeds University Library's Special Collections is a treasure trove of cultural, social and political correspondence and networking, much of which is untapped for in-depth research. Possible collections you might work on include the letters between Leeds Socialist Alf Mattison and the philosopher and activist Edward Carpenter; the correspondence of Leeds academic Bonamy Dobrée who stood at the centre of mid-20th century literary and cultural life; or the music critic of the Yorkshire Post, Herbert Thompson, whose archive includes letters from Elgar, Holst and Proms founder Henry Wood. You'll learn about current trends in archives – exposing collections for research, linking collections, and maintaining depth and outreach in the online environment.
From records to heritage: Insights into a mill archive
Project partner: Sunny Banks Mill Archive, Leeds
Priority MA course: MA Social and Cultural History
Sunny Bank Mills, Farsley was a textile mill that produced fine suit cloth material for Saville Row, Burberry, and Jaeger for over a hundred years. The mill stopped manufacturing in 2008 and its archive, still housed on the premises, represents a unique look at 180 years of history. Its nationally important archive consists of records and artefacts relating to the whole business and culture of cloth manufacture, as well as providing offering an exceptionally rich perspective on social history in the 19th and 20th centuries. Records include over 60,000 lengths of fabric, fabric designs, dyeing recipes, and ledgers and cash books, as well as looms, equipment, and photographs. In this project, you can work on any aspect of the records — material culture, social history, gender in the workplace, business history, or oral history of the people who worked in the mill — developing a mini-exhibition as part of the mill's Heritage Open Day in 2020.
Hospital Bed: The history of health in an arts archive
Project partner: Skippko, Leeds
Priority MA course: MA Medicine, Health, and Society
Skippko is a visual arts organisation based in Holbeck, South Leeds. Its archive documents 30 years of arts programmes and partnerships in Leeds and across the region, engaging with issues relating to health, social cohesion and age with specific attention being paid to concerns surrounding isolation, loneliness, mental health, old age, dementia and the implications of regeneration. In this project, you'll been working as part of the Skippko's new 'Hospital Bed' project, specifically exploring, reviewing, and assessing their archive from a history of health and medicine perspective. Your work would provide information supporting the development of a major project bid, and give Skippko data, feedback, and lessons that could be put to practical use in the future.
Sound and Vision Collections Online
Project partner: National Science and Media Museum
Priority MA course: MA Modern History
The National Science and Media Museum (NSMM) explores the transformative impact of image and sound technologies on our lives and is part of the Science Museum Group (SMG). We aim to inspire the scientists and engineers of the future to see more, hear more, think more and do more. Our galleries and exhibition spaces help us illuminate our world-famous collections in photography, film, sound and television. A core priority for NSMM, as part of SMG, is to grow our audiences and exceed their expectations. We're continually seeking new ways to connect with current and future audiences and make our incredible collections fully accessible online. The focus of the placement is to research and develop an overview of NSMM's most significant and extensive collections to be available on NSMM's website. Working in collaboration with NSMM's curatorial team, you'll focus on consulting our archives and objects, undertaking research, sourcing images and writing text to share online to create an easily accessible overview of our world class collections. This will spark interest and engagement, enabling visitors to make their first steps into finding out more about our incredible sound and vision collections.