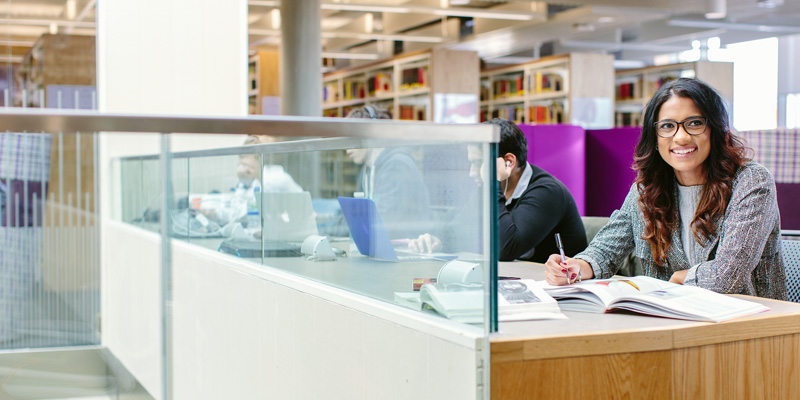 The process for applying to study a research degree is different to that for undergraduate or Masters level. You'll need to show that you have a clear and realistic plan for your proposed research project, as well as the drive, skill, and knowledge base to carry it out.
Demonstrating this in your application allows us to be sure that we can match you with the right supervisor(s), give you any support you'll need, and help you to produce an original and valuable contribution to your chosen field.
You can apply for a research degree, and begin your studies, at any during the year. However, keep in mind the application deadlines of any funding opportunities you're pursuing, and the start dates of any research projects associated with them.
You can find out more on the University's research degrees application process overview.
Explore your options
The best research degree applications are well-informed ones. You'll need to explore our research and learn about our researchers to identify potential supervisors that you can contact for advice on your application.
Our Centre has expertise that spans many areas within the field of applied ethics, and we offer co-supervision with other subject areas to support interdisciplinary research. Whatever your area of interest, you'll find researchers who are seeking answers to the same questions, and solutions to the same issues.
Deadlines and timescales
We have two main start dates for our postgraduate research degree programmes: 1st October and 1st February. We would recommend starting at these times whenever possible so that you have the benefit of a full induction programme. Deadlines to apply for these start dates are below.
Applications submitted after these dates will be automatically considered for the next available start date unless otherwise stated. We may be able to consider other start dates throughout the year at the discretion of the School. If you would like to be considered for a different start date, you should apply at least 3 months (for UK applicants) or 4 months (for international applicants), before your proposed start date.
If you are applying for funding you should ensure you apply for the academic place of study well in advance of any scholarship deadlines. The majority of scholarship deadlines are in January and will stipulate an October start date.

| Start date | Deadline to apply for UK applicants (full-time or part-time) | Deadline to apply for International applicants (full-time only) |
| --- | --- | --- |
| February 2024 | 31 October 2023 | 30 September 2023 |
| October 2024 | 30 June 2024 | 31 May 2024 |
| February 2025 | 31 October 2024 | 30 September 2024 |

Scholarships deadlines
If you intend to apply for scholarships these usually have deadlines early in the year and most require you to have already secured your place on a course. We advise you to apply for a place on the PhD at least 6 weeks before a scholarship deadline.

Write your research proposal
Your research proposal should:
be 500 words, including a short bibliography
be focused
identify why your proposed research fills a gap in relation to existing work (e.g. because the line you are proposing to take is new, develops work further or in new directions, shows why or how apparent problems can be solved, etc.)
outline what the motivation for your proposed research is and how you intend to go about pursuing it, with reference to what you take the central literature in the area to be.
You'll also need to supply the names of supervisors you would be interested in working with.
Advice on writing your research proposal can be found on the University's research degree pages.
Submit your application
Applying for your research degree through our online portal makes it simple to submit and track your application, as well as accept any offers you receive. You'll need to include the names of staff members you'd like to approach to be your supervisors.
After you've applied, we'll contact you as soon as possible to let you know whether you've been successful. If we're interested in making you an offer, we'll invite you to for an interview. This can be either in person or over telephone or Skype if you're living abroad.
You can improve your academic English level to the standard needed to study a postgraduate research degree by taking one of the following pre-sessional courses:
If you need to study for longer than 10 weeks, you can find out more about our postgraduate pre-sessional English courses.