Leeds graduates take double-award winning theatre production to Edinburgh Festival Fringe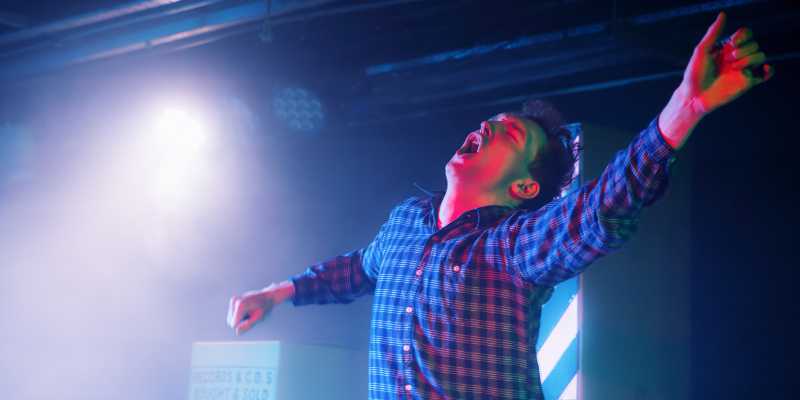 Hit show A Manchester Anthem, winner of VAULT Festival 'Show Of The Week Award' and Pleasance 'Pick of VAULT Award' was developed by an emerging team of creatives and University of Leeds graduates.
Rebecca Lyle, Nick Dawkins and Charlie Norburn graduated from BA Theatre and Performance in the School of Performance and Cultural Industries between 2016 and 2018. Tom Claxton was a BA History graduate from the School of History in 2017.
The show was co-produced by Rebecca Lyle for Lyle Productions, and ramblemill in association with Pleasance and VAULT, written by Nick Dawkins and directed by Charlie Norburn. After a multi award-winning, sell-out success at VAULT Festival, they present 'A Manchester Anthem' at Pleasance Courtyard during Edinburgh Festival Fringe throughout August.
Solo actor Tom Claxton delivers a high-energy performance as working-class Mancunian Tommy, bidding a final farewell to his hometown before moving down south to study at a prestigious university. The themes explore northern working-class culture, the journey of leaving home, and the complexities of pursuing higher education among peers with greater privilege.
Producer Rebecca Lyle, said: "Being at Pleasance Courtyard (often described as the very heart of the Fringe) this summer is the perfect place for us. We are excited to have an opportunity to raise the profile of this show and our brilliant team of emerging artists at the Edinburgh Festival Fringe. Bringing this show gives Lyle Productions and ramblemill a unique platform as makers of excellent, riotous, heartfelt storytelling from underrepresented early career artists and we can't wait to share Tommy's stories with festival audiences."
Lyle Productions is a new London based theatre company specialising in creating work for emerging artists through new plays.
ramblemill was set up by Claxton, Dawkins and Norburn in 2021 with the core value of creating heartfelt, riotous regional storytelling.
For more info visit www.pleasance.co.uk
'A breath of theatrical fresh air' ★★★★★ BroadwayBaby.com
'This is new writing that's impossible to resist' ★★★★★ TheatreWeekly.com
★★★★★ BingeFringe.com
'This is a truly masterful one-person performance' ★★★★★ Lost in Theatreland
'We'll hear of this creative team for years to come' ★★★★ Broadway World
'Often hilarious and periodically gut-wrenching' ★★★★ All That Dazzles
'An ingenious piece of theatre' There Ought To Be Clowns