Designing parks to help women feel safe
A unique piece of audio artwork designed to encourage people into skateboarding has been created by a University of Leeds researcher.
On International Women's Day (IWD) Dr Dani Abulhawa, Lecturer in Contemporary Applied Performance at the University's School of Performance and Cultural Industries, has created the artwork to help inspire women and girls into the often male-dominated skating scene, and to help confident skateboarders be effective "allies" for new skaters.
It comes as other researchers at the University have published work on how to make women and girls feel safe in public parks – and as IWD 2023 urges people to go beyond "equal opportunities" and embrace equity.
Dr Abulhawa said: "Skateparks can be very daunting places – and not only for beginners or younger people. Skateparks tend to be dominated by the fastest and most confident skateboarders, which can make it hard for some people to feel comfortable taking a go, interacting with others, or even just entering the park.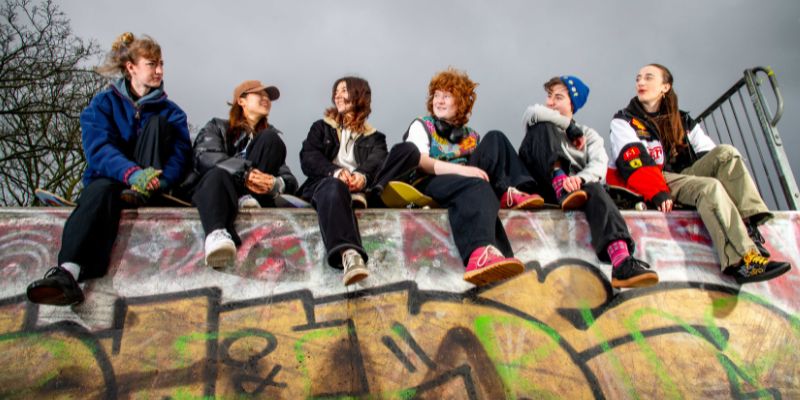 "But there are ways that more confident people can be supportive. This artwork aims to use what we know about people's experiences of skateparks and skatespots to help people to empathise with this problem, and to signpost or suggest some ways that support can happen."
Dr Abulhawa's work is part of a wider project looking at women and girl skateboarders, led by Professor Carrie Paechter at Nottingham Trent University with funding from the Leverhulme Trust.
Skating as a form of physical expression can appeal to many people who aren't interested in more traditional sports or dance, Dr Abulhawa added, and can also be an active travel option for people to get around towns and cities.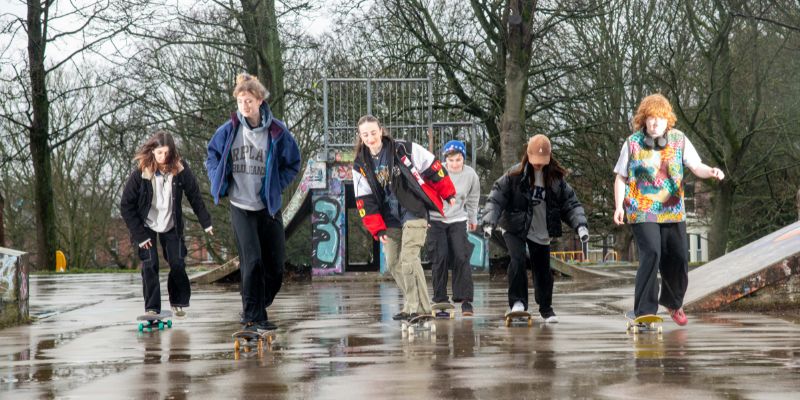 Elsewhere at the University, researchers Dr Anna Barker, Associate Professor in Criminal Justice & Criminology at the School of Law, and Professor George Holmes, Professor of Conservation and Society at the School of Earth and Environment, are working on in-depth guidance to make parks and public spaces safer and more accessible for women and girls.
The work, which is being carried out alongside Keep Britain Tidy and Make Space for Girls, follows a report funded by Mayor of West Yorkshire Tracy Brabin, into what makes a park feel safe or unsafe.
Mayor Brabin said: "Keeping women and girls safe is my number one priority for policing in West Yorkshire. That's why I asked the University of Leeds to speak to women and girls across our region, to hear their views and concerns so we can make our public parks as safe as possible.
"1.2 million women and girls call West Yorkshire their home – each of them should be able to live their lives free of fear. I will be working with our local authority partners to implement all the learning of the report as we develop and improve West Yorkshire's parks."
The report found that parks in West Yorkshire should be better designed and managed so that women and girls feel safe throughout the day and after dark.
The research team spoke to more than 100 women and girls from across the county and found most of them believed their local parks were unsafe. More than half felt they were very unsafe.
Their report concluded that feeling vulnerable in parks is a barrier that needs to be urgently addressed to ensure that women and girls feel able to use, enjoy and benefit from them.
Opening up the space
Dr Barker said: "There are lots of barriers to getting women into parks – access barriers, time barriers, and things like caring responsibilities. But the presence of women opens up the space for other women. That's the positive message: parks that have more people in them feel safer."
The University's student Skate Soc marked IWD with a minority gender skate sessions at Leeds' LS-TEN skatepark, and the group's female members have spoken out about how welcoming the skate community can be – even when the spaces are male dominated.
Grace Brodie, 19, took up skateboarding just over a year ago. She said: "It can feel quite intimidating walking up to an area with a lot of other people. I often go to the skateparks on a weekend at 10am, because I know there won't be many people around."
Despite this, Grace and the group's other female skaters said they found the community to be very approachable. "Everyone I've spoken to, regardless of gender, has been very lovely and welcoming," she added.
But she said her young female skateboarding friends all agree that walking to skateparks, across dark and poorly lit parks, feels unsafe.
"Even if you're walking with someone else, the conversation always comes back to safety and how you shouldn't walk there at night on your own. Lighting around paths would make quite a lot of difference."
Further information
For further information contact University of Leeds media officer Victoria Prest on email v.prest@leeds.ac.uk.
Top image: Yasmin Belhadj tries out some tricks at Hyde Park skate park, Leeds, watched by other members of the University of Leeds Skate Soc. Photo: Mark Bickerdike/ University of Leeds.
Third image: Members of the University of Leeds Skate Soc in Hyde Park in March 2023. Photo: University of Leeds/ Mark Bickerdike