Leeds Academic promoted to Professor of Religion and African Studies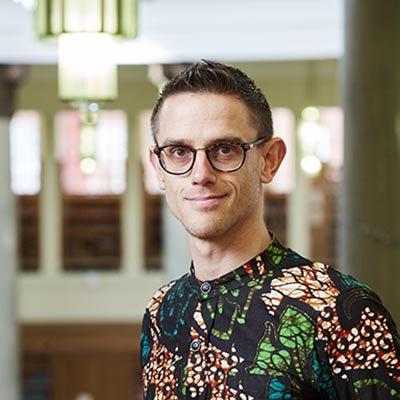 Celebration of Adriaan van Klinken's outstanding research at the interface of African studies and religion
A personal reflection and celebration by Professor Johanna Stiebert
On behalf of the School of Philosophy, Religion and History of Science I would like to announce and celebrate the promotion of my friend and colleague Adriaan van Klinken. Congratulations!
Adriaan hails from the Netherlands and completed his PhD (cum laude) at the University of Utrecht in 2011. Soon after appointed a postdoctoral fellow at SOAS in London, he joined the University of Leeds as Lecturer in 2013. It was at the presentations during a job search process that I first encountered Adriaan. I knew immediately that this scholar was a fast-rising star. Sure enough, he became Associate Professor in 2015 and is now Professor of Religion and African Studies.
Throughout his career at the University of Leeds, Adriaan has achieved many things on many fronts. He has boundless energy, a sharp intellect and a big heart. He is a gifted and popular educator, a prolific researcher and he has integrity and flair. He has stepped into every role assigned – be it that of personal tutor, or admissions officer, or module leader, or Director for the Leeds University Centre for African Studies – with alacrity and vision. I am delighted to see him ascend so rapidly and I know I am just one of many colleague-friends and friends who admire and salute him (and not least for his array of colourful shirts).
Let me single out just a few things Adriaan has done and achieved in his years at Leeds. As an educator, he has continued the legacy of Kevin Ward, teaching about religions and about matters of gender and sexuality in Africa. He has inspired many of his undergraduates. Adriaan has also attracted postgraduates to our programmes and done much, particularly in his roles as Deputy Director for Postgraduate Research and as Director for the Centre of Religion and Public Life, to unify and energize our School's postgraduate community. A people-person and effective collaborator he has often worked together in this with other colleagues, notably Caroline Starkey, together with whom he has established the Religion in Public blog and also extensive postgraduate and scholarly networks, including securing a memorandum of understanding with the Desmond Tutu Centre for Religion and Social Justice in South Africa.
Adriaan's networks span the globe and he is active in a wide range of academic groups and organisations. He is editor for a number of journals and he has published a tremendous amount, again, often collaborating with others. Adriaan publishes both academic texts and pieces (often online) for a wider readership. His most recent scholarly monograph is Kenyan, Christian, Queer: Religion, LGBT Activism, and Arts of Resistance in Africa (Penn State University Press, 2019). This book is remarkable – not only for its scholarship but also for its raw honesty. Read it and you will see what I mean. I was thrilled to be able (in September of 2019) to join in the launch of this book in Nairobi, amid the community who embraced and inspired Adriaan. At this event it was very clear to see that Adriaan combines scholarship and activism with a sensitivity, purposefulness and Menschlichkeit (sorry – sometimes German says it better!) that is rare and beautiful to find.
Recently Adriaan has received external funding from both the British Academy/Leverhulme Trust, for a project entitled 'Tales of Sexuality and Faith: the Ugandan LGBT Refugee Life Story Project' and the Global Challenges Research Fund, for the establishment of the GCRF Sexuality and Religion Network, which is to be focused in East Africa. Currently on research leave, it will be fascinating to see where these projects will lead him.
Adriaan, we congratulate you, Professor!