This year's Ones to Watch exhibition features work by current students and alumni
Six fine art students and alumni from the School of Fine Art, History of Art and Cultural Studies have been selected to show their work at the Ones to Watch 2019 exhibition, opening on 15 March.
This annual exhibition at Sunny Bank Mills in Leeds will showcase work by 38 Yorkshire based creative students and recent graduates, using a variety of art practices including painting, sculpture, textiles, graphics, film, photography, ceramics, jewellery, performance, installation, drawing and printmaking.
Our alumni and students from our BA and MA Fine Art courses have regularly been chosen to exhibit their work at the Ones to Watch exhibitions at Sunny Bank Mills, most recently in 2017 and 2018.
This year sees a record number of artists with connections to the School of Fine Art, History of Art and Cultural Studies taking part.
Zoe Buckberry, Sarah Danaher, D'arcy Darilmaz and Alicia Eccleston are all in their final year of the BA Fine Art course at the University of Leeds. All four students are currently working towards their Degree Show, Cut the Mustard, which opens in June.
BA Fine Art (International) student, D'arcy Darilmaz, said:
"I am really pleased to have been selected for the Ones To Watch 2019 exhibition as it's a great opportunity to exhibit my recent work alongside many other young artists in Yorkshire. The exhibition is on for quite a long time and in a dynamic space that is visited by a diverse audience, so it is exciting that many different people will see my work.
"I am exhibiting my sculptural installation Grave Remarks (2018), a set of five speech bubble-shaped sculptures that incorporate text from comments found on the internet, which humorously posit what happens when we die.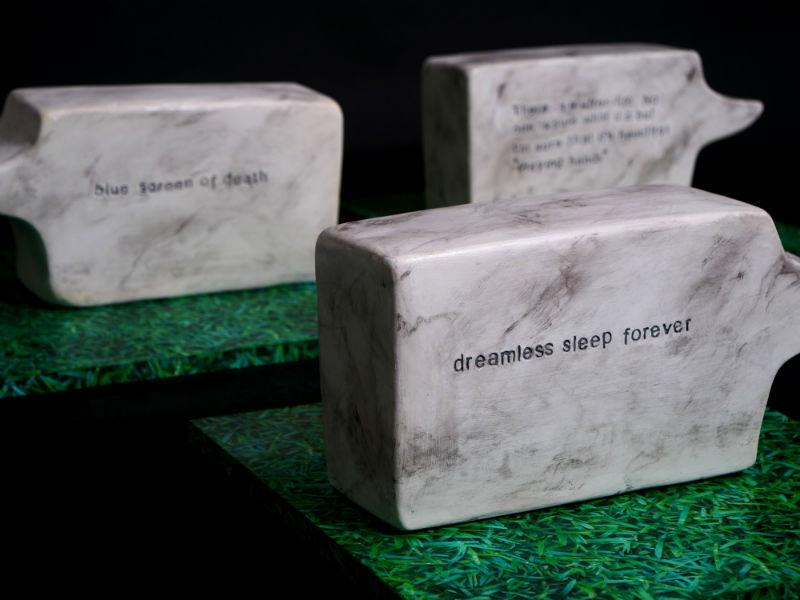 D'arcy Darilmaz, Grave Remarks, 2018 (detail).
"Their marbleised appearance transforms them into illusory marble sculptures but, on closer inspection, it is clear that they are painted like sets for the stage. Digital grass print platforms and marble surfaces resemble the textures used in 3D digital models which, along with the sculpture forms and their tiled installation, allude to a minimal fragment of a graveyard. On the internet these comments are lost in the expanse of information and data, and the internet itself could be viewed as a large cemetery of all the things anyone has ever written.
"The speech bubbles were constructed through a lengthy process, based on an original clay sculpture. They are cast in plaster and encompass other materials such as wire and polystyrene. The letters that form the phrases were pressed individually, and each sculpture is hand-painted."
Alicia Eccleston, currently studying BA Fine Art with History of Art, said:
"I am extremely excited about being selected for the Ones to Watch exhibition at Sunny Bank Mills. The process of applying, delivering artwork and seeing my work curated in a new space has been an invaluable experience. Also, it has given me the confidence to apply for more exhibitions and get fully absorbed in my studio work. I can't thank Sunny Bank Mills enough for this opportunity.
"Through the process of screen printing and the meticulous curation of conceptual installations, I aim to set up and inform active discussions regarding contemporary art, its accessibility, the role of the artist and institutional critique. One of the artworks I will be showing at the exhibition involves participation from the gallery visitors and I am really excited to see how it turns out."
MA Fine Art student, Lucy Crouch, is an artist based in Leeds. Her pencil drawing 10 Seconds, 2018 was selected for this year's exhibition.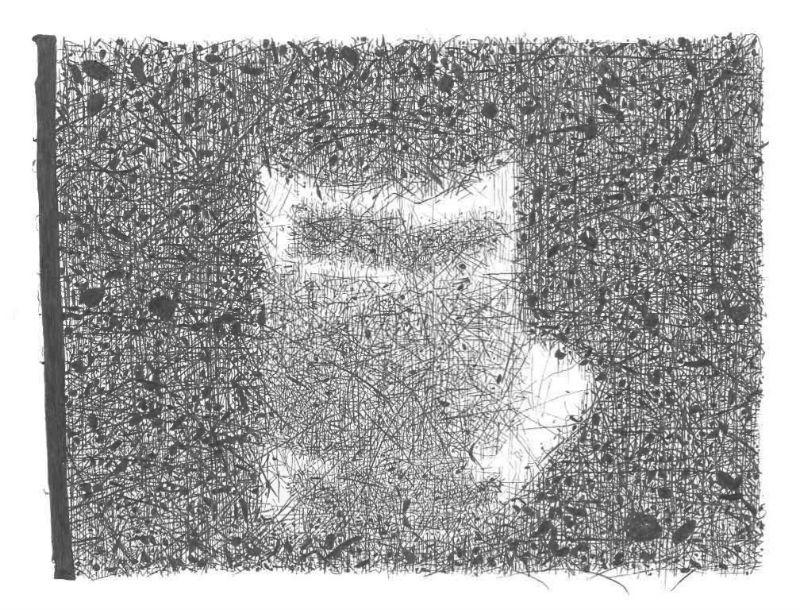 Lucy Crouch, 10 Seconds, 2018, Pencil on Paper
Lucy said:
"The work I am exhibiting at Ones to Watch is the outcome of an investigation into the depiction of cinematic time within drawing, and the tension between the still and moving image.
"The drawing depicts the incidental demarcations on the first 240 frames of a 16mm film. My intention was to show an accumulation of time within one image, through drawing the accumulated dust and scratches on the number of frames that represent ten seconds of cinematic time."
The exhibition also includes work by alumna Sharon Harvey who graduated with an MA in Fine Art in 2018. Harvey's film, Gormire, was showcased by CuratorSpace and Leeds Big Screen last October at Millennium Square in Leeds.
Chris Taylor, Professor in Fine Art Practice in the School of Fine Art, History of Art and Cultural Studies, said:
"The inclusion of a number of our recently graduated and current finalists in the Ones to Watch exhibition provides a stepping stone towards pursuing a career in the visual arts.
"It provides an excellent opportunity to exhibit work alongside their peers and to learn from, and work with, established artists and curators at Sunny Bank Mills."
A launch event from 6pm on the Friday 15 March will give people the opportunity to meet the artists and celebrate the opening of the exhibition. Ones to Watch then continues to 12 May in the galleries of Sunny Bank Mills ― an art, design and culture space housed in a light and tranquil old cloth warehouse in Farsley, Leeds.
Image: Ones to Watch 2019