Research project
Mediterranean Gypsies
Start date: 10 September 2018
End date: 9 September 2020
Funder: Marie Skłodowska-Curie
Primary investigator: Massimo Aresu
Value
Eur 195,454.80
Description
Funded by Marie Skłodowska-Curie (Individual Fellowship)
Mediterranean Gypsies. A forgotten history beyond diaspora, nomadism, marginality in three Western Mediterranean areas of the Spanish Crown (Andalusia, Sicily, Sardinia, 16th-early 18th century).
Mediterranean Gypsies is a project born from collaboration between Dr Massimo Aresu (fellow) and Dr Gregorio Alonso (supervisor) at University of Leeds.
It aims at a rethinking of the way the history of Gypsy people has been framed to date. It proposes an innovative interpretative paradigm, which it applies to a specific study case: Gypsy mobility in three Western-Mediterranean areas of the Spanish Crown (Andalusia, Sicily, Sardinia) in the modern era (16th, 17th and early 18th century).
Traditional reconstructions, based mainly on institutional repressive documents (eg, acts of the Inquisition), have privileged a reductive vision of the Gypsies as a diasporic, nomadic, marginal minority that was relentlessly persecuted. By building on his previous researches Dr Aresu will analyse instead a broad range of primary sources, mostly unpublished - from custom records to notarial deeds and parish funds - that he will collect via an extensive archival search in Madrid, Seville, Palermo, Cagliari, and in the Romani Collection of the University of Leeds.
With an interdisciplinary approach that intersects transnational history, micro-history and historical anthropology, the project investigates the economic and social relations of Gypsy groups both among themselves and with the other residents. It scrutinises their articulated relationships with the local and state institutions, and insert their mobility strategies within the broader circulation processes existing throughout the Mediterranean as a whole. A special focus is on the role of women, in order to challenge the mono-dimensional image of the Gypsy fortune-teller and enchantress.
In addition to scholarly value, the project aims at producing and disseminating alternative narratives on Gypsy history, which can potentially counter the worrying anti-gypsyist discourses that still have currency in parts of contemporary European society.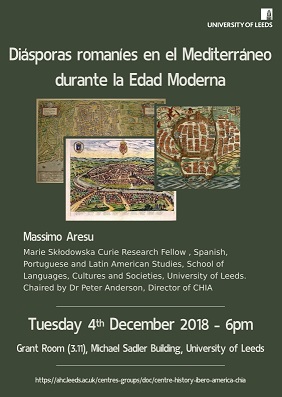 Impact
Anti-gypsyism is a worrying phenomenon of contemporary European society. In fact, although Gypsy people are recognised as a minority by European institutions (but not by all national states), prejudice and hate towards them still exist, and spread even further in moments of social, economic and cultural crisis. This project allows for the production of alternative narratives, which - if properly disseminated - will have the potential to overturn common prejudices and dispel misinterpretations and oversimplifications surrounding the Gypsy people, in everyday discourses as well as in cultivated ones. In order to do so, this research has a strong dissemination plan.
Research results will be presented to and discussed with the international scholarly community via various sources and events.