Refugees and Exile: Commemorating the 80th Anniversary of the End of the Spanish Civil War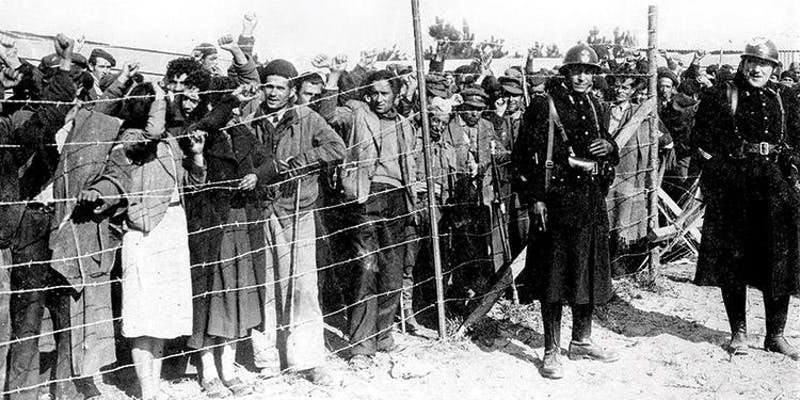 Date: Wednesday 27 March 2019
Location: History
Cost: -
On 27 and 28 March 2019, the University of Leeds will host a conference on exile and repression in the twentieth century.
This event is timed to commemorate the eightieth anniversary of the end of the Spanish Civil War and will have a specific focus on Spaniards in exile after the conflict.
The final part of the first day of the conference will feature Postgraduate Researchers and Early Career Researchers working on Spanish exile after the civil war, while the second day will host prominent historians working on this topic.
Register
To attend please confirm your interest via Eventbrite.
Please note that Paul Preston's keynote talk is ticketed separately and has now sold out.
Programme
Wednesday 27 March (11-14 Blenheim Terrace, Room 1.17)
12:00-14:00: Hispanic Exiles in the UK
Charlotte Eaton (LSE): 'The British Government and the Evacuation of the Basque Children, 1937'
Eva Niteo McAvoy (Open University): 'Republican Exiles in London'
Maria Vasquez-Aguilar (University of Sheffield): 'Exiles in Action: Political activism amongst the Chilean Refugees in the UK, 1973-2013'
14:00-15:00 Break
15:00-17:00: Spanish Exiles in Europe after the Civil War
Diego Gaspar (University of Zaragoza), 'Spanish Exiles and Transnational Soldiers. From the French Internment Camps to the Free French Forces'
Alba Martinez (University of Granada), 'Becoming a woman refugee. Gender and identity during Spanish exile in France'
Olga Glondys( Complutense University of Madrid), 'The Transatlantic Left and the Anti-Franco Struggle: Cold War Polemics in the 1961 Amnesty Campaign'
Luiza Iordache (International University of Catalonia), 'Gulag voices: the Spanish republicans in the Soviet forced labour camps'
17:30-18:30 Keynote: Luis Monferrer Catalán, 'Republican Exile in the United Kingdom' (full title TBC)
---
Thursday 28 March (Parkinson Building, Room 1.08)
Roundtable Discussion: "Exile & Repression from the 20th Century to today: Everything changes, but nothing changes at all", 12:00-14:00 (all welcome to join in or listen)
14:00-15:00 Break
15:00-17:30: The Aftermath and Legacy of the Spanish Civil War
Scott Soo (University of Southampton), 'Reflections on "collective memory": the Spanish Republicans and the Second World War in France'
Richard Baxell (International Brigade Memorial Trust and LSE), 'Changing the fronts and the weapons: the legacy of the British in the International Brigades'
Mercedes Yusta (Université Paris), 'Exile as a transnational political space for women: the case of the Union de Mujeres Españolas'
Simon Martinez (Basque Children of '37 Association), 'The Basque Children'
Professor Sir Paul Preston's (LSE) Keynote Lecture, 'The Last Days of the Spanish Republic', Leeds Central Library, 18:30-19:30 (SOLD OUT)
---
This conference is generously funded by the White Rose College of Arts and Humanities and the University of Leeds.