Research project
Digital Explorations: Opening the Medieval Manuscript Fragments from the Ripon Cathedral Library
Start date: 1 February 2023
End date: 31 July 2023
Funder: UK Research and Innovation (UKRI) Research England
Primary investigator: Dr N. Kivilcim Yavuz
Co-investigators: Professor Emma Cayley, Jodie Double, Rob Fitzgerald
Value
£46,623.24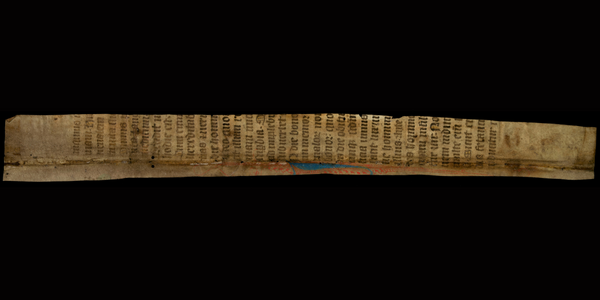 Description
'Digital Explorations' aims to enhance research culture at the University of Leeds in the field of Digital Humanities through a pilot study focusing on manuscript fragments from the Ripon Cathedral Library housed in Special Collections at the Brotherton Library.
Receiving over 100,000 visitors each year, Ripon Cathedral celebrated its 1350th anniversary in 2022. The Ripon Cathedral Library Collection includes little-studied medieval and early modern manuscripts and printed books. Even less studied, and some as yet unknown, are the fragments found within bindings.
Manuscript studies have received renewed interest in the last two decades largely due to the growing field of Digital Humanities. By applying sustained and focused digital methodologies, 'Digital Explorations' will not only significantly contribute to the field in a short period, putting Leeds at the forefront of research in this area, but also create research networks within the University and beyond for future collaborations. Importantly, it will create a model for open research practices. Activities include four training events delivered by international experts as well as four public lectures.
Impact
'Digital Explorations' promotes a more supportive, inclusive, and collaborative research environment at the University of Leeds by
creating a broader base of research culture stakeholders,
making openly available cutting-edge study of an under-utilised collection relevant to local history and heritage,
expanding the technical skills of Leeds staff and students.
'Digital Explorations' will establish standards of digital preservation, data storage and open publishing practices. Invited experts will use Ripon fragments to train staff and students so that further studies and discoveries can be made with in-house expertise at Leeds. In these respects, the project will both address research culture challenges and enhance existing practices and standards at the University.
Publications and outputs
Training workshops (in person):
8-10 March 2023, Wednesday-Friday
Capturing the Wealth in Surface Details: Reflectance Transformation Imaging (RTI) by Dr Bill Endres
29-31 March 2023, Wednesday-Friday
Multispectral Imaging and Digital Collaboration by Michael B. Toth
3-5 May 2023, Wednesday-Friday
Digital Scholarly Cataloguing by Dr William Duba and Dr Laura Albiero
24-26 May 2023, Wednesday-Friday
Digital Collections and Exhibits: Creation, Curation and Preservation by Dr Katarzyna Anna Kapitan
Public lectures (hybrid):
8 March 2023, Wednesday, 3.30pm-5pm
Digitization as Scholarly Intervention and Interpretive Method: Understanding Loss and Need by Dr Bill Endres
29 March 2023, Wednesday, 3.30pm-5pm
Revealing History with Interdisciplinary Technology Studies by Michael B. Toth
4 May 2023, Thursday, 3.30pm-5pm
TBD
25 May 2023, Thursday, 3.30pm-5pm
Researching Manuscripts Through Encoding by Katarzyna Anna Kapitan
All events require registration via the Institute of Medieval Studies Eventbrite account.
Image credit: Leeds, University of Leeds Libraries, Ripon Cathedral MS Frag. 27.2, recto.
Supported by UK Research and Innovation (UKRI) Research England under the Enhancing Research Culture funding stream.