Leeds alumna wins award for research on Thailand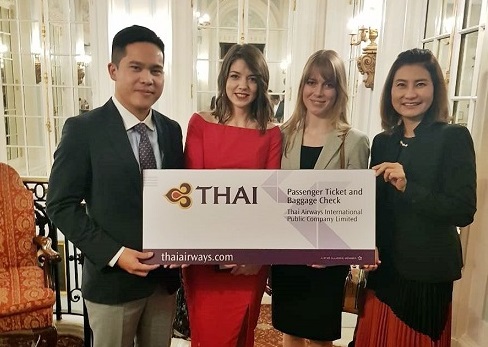 Lauren Avery has become the first recipient of a new prize for her research on the experiences of disabled people travelling in Bangkok, Thailand.
Lauren Avery (MAR Thai Studies) was the first recipient of the Anglo-Thai society Education award in the new category of Research on Thailand by a non-Thai national. The award, sponsored by Thai Airways, provides a return ticket to Thailand and was presented by Thai Airways representatives at the 2018 Anglo-Thai Society Education awards ceremony at The Oriental Club in London on Friday 16 November. Lauren's Master of Arts by Research thesis focussed on the experiences of disabled people travelling in Bangkok and on the campaign to improve accessibility and usability of public transport led by disability rights activists. Lauren's MAR was financially supported by a scholarship from the Royal Thai Embassy in London, and she was co-supervised by Martin Seeger from LCS and Simon Prideaux, from the Centre for Disability Studies.
Winning the award and the trip to Thailand will allow Lauren to follow up and share the research findings with the various people who provided assistance during her data collection in Thailand in 2017, including academic staff from Rachasuda College for Persons with Disabilities at Mahidol University, academics and staff from Suan Dusit University, disability rights activists from Transportation for All (TFA), representatives from the Thai National Associations of Persons with Disabilities, the Ministry of Transport, staff from the United Nations Economic and Social Commission for Asia and the Pacific (ESCAP) and other participants in the research who shared their experiences of using public transport in Bangkok.