AHC academics receive funding from 'Research England Enhancing Research Culture 2022-23'
The award is for their work Fostering a collaborative arts research culture: Artists and Arts Organisations Research Network.
We are delighted to announce that Dr Jonathan Ward and PGRs Alice Chandler and Benedetta D'Ettorre have received funding for their research.
This initiative will bring together academics from across the University who are working with artists and arts organisations to impact on their practices to develop sustainable artists' careers and arts organisations.This approach will promote a culture of collaboration with research participants from design to dissemination stages.
This funding supports relevant activity as including but not limited to improving access to and participation in research, including postgraduate research, improving research leadership skills across all career stages, creating routes for collaboration and exchange with businesses, third sector organisations and government and delivering new approaches to public dialogue and community-led research.
The main outcome is to enhance collaboration and strengthen impact by exploring ways to collaborate with artists and arts organisations to disseminate and share research with different stakeholders.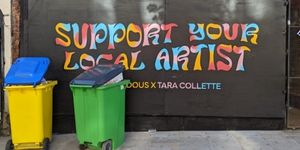 Images: Copyright Dr Jonathan Ward