Opera project finds common threads between textile workers a world apart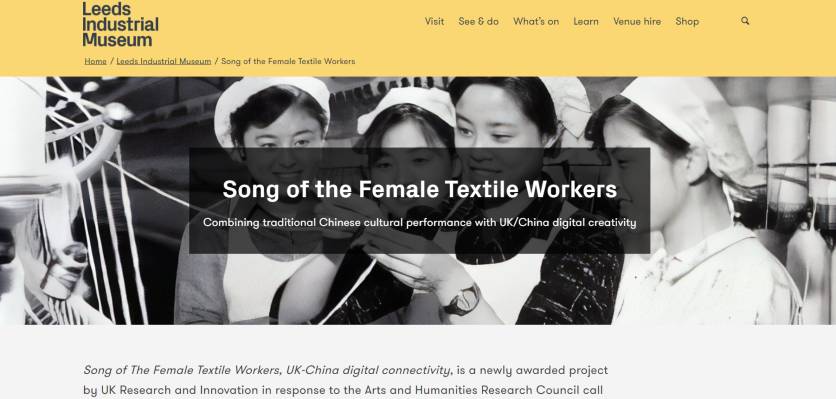 A new UK-China Partnership Development project funded by the Arts and Humanities Research Council.
The project will weave together the histories of female textile workers and contemporary digital transformation of heritage sites and community culture in Shanghai through the power of Chinese opera.
Coinciding with celebrations for Chinese New Year, the project has seen researchers in the School of Performance and Cultural Industries at The University of Leeds team up with Leeds Industrial Museum to explore the commonalities between the women who toiled in textile factories and on production lines thousands of miles apart.
Entitled Song of the Female Textile Workers, the online exhibition will see six specially created documentary films hosted on the museum's website this month, each rediscovering a different facet of the UK-China textile industries as well as telling the stories of industrial and cultural development in Shanghai. Two videos will be released each week throughout the three week Chinese New Year celebrations period.
The one-year project will also see the creation of a special one-actor performance, led by WANG Rousang, a Chinese national star performer at Shanghai Yue Opera House in collaboration with Shanghai Textile Museum, Leeds Industrial Museum, stage@Leeds, Yorkshire based Digital SME's Human VR and Dubit.
Live rehearsal and performance of Song of the Female Textile Workers are scheduled to take place in April and August 2021 at stage@Leeds and will be live streamed between Shanghai Yue Opera House, China and stage@LeedsDigital, UK.
UK established its first mill in Shanghai in the late 19th century and prompted the rise of China's Mother Industry – the Textile Industry. By the end of the 1940s, there were 4,550 textile factories in Shanghai and the majority were staffed with female migrant workers from neighbouring Zhejiang province. They formed China's first female working-class and developed their own entertainment form, Shanghai All-female Yueju. By the 1950s, both the Shanghai textile industry and Shanghai All-female Yueju expanded nationally and became the national industry and second largest theatrical form.
More than 5,000 miles away, Armley Mills, now home to Leeds Industrial Museum, once operated as the biggest woollen mill in the world. The mill employed hundreds of workers from the local community including men, women and children and was one of the driving forces behind the city's rise to becoming a world leader in textile and cloth manufacture for generations.
Dr. Haili Ma, Associate Professor in Performance and Creative Economy at the University of Leeds, and lead for the project across the UK and China said:
"Leeds is a twin city of Hangzhou, from where the Shanghai migrant female textile workers originated. We are delighted to find UK-China commonalities through the life and work of female textile workers."
This project will further enhance Leeds-Hangzhou cultural and political connectivity and strengthen Yorkshire and China east delta (Shanghai-Zhejiang) cultural-economic development.
Ma added: "We are privileged to be partnering with the world's oldest heritage textile mills turned contemporary museums: Shanghai Textile Museum and Leeds Industrial Museum. It is very much the first step of an ambitious project to test UK-China arts and cultural digital connectivity and to establish an ongoing, long term UK-China collaboration across wide creative economy sectors, including museums, theatre, SMEs (small and medium enterprises), as well as wide community-led culture creation and business collaboration."
Find out more about Song of the Female Textile Workers and view some of the videos by visiting the exhibition online at: https://museumsandgalleries.leeds.gov.uk/leeds-industrial-museum/song-of-the-female-textile-workers/