New book: Sounding Conflict, From Resistance to Reconciliation, published
Sound, music and storytelling are important tools of resistance, resilience and reconciliation.
A new book Sounding Conflict, co-written by Ariana Phillips-Hutton, Lecturer in Global Critical and Cultural Study of Music, has just been published by Bloomsbury.
It is based on original research in three continents, which advances an interdisciplinary, comparative approach to exploring the role of sonic and creative practices in addressing the effects of conflict.
The book is the fruit of an earlier collaboration at Queen's University Belfast between Dr Phillips-Hutton, Fiona Magowan, Pedro Rebelo and Stefanie Lehner of Queens University and Julie M. Norman from University College London.
Each case study illustrates how participatory arts genres are variously employed by musicians, arts facilitators, theatre practitioners, community activists and other stakeholders as a means of 'strategic creativity' to transform trauma and promote empowerment.
Dr Phillips-Hutton explained how the book was created, "We wrote the book because we realised that very little work had been done on interdisciplinary approaches to the implementation of socially engaged sound, music and storytelling practices for conflict transformation. This had created a kind of silo effect that seriously hampered our understanding of how practitioners use the arts as a form of what we called 'strategic creativity'.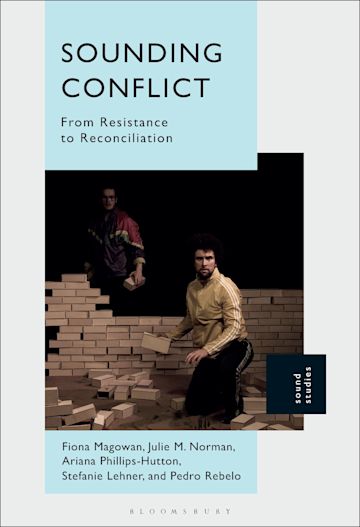 "The book is the first of its kind to demonstrate from an interdisciplinary perspective how participatory processes have been mobilised in protracted conflict and post-conflict settings as potent modes of resistance to violence; as creative forms of resilience that can counter the effects of trauma; and as effective relational tools for reshaping engagement and dialogue, thereby enhancing new approaches to reconciliation. I think it is fair to say that we hope that this will inspire others to implement our methods in order to investigate arts-based participation in (post)conflict settings."
We hope that this will inspire others to implement our methods in order to investigate arts-based participation in (post)conflict settings.
Describing her plans for the future, Dr Phillips-Hutton said, "The feeling of publishing is always one of relief, mingled with excitement, especially when one gets to hold something physical that one has written. Although this particular project has come to a close, the experience of working in an interdisciplinary way was extremely enriching, and I hope to return to this type of interdisciplinary, multi-sited ethnographic research soon. In particular, I'm starting to develop a project that expands the scope of this research by taking up the idea of storytelling through 'ethnographic composition' as way of understanding our mutual entanglement."
Sounding Conflict is published by Bloomsbury and available from their website.
Photo by Amir Hanna on Unsplash.