Contemporary Urban Music for Inclusion Network workshop hosted at the School of Music
The School of Music championed diversity in the music curriculum through hosting a workshop facilitated by the Contemporary Urban Music for Inclusion Network (CUMIN) in October.
Hosted at the School, the Contemporary Urban Music for Inclusion Network's third workshop explored DJ skills in schools and beyond, including DJ teaching and research strategies. Additionally, the workshop was followed by a live performance in the Clothworkers Centenary Concert Hall by four times World DJ Champion, Mr Switch. The workshop brought together a range of experts on DJ education, hip hop and more to explore the state of the field today in both the UK and around the world.
The workshop began with a keynote presentation by Professor Alinka Greasley, who plays regularly with orchestras and other classical ensembles whilst also DJing on other nights of the week as 'DJ Linkz'. Following this, DJ educator Jim Reiss from DJ School UK facilitated a practical demonstration, exploring how DJ skills can be used productively and effectively to enhance learning and teaching in both school and extra-scholastic environments.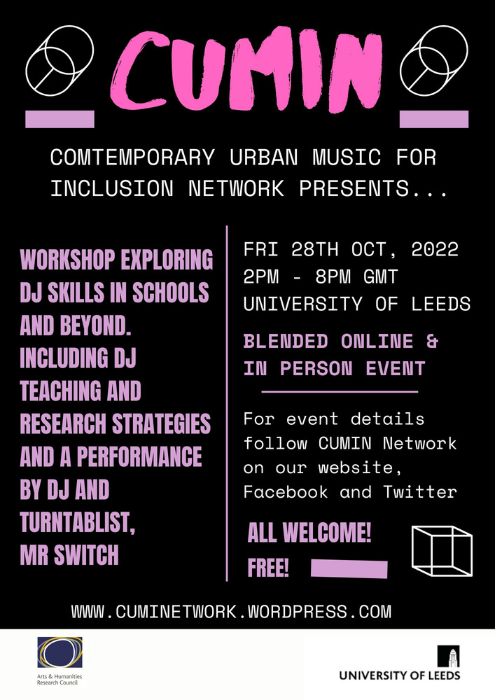 The variations of hip hop in a range of international locations were then explored by a group of speakers including Ya-Hui Cheng (University of South Florida) who focused on China, David Guardado who focused on El Salvador and Chile, and Johan Söderman (University of Gothenburg) who focused on Sweden.
Following this, a panel discussion explored DJ education from the point of view of school-based teachers (from the Pupil Referral Unit to the mainstream school) and peripatetic DJ experts. The discussion featured Hugh Shepherd (Future DJs/Virtuoso), Adam Bell (Springwell Academy, a specialist school for young people with SEMH needs), Pete Dale (academic and former school-based music teacher) and Jim Reiss (DJ School UK).
Workshop delegates were joined by an international audience, via Zoom. The School's new hybrid lecture theatre facilities enabled presentation, panel discussion and audience Q&A to evolve seamlessly between in-person and remote contributors.
CUMIN note:
Contemporary urban musics (hip-hop, grime, contemporary R&B, EDM and more) are arguably the most listened to musics in the world (The Independent), with an estimated global audience of 1.5 billion for dance/electronic music (IMS report 2019). Nonetheless, hip-hop is 'frequently excluded' from even popular music education (Journal of Popular Music Education, 2(1/2)), let alone the mainstream music curriculum. In the UK, the current National Curriculum for Music places emphasis on 'music from great composers and musicians'. Some rock and pop has found a place in schools over recent decades, but contemporary urban music (a far more ethnically/ racially diverse music, typically) remains marginalised, not only in schools but also in mainstream culture.
CUMIN is an interdisciplinary network which aims to bring together researchers, practitioners and a range of stake-holders in educational and social projects of various kinds, fostering dialogue and production of new knowledge. The network seeks to explore how styles of contemporary urban music can be used to engage young people within and outside the curriculum.