Professor Philip Wilby featured in opening of Sir William Henry Bragg building
The Bragg Fanfare, written by Professor Philip Wilby, featured in the official opening of the Sir William Henry Bragg building, a hub for physical sciences and engineering teaching and research.
The building is home to the School of Computing, School of Physics and Astronomy and the Bragg Centre for Materials Research. It has been designed to meet the challenges of 21st century science as well as the University's 2020–2030 strategy.
To mark the official opening of the building, the Black Dyke Band performed a special fanfare, written by Emeritus Professor Philip Wilby, musical associate and composer with the band. Titled the Bragg Fanfare a quintet from The Black Dyke Band, one of the most famous brass ensembles in the world, played the fanfare in front of an invited audience.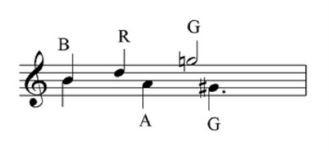 The specially-composed fanfare elicits the mathematical puzzle that Bragg and his son Lawrence faced as they investigated the atomic structure of crystals using X-ray beams. Professor Wilby created the fanfare using musical notes that related to the letters that make up the name Bragg: B natural, D, A, G and G-sharp.
He noted:
The creative spark for the composition was the way the Bragg name translated into music – with R being represented by the note D. When those notes are arranged harmonically, the sound is modernistic and inherently dissonant. That creates an aural question which is resolved over the following minute. That musical journey mirrors what the Braggs had to do. They were taking measurements from their experiments and had to make sense of them, and their mathematical conundrum was eventually resolved when they formulated the Bragg Equation.