In memoriam: Erica Segre (1963-2021)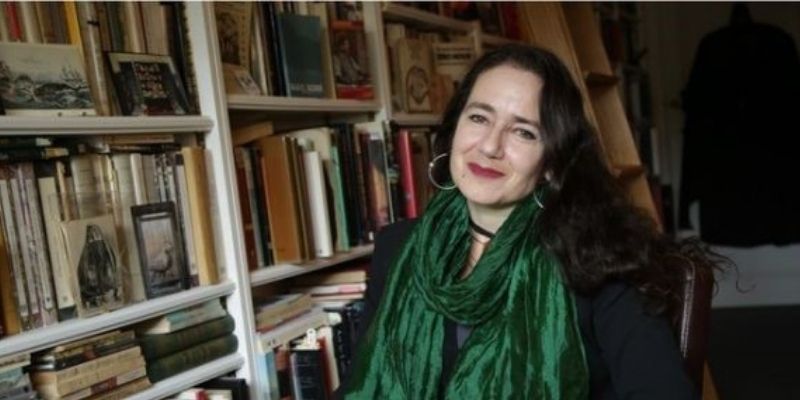 We were devastated to hear of the untimely death of Dr Erica Segre, our colleague in the School of Languages, Cultures and Societies on 21 April this year after a long illness.
Dr Segre worked in the then Department of Spanish and Portuguese at the University of Leeds from 1993-1998 and although over two decades have passed since she left to pursue her career at the University of Cambridge, it is a significant tribute to her as a scholar and as a colleague that she is still remembered so vividly by her then colleagues. We have gathered some memories below:
"I had an office next to Erica's when we were both at the University of Leeds. I will never forget her sense of style and beautiful smile – every day; her great sense of humour and our frequent conversations about our beloved pets." (Lisa Shaw)
"I recall Erica being very friendly and kind when I first joined SPLAS. I was quite in awe of her: she was fluent in Spanish and Italian and was often critical of her own ability in English, which was flawless. I remember a public lecture she gave on the cultural impact of Frida Kahlo: she spoke about Mexican curio-chic, one of those phrases that it's impossible to forget. I suspect my research interests in popular culture grew in part out of such lectures. I was very sad to hear of her passing: she was a good soul, as they say in Brazil." (Stephanie Dennison)
"I first met Erica in the 1990s when she was at the University of Leeds, and I was working at Leeds Trinity University (then known as Trinity and All Saints College). Together with colleagues we enjoyed her warmth and generosity in conferences, seminars, research, or social occasions. Her interest and knowledge of issues related to Latin America was very inspiring for both students and academics. The last time I met Erica was at a conference at the University of Leeds in 2016, where once more, after the sessions, our conversation was about Latin American arts and literature, but also about family life. Erica is leaving us too early; however, she will be remembered not only in personal memories but through her academic publications and translation work." (Roberto Rodríguez Saona)
"Erica was one of my new colleagues when I moved to Leeds in 1996. She was warm, welcoming and always helpful in discussing matters relating to teaching. As well as covering her own personal area of Latin American culture, she made huge efforts to renew and organise the Spanish language curriculum (no mean task!), and she was always willing to discuss matters at length and with great patience - with both students and colleagues. I am so sorry to hear of her passing, and I will always have good memories of the couple of years in which we worked together in Leeds." (David Frier)
"Erica and I lost touch in recent years, but I fondly remember her as a colleague who was willing to 'cross the aisle' when Spanish and German were seemingly separated by who knows what. She was always generous with her time and immense knowledge, and her passion for Mexican art knew no bounds." (Ingo Cornils)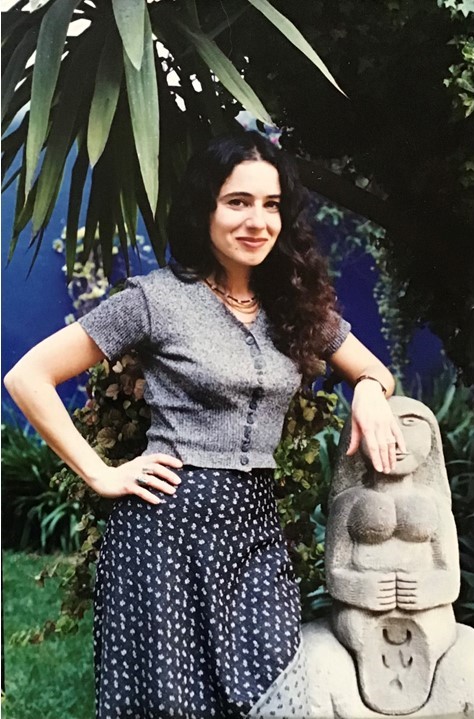 Erica in Mexico City in the late 1990s, during the time she worked at Leeds. Photo: Simon Carnell.
Some of the most beautiful tributes to Erica are those paid by her former students:
"There is a special pain and nothing but awkwardly tumbling words upon hearing certain kinds of news. For having met such an incredible person at such a crucial time in my life I have always been and will remain deeply grateful. I still have my notes from her meticulous and incisive lectures, her phenomenally detailed and curated phone-book size class hand-outs, her insistent prodding that her students put questions to visiting speakers, Jorge Edwards, Julio Llamazares, Rosa Montero, Mario Vargas Llosa… the determined mentoring into postgraduate studies… I house sat, I dog walked, I extricated the cat from her extensive bookshelves; the astonishingly frank friendship; the memories of recommended book after book, the images and authors and translations shared and debated… and the risotto by candlelight, her collection of Mesoamerican masks, gods, conquistadores, beasts, and a shelf of waxy calaveras staring down at us all. What an utter, tragic loss. A uniquely intense and beautiful flame has gone out." (Robert Miles)
And her former students also include those whom she went on to nurture at Cambridge before their appointments to posts at Leeds:
"I was fortunate enough to be taught by Erica throughout my education at Cambridge and was delighted to welcome her to Leeds for a conference in 2016. In each of our encounters, I was struck by the passion and care that filled the room with her presence. Her erudition was inspirational, and always generous. She thrived on forging meaningful connections between people and ideas that often only she could perceive at first, but that, once shared, made the world a brighter place. An architect of communities, Erica brought beauty to the simplest of gestures. She was a friend to her students, and a mentor to her friends. She will be sorely missed." (Rebecca Jarman)
"In my own case, I joined Leeds the year after Erica had left. Nonetheless, I met her on quite a number of occasions over the years at different symposia and I particularly remember her being there for the first paper I ever gave, at the Women in Spanish and Portuguese Studies annual conference at Senate House in 2000. I was very nervous and she was brilliantly supportive and fun to be with, even though the paper was undoubtedly tedious. Her unique ability to engage with others, to quickly make them feel among friends and thus able to give the best of themselves, alongside her intensity and brilliance as a scholar, will not be forgotten." (Thea Pitman)
Top image credit: Eugenio Polgovsky