1st CTS Professionalisation Talk 2020/21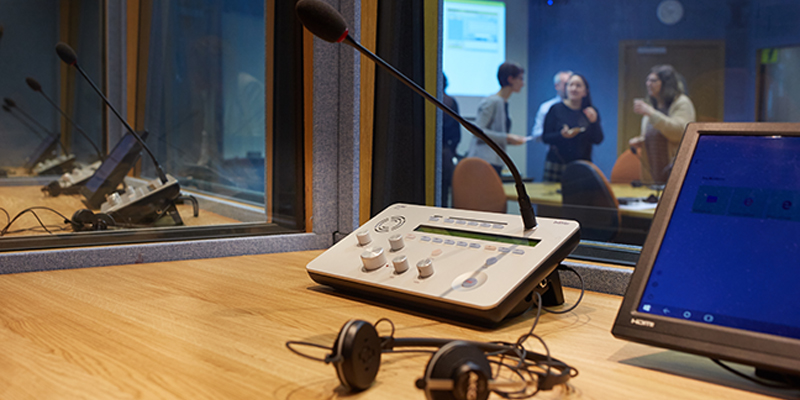 On 2nd October 2020, Julia Poger gave a talk on the interpreting profession: what it is, the skills it requires, and what the future holds.
Julia Poger began her career as a freelance interpreter in 1987 and has since interpreted in fields including legal, nuclear, environment, business, and space. As a long-time bi-active contractor with the U.S. State Department, she worked at Presidential and Cabinet levels. In Europe she freelances for the World Bank, the UN family of organizations, the Council of Europe, and the private market. She has trained beginning interpreters or served on examining juries in six countries (including the UK). She also trains practicing conference interpreters in analysis and storytelling at the Cambridge Conference Interpretation Course, and in marketing and negotiating techniques in her Know Your Worth seminars.
Julia shared her knowledge of the profession with us, first explaining the various areas of work:
Public Service Interpreting
Legal – this could be from Magistrates' Courts, all the way up to international courts, such as the International Criminal Court, or working in international arbitration.
Medical
Conference Interpreting
This involves working at the highest levels of governments or for international organisations, such as the United Nations or The World Bank.
'Business' and Private Market Interpreting
This is a blanket term used to cover the areas which do not fall into the above categories, such as the private market.
Julia explained that the skills for all three of these areas are the same:
Consecutive interpreting
Simultaneous interpreting
Continuous analysis while you are working.
In the legal field, it is essential to be exact and stay true to the speaker's original message.
In the medical field accuracy is necessary, too, but may require a little more nuance.
In conference interpreting, there is a lot more geopolitical and general knowledge and diplomacy required on the part of the interpreter.
Business interpreting requires both diplomacy and accuracy.
Julia explained that, in order for interpreting students to be successful in their careers, it is important to learn and develop the following:
Hard work and practice in order to develop and ingrain the necessary skills.
Good general knowledge of the three integral areas to interpreting: law, economics and finance, and engineering.
Soft/transferrable skills which show potential clients and employers that they can count on you, such as:

Organisation
Punctuality
Time management
Being personable and likeable

Tests and exams make up a large part of an interpreter's life
The impact of COVID-19 on interpreting students and the profession was also discussed:
In the USA, translation and interpreting professions have been the fastest growing sector of the economy in recent years, which will likely reflect in the UK too.
COVID-19 has not negatively impacted on this and the pandemic status of the disease has produced more medical translation and interpreting work internationally.
Students of interpreting are currently being trained in remote interpreting which means they will be digital natives when entering the world of work and will have an edge on those who do not possess sufficient IT skills.
Holding meetings online with no travel time means that more meetings can happen more frequently, therefore increasing the rate at which interpreters can find work.
Q&A
At the end of Julia's talk, the audience was invited to ask questions. The following points were raised:
#Clientauthorized
Client confidentiality is absolutely paramount in the interpreting profession.
Posting pictures on social media can give away confidential details of a meeting which breaks trust and could also break legal contracts or endanger clients or their negotiations.
Julia has started an online campaign – #clientauthorized – which indicates that a picture of an interpreter at work shared on social media has been approved by the client beforehand.
What is a consultant interpreter?
A 'middleman' between clients and interpreters which helps to limit the exposure of clients to too many interpreters at once.
They hire the team of interpreters and sort out details of the meeting such as negotiating pay, how many booths and languages are needed, what the goals of the meeting will be, etc.
Doesn't employ or pay the interpreters like an agency would but sources them for a client.
Will the development of Artificial Intelligence (AI) negatively impact the job market for interpreters?
In short, no. AI translations depend on algorithms, so is not very good at translating complex ideas or phrases. In the long-run, AI will probably manage more routine, straight-forward content, but people value the 'human touch' and are more inclined to trust a human translation than an artificial one, so demand will still be there.
Is a legal contract signed before accepting a freelance job?
Yes. Legal contracts constitute as having: an offer, an acceptance, a form of compensation. If this is discussed – either orally or in an email exchange – it becomes a legal contract.
Which is the most lucrative market to work in as an interpreter?
The 'most lucrative' market all depends on what you can negotiate for yourself.
The biggest market is French-English bi-active, by far, and Spanish-English is huge in the USA.
The markets are all dependent on where you were trained and which languages you work with.
Précis Report by Jennifer Carr