Second year PhD student has first textbook published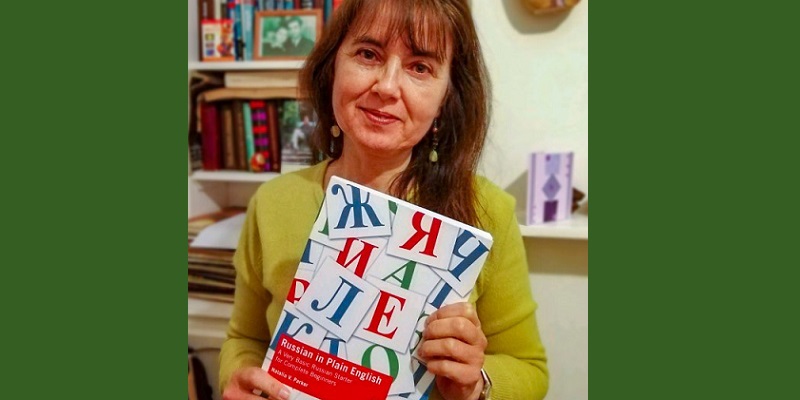 Congratulations to Natalia V. Parker who has had her book 'Russian in Plain English: A Very Basic Russian Starter for Complete Beginners' published by Routledge.
Natalia V. Parker is a second year PhD student in the School of Languages, Cultures and Societies.
Bio
Trained in Foreign Language Teaching in Russia, Natalia held a full-time teaching post at the Tula University, which she left to set up one of the first non-state, non-profit-making schools, implementing more up-to-date teaching. At the age of 27, she became a Head of School. After moving to the UK, Natalia taught Russian for several years, developing a new teaching methodology. She returned to Higher Education in 2016, doing an MA in Applied Linguistics at Sheffield. Her teaching experiment has produced extremely successful results, which enabled her to secure an Arts and Humanities Research Council (AHRC) Studentship, awarded by the White Rose College of Arts and Humanities (WRoCAH) for her PhD.
Having just completed her teaching intervention on more effective methods of teaching Russian grammar, Natalia is running a Knowledge Exchange Project, promoting her research to teachers of Russian in the UK. In addition, she organises a Languages and Linguistics stream at the British Association for Slavonic and East European Studies (BASEES), as well as presenting her research at the American Association of Teachers of Slavic and East European Languages (AATSEEL) Conference, among others.
This is not a traditional course book. It aims to make Russian language instruction as processable for learners as possible, to help them retain what they are taught and start acquiring Russian from the very start.
It is based on the principles of Spiral Curriculum, introduced by cognitive psychologist Jerome Bruner, and is underpinned by theories of information processing, language acquisition and psycholinguistics.
Feeding information in small amounts, the book fully integrates the teaching of reading, pronunciation, grammar and speaking, enabling learners to master reading Cyrillic within a very short period of time by activating learners' cognitive processing.