Success at the Faculty Partnership Awards 2020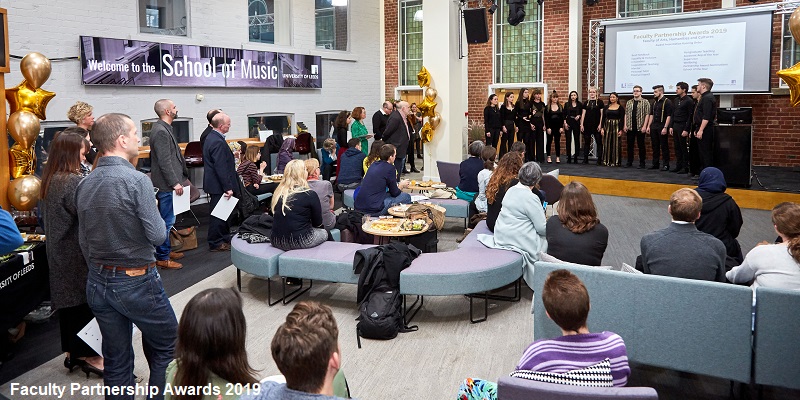 This year's awards have recognised the School of Performance and Cultural Industries for Global, Positive Impact and Wellbeing.
The Faculty of Arts, Humanities and Cultures Partnership Awards annually honour the talents of our staff and students across several schools and disciplines.
This year, Dr Adam Strickson was commended for the 'Global' award – defined as celebrating staff members, students, or groups who work with a global focus and recognising those who have actively engaged in the promotion and maintenance of international or intercultural activities, education; or competence.
Linda Watson, Senior Graduate School Research Support Officer, received the award for 'Positive Impact', commending her hard work to make individuals' experiences better.
In addition to the Positive Impact award Linda was also nominated for 'The Partnership Award'. This Award is a focus of the LUU Partnership Awards hosted by Leeds University Union and is decided by the shortlisting panel. It is given to the person or people who have been deemed to have had an exceptional impact. Often this will be someone who has been nominated broadly, or particularly active on a specific issue.
"I am absolutely delighted that as a School we have done particularly well this year and I am so pleased for the individuals within our team whose hard work and commitment have been recognised this year. A special mention to Linda Watson who has been nominated for the University's Partnership Awards. This is a huge accolade and very richly deserved."
Commendations
We also congratulate Yasmeen Soudani and Michael Bramham who received commendations for Equality and Inclusion/Global.
Shortlisted nominees
We also congratulate the following nominees from our School:
Sophie Owen (Student) for 'Mentoring'
Ashish Sharma (Student) for 'Positive Impact'
Benedetta D'Ettorr (Staff) for 'Postgraduate Researchers who Teach'
Lorena Tamayo (Student) for 'Student Academic Rep of the Year'
The awards are run in collaboration with the wider Leeds Partnership Awards, hosted by Leeds University Union.