New Tenter Hook anthology showcases creative writing at Leeds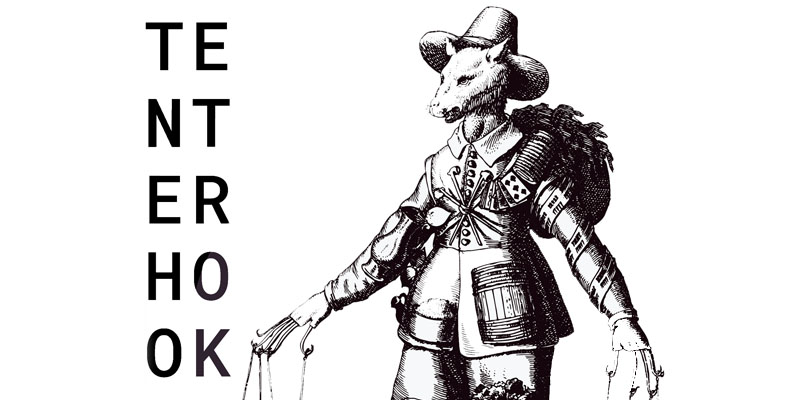 A second volume of breakthrough creative writing from the School of English is due to be released as a free e-book this May.
Tenter Hook is an astonishing collection of breakthrough writing that gives readers an opportunity to discover our new generation of authors at Leeds.
Almost a year in the making, the anthology is comprised of a collection of far-reaching work by undergraduate students studying our English Literature with Creative Writing degree.
The anthology includes prose, poetry and scriptwriting from dozens of emerging writers, such as first year student Helen Robinson, who contributed her pantoum poem 'Decaying Flowers':
"It's a poem which is comprised of five, four-line stanzas, with the second and fourth lines of each stanza serving as the first and third lines of the next stanza," explains Helen. "The last line of the pantoum is the same as the first, bringing the poem back full circle."
"The poem's origin came from a discussion with my mum, who is the subject of the poem, on life and how it's okay to not have everything figured out by a certain age. Writing the poem acted as a form of catharsis for me, serving as a reminder that despite the nagging doubts I sometimes feel, my mum's words of wisdom are right; not everyone has all the answers."
It's incredibly rewarding to have our work published in the anthology. I definitely have more confidence now to send work to publishers myself in the future.
Second year student Emily Tabern also responded with an arresting autobiographical piece:
"My contribution to this year's edition of Tenter Hook is a memoir piece entitled 'Amen', which explores my upbringing in Catholic school and, consequently, my shifting views of religion. Opting to steer my focus towards non-fiction this year has challenged me to interrogate my personal experiences more in my writing, encouraging some interesting and honest pieces."
Aaron Nichols' 'The Gates' explores the dystopian genre:
"'The Gates' is a short dystopia that inverts the common trope of an oppressed protagonist and instead is narrated by a wealthy white girl in North America. It is not a story for the marginalized to relate to, but for the privileged to identify with the 'protagonist', complicit in the oppression of others and does not truly recognise something as a problem until it affects them personally."
The power of creativity
"It is important to note that these imaginative texts were written and submitted in 2019," reflects Dr Kimberly Campanello, who edited the volume.
"They were not – despite the uncanny prescience found in some pieces, or the divergent relief provided by others – a result of our current situation. Their ability to engage current readers despite the time lag speaks to the power of creativity, the power of the humanities and the arts to imagine, reveal, evoke and think things through, across time, space, and circumstance."
Tenter Hook has been designed and typeset by Dr Brett Greatley-Hirsch. It becomes available as a free e-book on Thursday 7 May 2020.
Register to receive your copy of Tenter Hook via email.