Land Lines celebrate release of 2020 Spring Nature Diary e-book
A crowd-sourced collection of creative new work has described the arrival of spring through pictures and poetry, whilst reflecting on the challenges of lockdown and pandemic.
On the first day of spring this year, the Land Lines nature writing project at the University of Leeds, in collaboration with the Arts and Humanities Research Council and National Trust, invited the public to contribute to the second Spring Nature Diary.
Featuring work by creatives of all ages from across the nation, the e-book provides a personal and inspiring insight into how people have experienced Spring 2020 – through the exceptional circumstances of national lockdown and the Coronavirus pandemic.
The collection of 150-word pieces has been curated by Dr Pippa Marland (School of English) and is now available to download as a PDF.
The entries show that our collective relationship with nature is not simply a form of escapism – it's also a means of fathoming out meaning, of coming to some kind of understanding of the current crisis and of what it means to live as part of nature.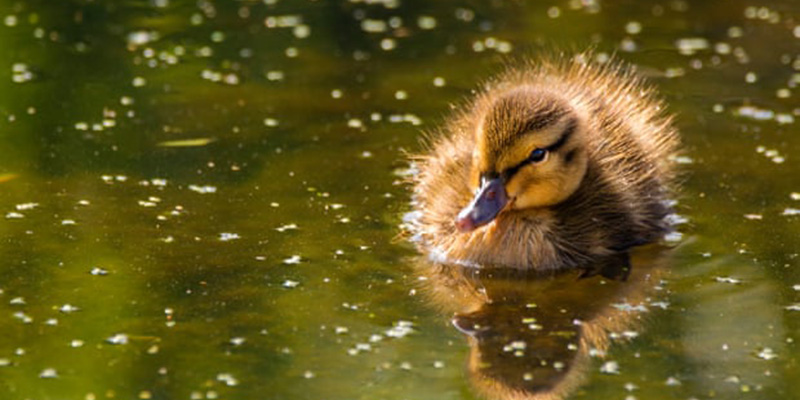 Duckling at Morden Hall Park, London. Photograph: Martin Freeman.
In an exclusive interview with Carinya Sharples for Mongabay, Dr Marland explains how Covid-19 has influenced the creative direction of contributions this year:
"Many of the entries spoke of a world beset by anxiety, and they contrasted these uncertain times with the cyclical certainties of spring, and the way it reminds us, as Greta Hughson writes, 'that life goes on, the seasons turn, and this too shall pass'."
"Michelle Chapman tells us that the greening earth 'serves as a reminder […] that nature is stronger than we are', while Raoul Guise feels that the cries of curlews and lapwings are 'necessary symbols of hope as we enter spring 2020 at a very bleak time'."
"In the face of these difficulties, nature, with its seasonal returns and its apparent resilience, comforts and soothes us, and many of the entries refer to nature as a blessing, as a way of escaping from or coping with anxiety."
Read the full article on the Land Lines website.
Main image credit: Debs Barber.